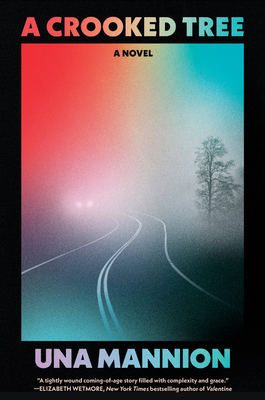 A Crooked Tree: A Novel
Publication Date:
January 4th, 2022
Publisher:
Harper Perennial
The Book Tavern
3 on hand, as of Sep 25 11:17pm
(Fiction)
On Our Shelves Now
A Crooked Tree is the delicately woven story of a single mother's bad decision to kick one of her children out of the car miles from home, and how that decision affects an entire network of friends and neighbors throughout the summer. Gorgeously told and intricately written, this hardly seems the work of a debut novelist; Una Mannion will be one to watch, and A Crooked Tree already has me anticipating her next book!
January 2021 Indie Next List
Description
A haunting, suspenseful literary debut that combines a classic coming of age story with a portrait of a fractured American family dealing with the fallout of one summer evening gone terribly wrong.
"The night we left Ellen on the road, we drove up the mountain in silence."
It is the early 1980s and fifteen-year-old Libby is obsessed with The Field Guide to the Trees of North America, a gift her Irish immigrant father gave her before he died. She finds solace in "The Kingdom," a stand of red oak and thick mountain laurel near her home in suburban Pennsylvania, where she can escape from her large and unruly family and share menthol cigarettes and lukewarm beers with her best friend.
One night, while driving home, Libby's mother, exhausted and overwhelmed with the fighting in the backseat, pulls over and orders Libby's little sister Ellen to walk home. What none of this family knows as they drive off leaving a twelve-year-old girl on the side of the road five miles from home with darkness closing in, is what will happen next.
A Crooked Tree is a surprising, indelible novel, both a poignant portrayal of an unmoored childhood giving way to adolescence, and a gripping tale about the unexpected reverberations of one rash act.
Praise for A Crooked Tree: A Novel
"Beautifully written with tenderness and wisdom, A Crooked Tree is at once an urgent, propulsive study of grief, anger, and family secrets, and a tightly wound coming-of-age story filled with complexity and grace. This is an accomplished book, and Libby Gallagher is one of the best young narrators I've met in years."  — Elizabeth Wetmore, New York Times bestselling author of Valentine
"The menace in this moody, meticulously plotted debut lies not in preposterous plot twists, but within the mysteries of dysfunctional families, close-knit neighborhoods harboring dark secrets, and adolescents' imperfect and sometimes disastrous, understanding of the world of adults."  — Sarah Lyall, The New York Times Book Review 
"A brilliant novel. Every page is rich in atmosphere, every character is vividly described."  — Sara Baume, author of Spill Simmer Falter Wither
"A Crooked Tree is a fiercely compelling novel about young people staring into a gritty adult world and fighting for their place in it. I couldn't stop reading because I had to find out what happened to these kids. Una Mannion shoots the lights out with this thrilling literary debut."  — Patrick Ryan, author The Dream Life of Astronauts
"Suspenseful, affecting, and disarmingly evocative of childhood and the not-so-distant era of the 1980s." — Kirkus Reviews
"I was quickly brought under the spell of this novel, which is filled with pathos, nostalgia, and the best kind of suspense. Una Mannion has beautifully captured the experience of being a child on the verge of adulthood, struggling to fill in the gaps in her understanding of the world around her without much help or mentorship. This is a novel about the way that adults fail children, but also about the moment a child first understands that the adults around her are human--and the empathy that comes with that realization."  — Liz Moore, New York Times bestselling author of Long Bright River
"A Crooked Tree is completely entrancing—as suspenseful as a good thriller, steeped in an aching nostalgia but unflinchingly sharp-sighted. I tore through this novel."  — Julia Pierpont, New York Times bestselling author of Among the Ten Thousand Things