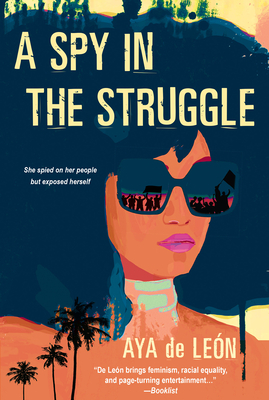 A Spy in the Struggle: A Riveting Must-Read Novel of Suspense
Publication Date:
December 29th, 2020
The Book Tavern
1 on hand, as of Sep 28 1:18pm
(Fiction::African-American )
On Our Shelves Now
Description
The Washington Post Featured Thriller That Will Have You On The Edge Of Your Seat
Bustle's Most Anticipated Reads for December
An Amazon Best of the Month Selection
Book Riot Featured Hispanic Heritage Month Book
CrimeReads Most Anticipated Crime Books of Fall 2020
Novel Suspects Featured December New Release
"A passionately felt stand-alone with an affecting personal story at its center." - The Washington Post
Winner of the International Latino Book Award, Aya de Leon, returns with a thrilling and timely story of feminism, climate, and corporate justice--as one successful lawyer must decide whether to put everything on the line to right the deep inequities faced in one under-served Bay Area, California community.
Since childhood, Yolanda Vance has forged her desire to escape poverty into a laser-like focus that took her through prep school and Harvard Law. So when her prestigious New York law firm is raided by the FBI, Yolanda turns in her corrupt bosses to save her career--and goes to work for the Bureau. Soon she's sent undercover at Red, Black, and Green--an African-American "extremist" activist group back in her California college town. They claim a biotech corporation fueled by Pentagon funding is exploiting the neighborhood. But Yolanda is determined to put this assignment in her win column, head back to corporate law, and regain her comfortable life...
Until an unexpected romance opens her heart--and a suspicious death opens her eyes. Menacing dark money forces will do anything to bury Yolanda and the movement. Fueled by memories of who she once was--and what once really mattered most--how can she tell those who've come to trust her that she's been spying? As the stakes escalate, and one misstep could cost her life, Yolanda will have to choose between betraying the cause of her people or invoking the wrath of the country's most powerful law enforcement agency.
"Part of a new wave of espionage fiction from authors of color and women, many of whom place emphasis on the disturbing nature of being forced to spy on one's own." - Crime Reads, Most Anticipated Books of Fall
Praise for A Spy in the Struggle: A Riveting Must-Read Novel of Suspense
Praise for A Spy in the Struggle
"The author of the four Justice Hustlers novels — mysteries with a heightened leftist social awareness — has produced a passionately felt stand-alone with an affecting personal story at its center."
—The Washington Post
 
"Aya de Leon's latest is part of a new wave of espionage fiction from authors of color and women, many of whom place emphasis on the disturbing nature of being forced to spy on one's own."
—Crime Reads, Most Anticipated Books of Fall
Praise for Aya de León
 
"Gripping feminist heist fiction about turning the tables on the disaster capitalists in the jaws of climate apocalypse? Improbably and thrillingly, Aya de León has pulled off exactly that with Side Chick Nation. I couldn't put it down."
—Naomi Klein, author of The Shock Doctrine on Side Chick Nation
 
"The fourth title in de León's genre-bending Justice Hustlers series is a multifaceted tale. On one level, it's an entertaining feminist heist tale with a satisfying Robin Hood–style caper or two, but where the book truly shines is in spotlighting the challenges facing former sex workers and in angling an unflinching lens on the plight of Puerto Rico, both before and after the Maria disaster. An absorbing, enlightening book that exemplifies the power of good storytelling."
—Kirkus Reviews, STARRED REVIEW for Side Chick Nation
 
"[This] layered tale weaves heist capers, romantic suspense, and unforgettable realism in a look at Puerto Rico after it was devastated by Hurricane Maria…De León brings feminism, racial equality, and page-turning entertainment to the best book yet in her uniquely powerful Justice Hustlers series."
—Booklist, STARRED REVIEW for Side Chick Nation
 
"Offers poetic and savvy descriptions of women's inner and external challenges that are reminiscent of Sister Souljah's or Ntozake Shange's work…The worst thing about the book is that it ends."
—Bitch Magazine on The Boss
 
"Pure escapism is what author Aya de León offers here with a story that actually has many separate plots—romance, family drama, a little espionage, and surprisingly righteous feminism—all of them appealing…every reader will be able to find a little of herself there, which makes this a doubly fun novel to enjoy."
—The Miami Times on The Boss
 
"A lusty tale…a page-turner we can dive into for an escape from poverty, sexism and racism, but also a rallying cry to toss out those systems and rewrite the rules."
—The Washington Post on Uptown Thief
 
"This well-written and enjoyable installment in de León's unique, feminist, urban crime fiction series, Justice Hustlers infuses satisfying power in both plot and character. Readers will embrace this heist story with heart and its hero Tyesha, a smart yet fallible professional and champion for struggling women. León, who is also a poet, social commentator, and head of the Poetry for the People program at UC Berkeley, is a crime writer to watch."
—Booklist, STARRED REVIEW for The Boss
 
"Aya de León is a feminist writer to watch."
—Sarai Walker, author of Dietland