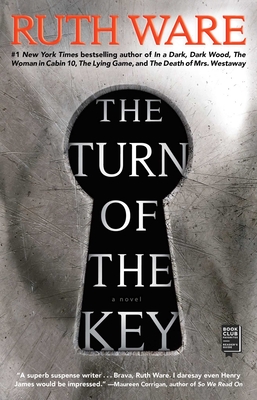 The Turn of the Key
Publication Date:
May 12th, 2020
Publisher:
Gallery/Scout Press
The Book Tavern
1 on hand, as of Dec 1 3:18pm
(Fiction::Mystery)
On Our Shelves Now
Ruth Ware is back and at her dazzling best with The Turn of the Key. This arresting tribute to Henry James set in modern-day remote Scotland posts a nanny in a 'smart house' with several recalcitrant children and a garden full of poisonous plants. Who do you trust when everyone seems to be hiding something? Readers will be reading with all the lights on as they race to the climactic ending to see just who is minding who in this engaging summer thriller.
August 2019 Indie Next List
Ruth Ware layers on the creepiness in this breathtaking tale of a woman paid an exorbitant sum to be a nanny to three girls in the Scottish Highlands. The catch: The previous nannies quickly resigned, and the parents are rarely there. This novel is both humorous and diabolically dark, and the ending will definitely make your jaw drop.
Summer 2020 Reading Group Indie Next List
Description
INSTANT NEW YORK TIMES BESTSELLER
"A superb suspense writer…Brava, Ruth Ware. I daresay even Henry James would be impressed." —Maureen Corrigan, author of So We Read On
"This appropriately twisty Turn of the Screw update finds the Woman in Cabin 10 author in her most menacing mode, unfurling a shocking saga of murder and deception." —Entertainment Weekly
From the #1 New York Times bestselling author of The Lying Game and The Death of Mrs. Westaway comes this thrilling novel that explores the dark side of technology.
When she stumbles across the ad, she's looking for something else completely. But it seems like too good an opportunity to miss—a live-in nannying post, with a staggeringly generous salary. And when Rowan Caine arrives at Heatherbrae House, she is smitten—by the luxurious "smart" home fitted out with all modern conveniences, by the beautiful Scottish Highlands, and by this picture-perfect family.
What she doesn't know is that she's stepping into a nightmare—one that will end with a child dead and herself in prison awaiting trial for murder.
Writing to her lawyer from prison, she struggles to explain the events that led to her incarceration. It wasn't just the constant surveillance from the home's cameras, or the malfunctioning technology that woke the household with booming music, or turned the lights off at the worst possible time. It wasn't just the girls, who turned out to be a far cry from the immaculately behaved model children she met at her interview. It wasn't even the way she was left alone for weeks at a time, with no adults around apart from the enigmatic handyman.
It was everything.
She knows she's made mistakes. She admits that she lied to obtain the post, and that her behavior toward the children wasn't always ideal. She's not innocent, by any means. But, she maintains, she's not guilty—at least not of murder—but somebody is.
Full of spellbinding menace and told in Ruth Ware's signature suspenseful style, The Turn of the Key is an unputdownable thriller from the Agatha Christie of our time.
Praise for The Turn of the Key
"A superb suspense writer… Ware is a master at signaling the presence of evil at the most mundane moments… Rowan stays put for reasons we won't understand until the final act of this tragedy. And that's when Ware's gifts for structuring an ingenious suspense narrative really come to the fore… Ware pulls out a stunner on the penultimate page that radically alters how we interpret everything that's come before. Brava, Ruth Ware. I daresay even Henry James would be impressed." 
—Fresh Air's Maureen Corrigan for The Washington Post
"Let's just say that if you've got an Echo, you're going to unplug it as soon as you finish the book…  What Ware does beautifully is infuse The Turn of the Key with a creepy Gothic sensibility. For all of the novel's contemporary touches—particularly the house's malevolent smart technology—she has delivered an old-fashioned horror story, peopled by children with 'eyes full of malice,' a dour housekeeper straight out of Rebecca and an inscrutable handyman."
—The New York Times Book Review
"Ruth Ware—one of our favorite thriller writers—is bringing down the house… Read it for a fast-paced ride."
—theSkimm 
"This appropriately twisty Turn of the Screw update finds the Woman in Cabin 10 author in her most menacing mode, unfurling a shocking saga of murder and deception."
—Entertainment Weekly
"A clever and elegant update to James's story… Surveillance and home technology slot easily into the conventions of horror: They bring the sense that your environment is invaded and controlled from afar, and that you are never quite as alone as you might wish… The Turn of the Key, and novels like it, point to a new reality. We are all, constantly, haunted."
—NPR 
"Henry James via Black Mirror… While the ambiguity in James's masterpiece is 'ghosts or madness?,' here it is 'ghosts or glitch?' Unlike The Turn of the Screw, however, Ware picks a lane, deploying a satisfyingly dizzying parade of twists and reveals without leaving much unexplained."
—Los Angeles Review of Books (LARB)
"Diabolically clever. Twisty and creepy, The Turn of the Key is Ruth Ware's best book yet. Read with a blanket nearby, because you will get shivers up your spine."
—Riley Sager, New York Times bestselling author of The Last Time I Lied
"A ghost story for the twenty-first century, a propulsive gothic thriller with characters you'll really care about. With this book, Ruth Ware proves she's the true heir to Wilkie Collins. Creepy, engrossing, and oh-so-hard to put down."
—JP Delaney, New York Times bestselling author of The Girl Before
"Pure suspense, from the first gripping page to the last shocking twist."
—Erin Kelly, bestselling author of He Said/She Said
"Ruth Ware has been called the Agatha Christie of our generation… The Turn of the Key is a great read. You're going to enjoy it very much." 
—#1 New York Times bestselling author David Baldacci for his "Hot Beach Reads: Guilty Pleasures, Popular Books" pick as part of the Today Show's "Best Summer Reads of 2019, according to Top Authors" segment
"If you've never spent a long weekend devouring a Ruth Ware thriller on a hammock, this is the summer to start. Her fifth novel, The Turn of the Key, is set in the Scottish Highlands and is as compulsively readable as you would expect a Ware book to be."
—CBS WATCH! MAGAZINE
"Chilling."
—Minneapolis Star Tribune
"We hope it's not too much to say that Ruth Ware is the future of traditional mystery in contemporary settings; each of her novels takes us into well-worn territory and reinvents for the present day. Her upcoming mystery is no exception."
—CrimeReads
"Readers, you'll want to sleep with the lights on (and your Alexa off) after reading this spooky tale from Ruth Ware."
—Bookish
"The No. 1 New York Times bestselling author of The Woman in Cabin 10 returns this summer with a new novel fans of the thriller genre will love."
—WorkingMother.com
"All of Ruth Ware's books have been creepy and deeply mysterious, in other words…awesome! But I think this might be her best one yet."
—Get Literary
"The Turn of the Key is a brilliantly crafted, chilling suspense thriller. Clues are seeded through the tale like poisonous plants that you only recognise when it's far too late. Trust no one in this novel except Ruth Ware – she has come up with a totally compelling tale once again."
—Jane Casey, award-winning author of The Burning
"Superb as expected... Lovely echoes of Turn of the Screw in a contemporary thriller. A masterclass in tension." 
—Sarah Pinborough, New York Times bestselling author of Behind Her Eyes
"Ware's mastery of the traditional mystery merged with the twisty psychological thriller never fails to impress! While Ware is known for her sudden reversals, I promise you that you'll never see the end of The Turn of the Key coming. Which means everyone needs to read it so we can talk about that ending."
—LitHub
"A classically spooky thriller involving a potentially murderous nanny and a smart house gone wrong in the Scottish Highlands. Ruth Ware is a No. 1 New York Times bestselling author, and her fans are legion and loyal."
—Vox
"A tale full of mystery and suspense that no one other than Ware can weave, The Turn of the Key will keep you on the edge of your seat." 
—Grand Island Independent 
"Ruth Ware is the master of writing terrifying novels that readers can't get enough of. From The Woman in Cabin 10 to The Lying Game and a plethora of other smash hits, she knows what it takes to write a truly captivating book."
—She Reads
"Truly terrifying! Ware perfects her ability to craft atmosphere and sustain tension with each novel."
—Kirkus Reviews
"In Ware's latest book, The Turn of the Key, she delivers a novel full of twisted tension that will have readers looking at technology a little bit differently... It solidifies her spot among the greats." 
—Bustle
"Are you attached to your Alexa? Do you control various aspects of your home from your smartphone? Prepare to be creeped out. Ruth Ware's latest thriller, The Turn of the Key, tells the story of a nanny in a smart home that turns downright harrowing." 
—Bookish
"Breathlessly atmospheric, The Turn of the Key is a deliciously creepy mystery… Ware's twist on a classic is sure to be a hit for fans of psychological thrillers."
—Shelf Awareness
"Ruth Ware's homage to The Turn of the Screw is filled with all of the best gothic elements: an unreliable narrator, an isolated setting, creepy children and a house that functions as its own menacing character. Part epistolary novel, part psychological thriller, The Turn of the Key is compulsively readable and will keep readers guessing until the very last page… Ware is adept at managing multiple plot threads and using them to shock her reader. The beauty of The Turn of the Key is in how it takes the tropes central to the gothic genre, like the isolated haunted house, and gives them a 21st-century spin while still managing to feel fresh and surprising to even the most gothic-averse reader. Straddling the line between horror and thriller, this novel will delight fans of both genres." 
—Bookpage
"Thriller lovers, fasten your seat belts… Read The Turn of the Key today and hold on through the twists. You'll find yourself racing to the end to see what—and who—you can really believe." 
—PureWow
"Ware cleverly puts a high-tech spin on [The Turn of the Screw's] gothic foundations of spellbinding menace set in a remote cavernous mansion with mysterious locked doors and a spooky garden… Ware's James-like embroidery of the strange and sinister produces a Turn of the Screw with cellphones and Teslas that will enthrall today's readers… it will not disappoint."
—Booklist, starred review
"Ware does a good job of creating tension... But above all, Ware skillfully lays the bread crumbs to the novel's satisfying conclusion… [that] leaves readers with one final, haunting question, one that will stay with them long after they turn the last page."
–Publishers Weekly, starred review
"A Daphne du Maurier-like Gothic thriller set in the remote Scottish highlands but with a modern technology twist. Ware specializes in menacing spellbinders with narrators who may or may not be reliable… She has done a first-rate job of manufacturing and maintaining tension until the final page."
—Columbus Dispatch
"Twisty and surprising, as entertaining as it is heartrending, The Turn of the Key is a book you will not want to put down."
—Bookreporter.com
"If you're looking for a compelling audiobook to join you at the beach this summer, bring your earbuds and give Ruth Ware's new psychological thriller, The Turn of the Key, a listen."
—BookRiot
"One of British author Ruth Ware's many strengths is her ability to create a disorienting environment that at first dazzles with its ingenuity and luxury—like the cruise ship in her 2016 book, The Woman in Cabin 10—then turns nightmarish. In The Turn of the Key, that place is Heatherbrae House in the Scottish Highlands… The book's roots may reach back to James, and still further to the Brontë sisters, but it feels as up-to-the minute as the Happy app. The result is an irresistibly readable and scary homage."
—Air Mail
"Ware hits another one out of the park. Fans of hers or anyone with a taste for the disturbing will stay up late devouring this."
—Library Journal, starred review
"Ruth Ware is good at writing creepy tales and this novel about a nanny moving into an apparently haunted smart house takes a gothic trope and modernizes it. Even better is an ending that you won't see coming and that reframes everything you've just heard… A lot of fun on a crisp autumn evening." 
—Christian Science Monitor
"Ware at her eerie best."
—NEWSWEEK
"The cast of characters includes an unsuspecting nanny, a creepy housekeeper, and a hunky groundskeeper amid the mists and heather, crumbling stone walls and creaky attics. What more could you ask for?" 
—Reader's Digest, "Best Books of 2019"
"A superb suspense writer… Ware is a master at signaling the presence of evil at the most mundane moments… Rowan stays put for reasons we won't understand until the final act of this tragedy. And that's when Ware's gifts for structuring an ingenious suspense narrative really come to the fore… Ware pulls out a stunner on the penultimate page that radically alters how we interpret everything that's come before. Brava, Ruth Ware. I daresay even Henry James would be impressed."
—Washington Post Book World
"The suspense makes it impossible to put this book down. I would wager that no reader will be able to figure out the ending that's revealed in the final pages… Ware has written the type of book that fans of psychological, mystery and suspense fiction will treasure." —Missourian
"Stunning... THE TURN OF THE KEY had us at the turn of the first page."
—myTalk with Lori and Julia
"Ware slyly sets her tale of the haunting of a governess and her difficult young charges in an old mansion that's been renovated into a 'smart house,' complete with a sinister assortment of blinking surveillance cameras and talking refrigerators… Ware is a master of atmosphere and, here, the off-kilter weirdness of the old house itself seeps into every crack of this story… 'Get out of there!' we jumpy readers find ourselves urging, but Rowan stays put for reasons we won't understand until the final breathless twist of this thriller."
—Fresh Air
"Gothic inspiration meets modern technology; a summer 2019 must-read"
—Crime by the Book 
"the definition of 'unputdownable'… [and] a terrifically clever reimagining of The Turn of the Screw" 
—Refinery29
"Compulsively readable from the very start… The Turn of the Key is full of dizzying plot twists and revelations, but one thing is very clear: in Ware's version, we are the ghosts. What human beings are capable of, including what we can accomplish with our technology, has the capacity to turn us into monsters."
—BookBub