Staff Pick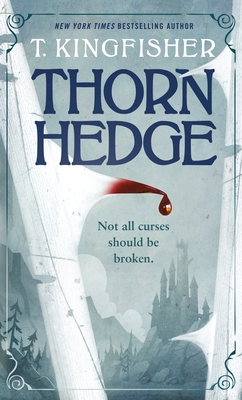 Thornhedge
Publication Date:
August 15th, 2023
The Book Tavern
3 on hand, as of Dec 7 11:18pm
(SciFi/Fantasy)
On Our Shelves Now
Staff Reviews
In Kingfisher's personally beloved gothic style, Toadling is the hero we need in modern fairytales. Riddled with self-doubt, she always chooses the more difficult path no matter the circumstance. Always "betwixt and between," her coming of age is truly a heart-warming tale (that will perhaps lead you to ask your partner whether they'd still love you as a toad).
— Alex Sigers
A rare, precious, perfect book. A retelling that understands the meaning of the word retelling, that twists and turns so new facets get to shine. I love Toadling with my whole heart —this might be my very favoriteSleeping Beautyever.
August 2023 Indie Next List
Description
From USA Today bestselling author T. Kingfisher, Thornhedge is the tale of a kind-hearted, toad-shaped heroine, a gentle knight, and a mission gone completely sideways.
*A very special hardcover edition, featuring foil stamp on the casing and custom endpapers illustrated by the author.*
There's a princess trapped in a tower. This isn't her story.
Meet Toadling. On the day of her birth, she was stolen from her family by the fairies, but she grew up safe and loved in the warm waters of faerieland. Once an adult though, the fae ask a favor of Toadling: return to the human world and offer a blessing of protection to a newborn child. Simple, right?
But nothing with fairies is ever simple.
Centuries later, a knight approaches a towering wall of brambles, where the thorns are as thick as your arm and as sharp as swords. He's heard there's a curse here that needs breaking, but it's a curse Toadling will do anything to uphold…
"The way Thornhedge turns all the fairy tales inside out is a sharp-edged delight."
—Katherine Addison, author of The Goblin Emperor
Praise for Thornhedge
"I opened, I devoured. Absolutely delightful and full of charm and truth." —Naomi Novik, New York Times bestselling author of A Deadly Education
"Immensely charming, unexpected, full of heart, I was utterly delighted by this incredibly original retelling of Sleeping Beauty." —Katherine Arden, bestselling author of The Bear and the Nightingale
"Kingfisher never fails to dazzle."—Peter S. Beagle, Hugo-, Nebula-, and Locus-Award winning author of The Last Unicorn
"A slim and lovely retelling of 'Sleeping Beauty' full of melancholy charm, Thornhedge has a particularly fine flexibility of tone that bends from sweet and shy to tragic and frightening. . . . it's such a pleasure to read, and Toadling and Halim are such delightful characters, that I simply let the story wash over me like Toadling's water magic and enjoyed the ride."—The New York Times
"Thornhedge is a true comfort read, in which gentleness endures despite outrageous cruelty."—The Washington Post
"T. Kingfisher's delicate, bittersweet style of fantasy is like nothing else on shelves at the moment and, as a result, she's an author whose work I would read without knowing one single fact about it. But, in case you need facts, this Sleeping Beauty retelling with a twist is a perfect blend of sharp-edged humor and horror-tinged heart."—Paste Magazine
"Haunting and unusual—a unique retelling of a classic tale!" —Tamora Pierce, New York Times bestselling author of the Tortall series
"The way Thornhedge turns all the fairy tales inside out is a sharp-edged delight." —Katherine Addison, author of The Goblin Emperor
"You've never read a "Sleeping Beauty" retelling quite like Thornhedge."—POPSUGAR
"Thornhedge is Vernon at her most Vernon-est. . . . There is whimsy and heart and pain. This story is both kind and brutal as it shows how narrow the power of love is."—Locus
"Toadling will break your heart and mend it at the same time, and that is how you know that Thornhedge is a story by T. Kingfisher. I loved this book so much."—Travis Baldree, New York Times bestselling author of Legends & Lattes
"Kingfisher's trademark wit and compassion transforms "Sleeping Beauty" into a moving meditation on guilt, grief, and duty, as well as a surprisingly sweet romance between outsiders. There are no false notes here."—Publishers Weekly, STARRED review
"At every turn, Kingfisher subverts familiar fairytale tropes into a fresh, complex, and extremely human story about loneliness, and the protective barriers we put around ourselves." —Sunyi Dean, bestselling author of The Book Eaters
"Kingfisher weaves elements of fairy tale, folklore, and history in this beautifully crafted story of loss, endurance, terror, and kindness. Thornhedge is sheer magic from beginning to end!" —Juliet Marillier, author of the Blackthorn & Grim and Warrior Bards series
"This marvelously fractured fairy tale takes a well-known and well-loved story and turns it completely around. . . . Highly recommended for anyone who loves to see fables fractured into new and different shapes, similar to Alix E. Harrow's A Spindle Splintered."—Library Journal, STARRED review