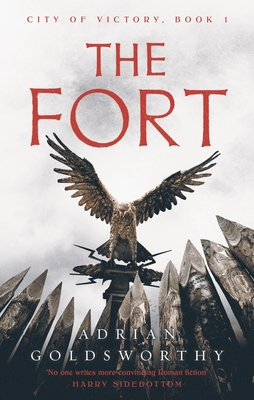 The Fort (City of Victory #1)
Publication Date:
April 5th, 2022
The Book Tavern
1 on hand, as of Sep 28 1:18pm
(Fiction)
On Our Shelves Now
Description
AD 105: Dacia. Centurion Flavius Ferox commands an isolated fort beyond the Danube. First in a new adventure trilogy set on the frontier of the Roman Empire.
AD 105: DACIA
The Dacian kingdom and Rome are at peace, but no one thinks that it will last. Sent to command an isolated fort beyond the Danube, centurion Flavius Ferox can sense that war is coming, but also knows that enemies may be closer to home. Many of the Brigantes under his command are former rebels and convicts, as likely to kill him as obey an order. And then there is Hadrian, the emperor's cousin, and a man with plans of his own.
"An instant classic of the genre." —Harry Sidebottom
An authentic, enjoyable read." —TheTimes
Praise for The Fort (City of Victory #1)
'Goldsworthy's meticulous historical knowledge is very much in evidence in The Fort. There are multiple perspectives, ranging from Hadrian's to a Dacian mystic's. This makes for an extraordinarily rich picture of a battle on the empire's borders' The Times
'Part adventure, part thriller but it's also a dramatic and credible recreation of Roman and barbarian life and an exploration of the ancient political world ... An historian can bring a lot to a fictional tale but only if they have the novelist's gene and understand imaginative storytelling too, Goldsworthy does. He writes fiction with the accuracy of an academic and the flair of a creative writer ... The author understands the Roman mentality, the historical events that underpin the fiction and the physical and cultural landscape of the empire' NB Magazine
"An instant classic of the genre. No historian knows more about the Roman army than Adrian Goldsworthy, and no novelist better recreates the Classical World. Flavius Ferox, Briton turned Roman Centurion is a wonderful, charismatic hero. Action and authenticity combine in a thrilling and engrossing novel." —Harry Sidebottom, author, Fire and Sword on Vindolanda "Praise the gods, Ferox returns in a novel of explosive action and profound authenticity. No one knows the Roman army better than Adrian Goldsworthy, and no one writes more convincing Roman fiction." —Harry Sidebottom on Brigantia
  "An authoritative and exciting portrait not only of Caesar but of the complex society in which he lived."—New York Times Book Review on Caesar: Life of a Colossus
"Riveting...Goldsworthy is the best sort of writer on ancient times. He eschews psychohistory, explains the wildly unfamiliar culture of that era, and speculates carefully...An outstandingly fresh look at well-trodden ground."―Kirkus (starred review) on Philip and Alexander
"A thrilling read, as successful in meeting its ambitions as Philip's kingship, as sweeping as Alexander's conquests."―Tom Holland, author of Rubicon: The Last Years of the Roman Republic on Philip and Alexander
"Philip and Alexander is history writing at its best. In one volume, Adrian Goldsworthy tells the story of perhaps the most successful father-son pair of conquerors of all time. He highlights both the drama of their violent achievements and the consequences that were felt for centuries. The result is expert, fluent, and vivid."―Barry Strauss, author of Ten Caesars: Roman Emperors from Augustus to Constantine on Philip and Alexander