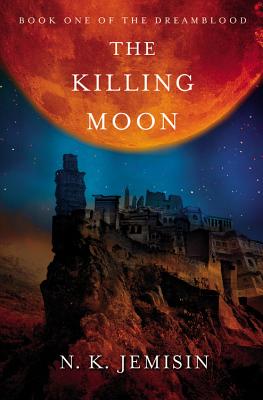 The Killing Moon (The Dreamblood #1)
Publication Date:
May 1st, 2012
The Book Tavern
1 on hand, as of Dec 9 11:18pm
(SciFi/Fantasy)
On Our Shelves Now
Description
Assassin priests, mad kings, and the goddess of death collide in the first book of the Dreamblood Duology by NYT bestselling and three time Hugo-Award winning author N. K. Jemisin.
The city burned beneath the Dreaming Moon.
In the ancient city-state of Gujaareh, peace is the only law. Upon its rooftops and amongst the shadows of its cobbled streets wait the Gatherers -- the keepers of this peace. Priests of the dream-goddess, their duty is to harvest the magic of the sleeping mind and use it to heal, soothe . . . and kill those judged corrupt.
But when a conspiracy blooms within Gujaareh's great temple, Ehiru -- the most famous of the city's Gatherers -- must question everything he knows. Someone, or something, is murdering dreamers in the goddess' name, stalking its prey both in Gujaareh's alleys and the realm of dreams. Ehiru must now protect the woman he was sent to kill -- or watch the city be devoured by war and forbidden magic.
Praise for The Killing Moon (The Dreamblood #1)
"[A] gripping series launch... as well as a rousing political and supernatural adventure."—Publishers Weekly (Starred Review)
"Shines for its remarkable characters and graceful prose."—Library Journal
"In The Killing Moon, Jemisin displays her usual skill at portraying a world whose contours seem simple at first but which quickly break down into something much more complex and dissonant. The world is so fully fleshed out that I could breathe its spices, while the story and characters are so much a part of the world that you could not pull this story or these people out and plug them into a different setting. Jemisin proves yet again that she is one of the important new writers in the sff scene."—Kate Elliott, author of Cold Fire, on The Killing Moon.
"An engaging and fast-paced read with some truly excellent and complicated worldbuilding, The Killing Moon is the first of two planned books. Ehiru and Nijiri are complicated and interesting characters, and the way Jemisin slowly reveals the workings of their religion and what it means to be corrupt make for an absolutely fascinating read."—RT Book Reviews
"Ah N.K. Jemisin, you can do no wrong.... The blend of cultures and lore she draws on to make this very unique world is just stunning, and the fact that she inhabits it with such 3-dimensional characters is even more impressive.... If you want to get away from traditional fantasy world-building, but keep the compelling characters and deep lore, definitely pick this up!!"—Felicia Day