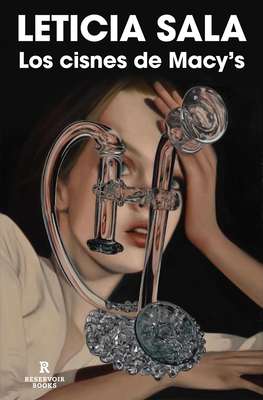 Los cisnes de Macy's / Macy's Swans
Publication Date:
June 20th, 2023
Publisher:
Reservoir Books
The Book Tavern
1 on hand, as of Sep 26 6:21pm
(Languages::Spanish)
On Our Shelves Now
Description
El esperado nuevo libro de Leticia Sala, «una de las jóvenes promesas de la escritura y la poesía de nuestro país». (La Vanguardia)

Una perra ciega le abre los ojos a su dueña sobre las vidas pasadas de su pareja. Dos amigas de la infancia a las que el destino ha separado mantienen una conversación al borde de un precipicio en el Gran Cañón. Un meteorito llamado Madre cae en Malibú. Una exitosa artista de uñas de Miami visita a una bruja para tratar de poner fin a sus demonios. Una madre en medio de incubadoras no sabe cuál de todos los bebés es su hija.
Leticia Sala sabe que el dolor reside en chats en los que ya nadie escribe, que la primera amistad cala mucho más profundo que el primer amor, que vida no es lo único que contiene el vientre de una embarazada, y que nuestras pantallas deberían leerse como el más íntimo de los diarios. En estos relatos situados entre la ficción y la memoria, la autora se confirma como una gran retratista de su generación, conjugando lo profundo con lo pop y lo poético con lo tangible para hablar de los deseos y los temores que pueden cruzar toda una existencia.
ENGLISH DESCRIPTION
The long-awaited new book by Leticia Sala, "one of Spain's young promises of writing and poetry." (La Vanguardia)
 
A blind female dog opens her owner's eyes to her partner's past lives. Two childhood friends separated by fate have a conversation on the edge of a cliff in the Grand Canyon. A meteor named Mother falls in Malibu. A successful Miami nail artist visits a witch to try to put an end to her demons. A mother surrounded by baby incubators doesn't know which of the babies is her daughter.
 
Leticia Sala knows that pain resides in chat rooms where no one writes anymore, that the first friendship penetrates much deeper than the first love, that life is not the only thing contained in the belly of a pregnant woman, and that our screens should be read as the most intimate of newspapers. In these stories located between fiction and memory, the author confirms herself as the great portraitist of her generation, combining the profound with a pop culture style, and the poetic with the tangible, to talk about the desires and fears that cross through an entire existence.
Praise for Los cisnes de Macy's / Macy's Swans
«Leticia Sala narra desde la ingenuidad y la profundidad a la vez, es como ir descubriendo mundos desde los ojos de una niña y de una sabia ancestral al mismo tiempo. Hay una especie de glitter nostalgia, que brilla por fuera, pero escuece mucho por dentro. Siempre quieres más». Rigoberta Bandini
«La prosa sutil y directa de Leticia Sala consigue que te veas reflejada en los personajes que crea. Con aires de Joan Didion, sus relatos son actuales, frescos y hábiles. Respiran inteligencia, te deja pensando durante horas». -Elisa Levi
«La amistad, la familia y la inconsistencia de los vínculos en tiempos de Instagram. Una escritora que se entrega a la apreciación de la ternura y la extrañeza, revelando la ambigua relación que mantenemos con aquello que consideramos bello». -Sara Torres
Sobre su obra anterior se ha dicho:
«Sus textos son como un pellizco». -Vogue

«La originalidad de su obra ha llevado a algunos europeos a señalar a Leticia como parte del nacimiento de una nueva voz literaria». -La Nación

«Leticia Sala nos llena de luz». -Vein

«Palabras cargadas de emoción y de sentimientos que ponen nombre a muchos de los relatos más bellos que nos podemos encontrar». -Harper's Bazaar