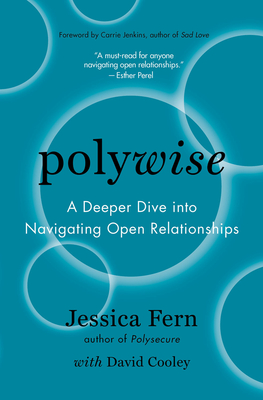 Polywise: A Deeper Dive Into Navigating Open Relationships
Publication Date:
August 25th, 2023
Publisher:
Thornapple Press
The Book Tavern
1 on hand, as of Dec 10 11:18pm
(Psychology and Self-Help)
On Our Shelves Now
Praise for Polywise: A Deeper Dive Into Navigating Open Relationships
"A must-read for anyone navigating open relationships." —Esther Perel, psychotherapist and author of Mating in Captivity.
"I find Jessica's work not only highly useful but absolutely essential to building healthy, secure open relationships. What a gift this intelligent, inspired piece of literature is to the broader non-monogamous community, as well as those about to embark on this brave frontier of multiple loves! I whole-heartedly recommend this book to anyone interested in self-acceptance and self-mastery, as well as their own emotional well-being as they build loving, sustainable, healthy multiple relationships."—Kitty Chambliss, ACC, CPC, ELI-MP, relationship coach and author of Jealousy Survival Guide: How to Feel Safe, Happy and Secure in an Open Relationship
"I often say there's being polyamorous and then there's being polyamorous well. I believe Polywise can equip you to do just that." —Evita Sawyers, author of A Polyamory Devotional.
"An exceptional achievement that will be required reading for anyone practicing consensual nonmonogamy, from seasoned veteran to timid newbie alike." —Emily Sotelo Matlack, co-host of the Multiamory podcast and co-author of Multiamory: Essential Tools for Modern Relationships,
"Most of us are content to 'make polyamory work' and keep ourselves and our partners reasonably happy. Jessica Fern is taking us far beyond that to a much deeper level of understanding of our psyches and the underpinnings of our relationship dynamics. She and her co-conspirator David Cooley have bared their souls about the evolution of their own poly lives and relationships, as well as sharing countless illuminating stories about their clients' struggles . . . Required reading and a must-have for your poly bookshelf!" —Kathy Labriola,  author of The Polyamory Breakup Book.
 
"If you are ready to think more deeply about communication, codependency, conflict, and repair in your most important relationships, Polywise is required reading." —Alexandra H. Solomon, PhD, author of Love Every Day and host of Reimagining Love.
 
"In Polywise, Jessica Fern and David Cooley help readers understand the often unseen root causes of symptoms and give them the strategies they need so their relationships can actually thrive." —JoEllen Notte, author of The Monster Under the Bed: Sex, Depression, and the Conversations We Aren't Having and In It Together: Navigating Depression with Partners, Friends, and Family.