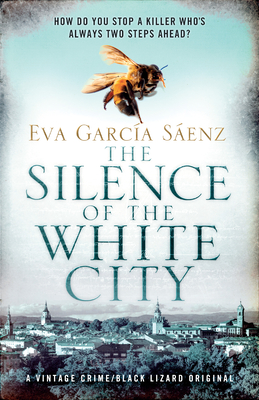 The Silence of the White City (White City Trilogy #1)
Publication Date:
July 28th, 2020
Publisher:
Vintage Crime/Black Lizard
Usually Ships in 2 to 14 Days
Description
"You'll want to race through The Silence of the White City, but it's best to slow down and savor the full effect of the volatile, intoxicating universe Sáenz has created. This is the first novel of the White City trilogy to be translated into English—the second can't come fast enough." —AirMail

HOW DO YOU STOP A KILLER WHO'S ALWAYS TWO STEPS AHEAD?
A madman is holding Vitoria hostage, killing its citizens in brutal ways and staging the bodies. The city's only hope is a brilliant detective struggling to battle his own demons.
Inspector Unai López de Ayala, known as "Kraken," is charged with investigating a series of ritualistic murders. The killings are eerily similar to ones that terrorized the citizens of Vitoria twenty years earlier. But back then, police were sure they had discovered the killer, a prestigious archaeologist who is currently in jail. Now Kraken must race to determine whether the killer had an accomplice or if the wrong man has been incarcerated for two decades. This fast-paced, unrelenting thriller weaves in and out of the mythology and legends of the Basque country as it hurtles to its shocking conclusion.
Praise for The Silence of the White City (White City Trilogy #1)
Airmail's No. 3 Best Book of the Year
Crime by the Book's Best Detective Novel of the Year
"An enthralling, full-bodied epic about how the past is always present in Vitoria, the city where the crimes take place. . . . You'll want to race through The Silence of the White City, but it's best to slow down and savor the full effect of the volatile, intoxicating universe Sáenz has created. This is the first novel of the White City trilogy to be translated into English—the second can't come fast enough."
—AirMail
"The Silence of the White City is a rare literary thriller, likely to whet your appetite for more from this talented author."
—AARP
"Combining textures of contemporary European noir, police procedurals, and the unique mythology of the Basque peoples, Garcia Saenz paints a vivid, unforgettable landscape."
—CrimeReads
"There's a buzz around Eva García Sáenz and her trilogy, and The Silence of the White City is a crime novel you'll want to put at the top of your summer reading list."
—New York Journal of Books
"This immersive, intricate crime novel will thrill readers looking for high-caliber crime writing that is also just plain fun to devour. Moving seamlessly between past and present, and delving deep into the region's history and into the inner lives of its characters, The Silence of the White City is an exceptional serial killer thriller that deserves to be read by anyone who has loved The Silence of the Lambs or TV dramas like Mindhunter."
—Crime by the Book
"Stunning. . . . Fascinating local color, a handsomely crafted plot, and exquisite characterization make this a standout. Readers will eagerly await the next volume in the series." 
—Publishers Weekly (starred and boxed)
"In much the same way that Cara Black or Donna Leon portray Paris or Venice in their respective mystery series, Sáenz lovingly depicts a unique and fascinating city, weaving in Basque folklore and culture while spinning a very complex and rich story."
—BookPage
"A work of impressive scope and depth, compellingly written."
—Kirkus Reviews (starred)