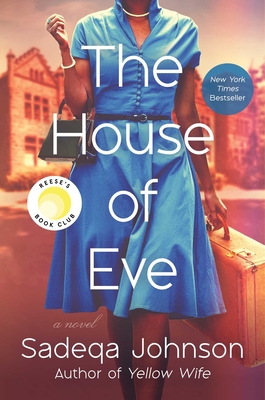 The House of Eve
Publication Date:
February 7th, 2023
Publisher:
Simon & Schuster
The Book Tavern
1 on hand, as of Dec 9 11:18pm
(Fiction::African-American )
On Our Shelves Now
TheHouse of Evefollows two young Black women in the 1950's as they struggle with racism, colorism, and the many paths to motherhood. It will break your heart and make you realize everyone is fighting their own battle. Incredible.
February 2023 Indie Next List
Description
"Amazing…I was completely surprised by the ending of this beautifully told and written book." —Reese Witherspoon
"A triumph of historical fiction" (The Washington Post), an instant New York Times bestseller, and a Reese's Book Club pick, set in 1950s Philadelphia and Washington, DC, that explores what it means to be a woman and a mother, and how much one is willing to sacrifice to achieve her greatest goal.
1950s Philadelphia: fifteen-year-old Ruby Pearsall is on track to becoming the first in her family to attend college. But a taboo love affair threatens to pull her back down into the poverty and desperation that has been passed on to her like a birthright.
Eleanor Quarles arrives in Washington, DC, with ambition and secrets. When she meets the handsome William Pride at Howard University, they fall madly in love. But William hails from one of DC's elite wealthy Black families, and his parents don't let just anyone into their fold. Eleanor hopes that a baby will make her finally feel at home in William's family and grant her the life she's been searching for. But having a baby—and fitting in—is easier said than done.
With their stories colliding in the most unexpected of ways, Ruby and Eleanor will both make decisions that shape the trajectory of their lives.
Praise for The House of Eve
A New York Times bestseller – An Apple Best Book of 2023 – A Goodreads Best Book of 2023 – An NPR Best Book of 2023
 "The House of Eve is a triumph of historical fiction.…Johnson's novel is an affecting and arresting exploration of young Black womanhood and motherhood in the mid-20th century…. Johnson's talents are in full bloom in this layered story with two distinctive and compelling young Black women at the center…. The House of Eve is engrossing, emotionally wrenching and socially astute storytelling."—Washington Post
"A beautifully written and wonderfully crafted tale of two young Black women, their families and their love stories. However, that's only the beginning of this immersive, captivating story. Johnson's two main characters are strikingly different but stunningly similar. Readers will never forget Ruby or Eleanor, or the choices they make and the sacrifices they endure in this timely, relatable tale of women, children, skin color, haves and have-nots with an ending that will stay with you for a long, long time. A Reese's Book Club pick, The House of Eve is an instant classic."—NPR
"A heartrending story."—Taylor Jenkins Reid, via Goodreads
"A provocative and heartrending tale about two young women forced to face the limitations of their reproductive choices in 1950s America. Ripping open the complex intersection of classism, colorism and gender inequality, Johnson has delivered a powerful statement on the cost of suppressing female autonomy that's stunning to experience and impossible to forget."--Atlanta Journal Constitution
"This is a moving work of women's fiction with timely perspective on racism, colorism, and pre-Roe women's rights in the United States of the 1950s. Fans of Tayari Jones, Brit Bennett, and Jeni McFarland will want to check it out."—Library Journal 
"Johnson's suspenseful and thought-provoking latest follows two young Black women as they separately navigate mid-20th century America…. This well-crafted work is bound to provoke discussion among readers about the conflicts women face regarding pregnancy."—Publishers Weekly
"Johnson showcases the difficult boundaries of race, class, and education as she explores the obstacles and consequences that confront those who seek to cross them."—Booklist
"Johnson's portrait of young women with sharp wit and big dreams is powerful and honest."--PopSugar
"If you've read Sadeqa Johnson's other books, you'll know her extraordinary talent for writing historical fiction that breaks the mold by challenging dominant narratives and encouraging readers to rethink their assumptions. Her latest offering is a powerfully moving story of womanhood, motherhood, race and redemption."--Ms. Magazine
"Sadeqa Johnson is expert at excavating the parts of the past that we would rather not confront. She dusts off these harrowing histories, shines them up, and gives them their proper glory. She mines this terrain with soaring grace, shining intellect, and a love that resonates on every page. Thanks to Johnson's enviable ability to craft narratives that not only educate and elucidate, but also enamor, the stories of Ruby and Eleanor, and the Ancestors and Elders they represent, will remain with me always. The House of Eve is a powerful witnessing, an indispensable testimony, and a remarkable addition to Johnson's already stunning bibliography." —ROBERT JONES, JR.,  author of The New York Times bestselling novel, The Prophets
"A luminous, moving read."--Kate Quinn, author of The Diamond Eye
"The House of Eve is a gorgeous, timely novel about the price that women pay for love. Eleanor and Ruby must choose between passion and safety, studies or motherhood, and painful situations or convenient lies. I ached for this book's characters and savored this brilliant, deeply-researched novel about courage, coverups, and choices that no one should have to make."—JANET SKESLIEN CHARLES, author of New York Times bestseller The Paris Library
"Sadeqa Johnson has a unique talent for shining light on lesser-known chapters of American history and bringing them fully, vibrantly to life. In The House of Eve, she paints a vivid world of circumstance, sacrifice, and longing, set just before the dawn of rock'n'roll in Philadelphia and Washington, D.C. With pitch-perfect dialogue, intricately researched details, and a tender exploration of the hearts of two women facing life-altering decisions, The House of Eve is an unforgettable tale of motherhood, ambition, the perils of prejudice, and the heartache of forbidden love."—KRISTIN HARMEL, New York Times bestselling author of The Forest of Vanishing Stars
"Full of immense heart, The House of Eve is a profound exploration of what it means to be a woman and mother in a world that can't and won't support you. This is a novel born of Johnson's family history, a remarkable story re-imagined with grace, truth and powerful love. With the true and fascinating history of women who changed the world amid prejudice, shame and forbidden love, Johnson has gifted us with an enthralling novel that will leave an indelible imprint on our hearts and minds. I loved this book."—PATTI CALLAHAN HENRY, New York Times bestselling author of The Secret Book of Flora Lea
"I don't know where to begin with the brilliantly written House of Eve by Sadeqa Johnson. There were so many twists and turns, so many heart palpitating moments—I couldn't turn the pages fast enough. House of Eve is one of those novels that will stay with you long after you read the last page."—VICTORIA CHRISTOPHER MURRAY, New York Times bestselling author of The Personal Librarian