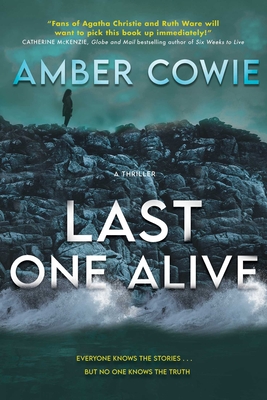 Last One Alive: A Thriller
Publication Date:
May 10th, 2022
Publisher:
Simon & Schuster
The Book Tavern
1 on hand, as of Dec 1 2:19pm
(Fiction)
On Our Shelves Now
Description
A team of researchers exploring the myth of a witch find their numbers mysteriously dwindling in this irresistible psychological thriller for fans of Ruth Ware, Shari Lapena, and Lucy Foley.
Bestselling debut novelist Penelope Berkowitz is desperate for inspiration for a second book. With the help of her new boyfriend, she embarks on a research trip with a Clue-like team of professionals, ex-lovers, and estranged family members to investigate the myth of a witch on Stone Point, a remote coastal outcropping in the Pacific Northwest.
For over a century, the cabin on the point stood vacant after the violent death of the original owner and the disappearance of his wife—until a young couple decided to turn it into an eco-lodge. Shortly after starting renovations, however, they suddenly ceased all contact with others and were never heard from again.
Given the area's mysterious history, Penelope is certain there's a story to be found in the isolated region. But soon after arriving on the point's wind-whipped shores, things begin to go awry for the team. Storms blow in. Tempers flare. The satellite phones stop working and no boats are due for days. Then people begin to disappear. When bodies turn up, it's up to Penelope and the remaining members of the team to solve the mystery of the Stone Witch before the killer is the only one left alive.
Praise for Last One Alive: A Thriller
"A well-written book with references to some good Golden Age mysteries. . . . Just who and why and what is happening to the people who went the Point and who will be the last person standing is as clever a twist as Ms. Christie ever envisioned."
— The Globe and Mail
"A riveting, irresistible locked-room mystery reminiscent of Agatha Christie, Last One Alive is endlessly entertaining and fiendishly clever. So jam-packed with tension and suffused with dread, you won't be able to put it down!"
— CHRISTINA McDONALD, USA Today bestselling author of The Night Olivia Fell
"A haunting, claustrophobic, unpredictable thriller for fans of Agatha Christie, Last One Alive showcases Amber Cowie's extraordinary talent. As a violent storm rages outside a remote lodge, a group of strangers are stranded in a terrifying cat-and-mouse hunt for the murderer among them. Cowie writes with such skillful description that I could feel the cold and rain seep into my bones, and my pulse spike as the exhilarating story reached a breakneck pace. A bewitching read teeming with fascinating characters, this book is an absolute stand-out.
— SAMANTHA M. BAILEY, USA Today and #1 nationally bestselling author of Woman on the Edge
"An abandoned lodge. A group of suspect people. An old mystery to solve. And then, the guests begin disappearing one by one. Can they figure out what is going on before it's too late? Fans of Agatha Christie and Ruth Ware will want to pick this book up immediately!"
— CATHERINE McKENZIE, bestselling author of Six Weeks to Live and I'll Never Tell
"Cowie has done Agatha Christie proud in this stay-up-all-night, keep-all-the-lights-on mystery. With a setting that's remote, creepy, and possibly cursed—and a story both haunting and harrowing—Last One Alive will entertain you from the first disappearance to the final dead body."
— MEGAN COLLINS, author of The Family Plot
"Cowie has the uncanny ability to transport her readers to the eerie wilderness settings of her novels, to keep them racing through her books like a person desperately trying to find their way back to safety—but still, somehow, not wanting the adventure to end. Last One Alive is a fast-paced story of folklore, revenge, and redemption, sure to keep you reading late into the night (with all the lights on)."
— SUZY KRAUSE, author of Sorry I Missed You