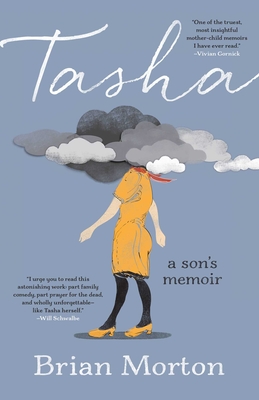 Tasha: A Son's Memoir
Publication Date:
April 12th, 2022
Publisher:
Avid Reader Press / Simon & Schuster
The Book Tavern
1 on hand, as of Sep 23 10:21pm
(Memoir and Essays)
On Our Shelves Now
Description
A Washington Post Best Nonfiction Book of the Year
In the spirit of Fierce Attachments and The End of Your Life Book Club, acclaimed novelist Brian Morton delivers a "superb" (Maureen Corrigan, Fresh Air), darkly funny memoir of his mother's vibrant life and the many ways in which their tight, tumultuous relationship was refashioned in her twilight years.
Tasha Morton is a force of nature: a brilliant educator who's left her mark on generations of students—and also a whirlwind of a mother, intrusive, chaotic, oppressively devoted, and irrepressible.
For decades, her son Brian has kept her at a self-protective distance, but when her health begins to fail, he knows it's time to assume responsibility for her care. Even so, he's not prepared for what awaits him, as her refusal to accept her own fragility leads to a series of epic outbursts and altercations that are sometimes frightening, sometimes wildly comic, and sometimes both.
Clear-eyed, "deeply stirring" (Dani Shapiro, The New York Times Book Review), and brimming with dark humor, Tasha is both a vivid account of an unforgettable woman and a stark look at the impossible task of caring for an elderly parent in a country whose unofficial motto is "you're on your own."
Praise for Tasha: A Son's Memoir
"I found Tasha addictive. I couldn't even slow down. Why? Its startling details, fearless depictions and the curiosity this sparks: How might Morton "solve" the unsolvable?"… Tasha stands as both a cri de coeur and vibrant testament — the painstaking, brave, generous piecing-together of a wildly difficult puzzle." —Joan Frank, The Washington Post
"Superb… one thing that sets Tasha far apart from the usual one-sided literary conversation with a deceased parent is Morton's rigorous attempt to see his mother, Tasha, whole — as a person. Another thing that distinguishes Tasha is Morton's elastic style as a writer, by turns droll, emotionally wrenching, and profound. … [A] powerful memoir… Tasha is such a pleasure to read, oscillating between past and present, horror and hilarity, the big social picture and one son's ongoing attempt to work out some stuff with his mother." —Maureen Corrigan, Fresh Air
"Brian Morton, a gifted, compassionate novelist, has, over the course of five elegant novels, explored the moral complexity inherent in storytelling. … With humility and grace, he tells us that he has failed his mother by not seeing her as a full and complete person, one with great courage, complexity and strength. But it is a gift of mature adulthood — and perhaps the work of writing memoir — to see our parents as people who exist outside of their centrality in our lives… [a] lucid memoir." —Dani Shapiro, The New York Times
"Morton's affecting, funny tribute captures the complexities of the mother-son bond, the crazy-making choices of caretaking and the mixed blessings of small-town life."—People
"One of the truest, most insightful mother-child memoirs I have ever read." —Vivian Gornick, author of Fierce Attachments
"Brian Morton is a tremendous writer's writer… Tasha is in many ways a tribute to a complicated woman, but also an examination of the dearth of options for ailing, aging people—regardless of cost." —The Observer
"This profoundly moving memoir is both an absolute delight and a punch to the gut: Brian Morton writes without flinching about his often exasperating mother, his own considerable failings, and the impossible demands of balancing safety and independence, love and anger, guilt and grief. I urge you to read this astonishing work: part family comedy, part prayer for the dead, and wholly unforgettable —like Tasha herself." —Will Schwalbe, author of The End of Your Life Book Club
"A searing and tender memoir, written with candor, warmth, and heartbreaking grace." —Betsy Lerner, author of The Bridge Ladies 
"Yes, Tasha is an indelibly memorable character, but what makes the book really soar is the combination of her plus the author's truthful self-portrait: the two are locked in a pas de deux, for better or worse, that epitomizes the impossible-to-satisfy love of mother and child." —Phillip Lopate
"Unstinting yet tender… a tour de force... Part gut-punch comedy, part eulogy, this tribute is dazzling"  —Publishers Weekly *starred review*