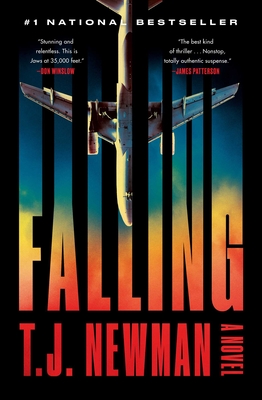 Falling: A Novel
Publication Date:
July 6th, 2021
Publisher:
Avid Reader Press / Simon & Schuster
The Book Tavern
2 on hand, as of Dec 1 1:19pm
(Fiction)
On Our Shelves Now
Falling is an absolute masterclass in unique suspense fiction. From the first few lines, I could tell this was going to be a stunner, and boy, was I right. I'll be anxiously waiting until Newman releases her next novel!
July 2021 Indie Next List
Description
#1 NATIONAL BESTSELLER * INSTANT NEW YORK TIMES BESTSELLER
"T. J. Newman has written the perfect thriller! A must-read." —Gillian Flynn
"Stunning and relentless. This is Jaws at 35,000 feet." —Don Winslow
"Falling is the best kind of thriller…Nonstop, totally authentic suspense." —James Patterson
"Amazing...Intense suspense, shocks, and scares...Chilling." —Lee Child
You just boarded a flight to New York.
There are one hundred and forty-three other passengers onboard.
What you don't know is that thirty minutes before the flight your pilot's family was kidnapped.
For his family to live, everyone on your plane must die.
The only way the family will survive is if the pilot follows his orders and crashes the plane.
Enjoy the flight.
Praise for Falling: A Novel
#1 Indie Next Pick
Amazon Best Books of the Month
Apple Best Books of the Month
LibraryReads Best Books of the Month
Good Morning America Buzz Pick of the Week
Named a most anticipated book of summer by dozens of outlets including USA Today, Newsweek, Entertainment Weekly, Esquire, Los Angeles Times, Chicago Tribune, Hollywood Reporter, CrimeReads, Goodreads, and more.
Named a Best Book of the Year (So Far) by USA Today and Esquire.
"The splashiest book debut of the summer."
—Entertainment Weekly
"The thriller of the summer."
—Dallas Morning News
"An unputdownable thriller that will take you on a wild ride full of twists and suspense."
—Good Morning America
"Summer's big thriller . . . The frenzy for Falling is understandable: At every turn, Newman cranks the tension in unexpected ways that still satisfy the thriller lust. Her insider's knowledge comes through in details that not only bolster the book's credibility but also catalyze the plot."
—Margaret Wappler, Los Angeles Times
"Terrifying . . . Buckle up for a chilling summer read."
—People (Best Books of the Week)
"A rich and assured debut . . . Emotionally complex in surprising and refreshing ways . . . Falling is expertly paced—if you were to begin reading this book at LAX, you'd finish it right as you began your descent into JFK."
—USA Today (3.5 out of 4 stars)
"A white-knuckle thrill ride."
—Newsweek
"One of the most talked-about debuts of the year. Like all good thrillers, Falling gets off to a dramatic start and maintains its momentum . . . Newman's various narrative strands resemble high-voltage live wires. One tense predicament replaces another, from poison gas attacks to mutinous passengers to orders to kill the co-pilot or shoot down the plane. The suspense is heightened by the fact that the terrorist is not open to negotiation."
—Malcolm Forbes, Minneapolis Star Tribune
"The summer's buzziest beach read."
—Los Angeles Magazine
"Bound for JFK out of LAX, pilot Bill Hoffman has no idea he's about to be given a choice: Either crash the plane or his family will be murdered. The author, a former bookseller and flight attendant, seems to think of everything — every trick, every error, every advantage — in a plot that executes more barrel rolls than a stunt plane on the Fourth of July."
—Bethanne Patrick, Los Angeles Times
"One of the year's best thrillers . . . This novel is like the films Die Hard and Speed on steroids . . . Newman keeps up an extreme pace from the first page."  
—Library Journal (starred review)  
"Brilliant . . . Incredibly suspenseful . . . With abundantly human characters, natural dialogue, and a plot that unleashes one surprise after another, this could be the novel that everyone is talking about this summer."
—Booklist (starred review)
"A superlative debut . . . This tense, convincing thriller marks the arrival of an assured new talent."
—Publishers Weekly (starred review)
"High-octane drama . . . Newman's background means Falling brings a freshness and depth to the genre. While the story is propelled by the impossible situation Bill and his captive family find themselves in, at its heart is the relationship between the tight-knit crew. . . . It's an eye-opening look into the reality of working on a plane."
—The Guardian
"Attention, please: T. J. Newman has written the perfect thriller! Such a cool, high-concept idea: commercial airline pilot forced to make the ultimate life-or-death choice. Newman's background in the air grounds the story in reality, while her writing amps up the suspense to unbearable levels. Terrific and terrifying, a true page-turner. A must-read for summer vacation—but my advice is, don't start this book until you've gotten off the plane."
—Gillian Flynn, #1 New York Times bestselling author of Gone Girl
"Falling is the best kind of thriller (for me as a reader anyway). Characters you care deeply about. Nonstop, totally authentic suspense."
—James Patterson, #1 New York Times bestselling author
"T. J. Newman has taken a brilliant idea, a decade of real-life experience, and crafted the perfect summer thriller. Relentlessly paced and unforgettable."
—Janet Evanovich, #1 New York Times bestselling author
"Amazing . . . Intense suspense, shocks and scares plus chilling insider authenticity make this one very special."
—Lee Child, #1 New York Times bestselling author
"A bullet train of a thriller with incredible tension and personal stakes. The real engine of this stunning and relentless book is how far would you go to save your family? I read Falling with my heart in my throat—this is Jaws at 35,000 feet. An extraordinary debut and the perfect summer page-turner."  
—Don Winslow, New York Times bestselling author of The Force and The Cartel   
"Heart pounding. Heart wringing. Heart STOPPING! A great book! One of those where you're afraid to turn the next page, but you can't stop." 
—Diana Gabaldon, #1 New York Times bestselling author of the Outlander series 
"Think Speed on a passenger jet—with the cockpit dials turned up to supersonic."
—Ian Rankin, #1 internationally bestselling author
"Buckle up for a completely original edge-of-your-seat thriller that will keep you guessing until the final nail-biting pages. Save your family or save the hundred passengers who have put their lives in your hands. You cannot save both. T. J. Newman's chilling novel stayed with me long after I finished reading it. This is the best thriller I've read in years."
—Adrian McKinty, New York Times bestselling author of The Chain  
"A jet-propelled thriller that will have you in its grip from first page to last. A truly astonishing debut and an incredible work of pure suspense." 
—Steve Cavanagh, #1 bestselling author of the Eddie Flynn series
"Falling redefines the phrase roller-coaster ride. It redefines the term edge-of-your-seat thriller. Falling is that rarest of things, a book that is even better than everyone says it is. T. J. Newman has delivered a stunning debut."
—Dervla McTiernan, #1 internationally bestselling author