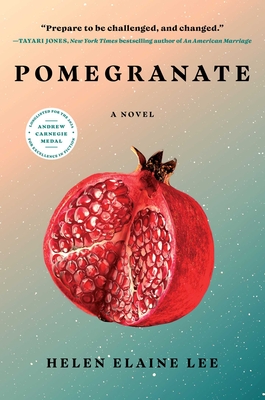 Pomegranate: A Novel
Publication Date:
April 11th, 2023
Usually Ships in 2 to 14 Days
Description
LONGLISTED FOR THE 2024 ANDREW CARNEGIE MEDAL FOR EXCELLENCE IN FICTION
The acclaimed author of The Serpent's Gift returns with this "deep and beautiful" (Jaqueline Woodson, New York Times bestselling author) story about a queer Black woman working to stay clean, pull her life together, and heal after being released from prison.
Ranita Atwater is "getting short."
She is almost done with her four-year sentence for opiate possession at Oak Hills Correctional Center. Three years sober, she is determined to stay clean and regain custody of her two children. Ranita is regaining her freedom, but she's leaving behind her lover Maxine, who has inspired her to imagine herself and the world differently.
My name is Ranita, and I'm an addict, she has said again and again at recovery meetings. But who else is she? Who might she choose to become? Now she must steer clear of the temptations that have pulled her down, while atoning for her missteps and facing old wounds. With a fierce, smart, and sometimes funny voice, Ranita reveals how rocky and winding the path to wellness is for a Black woman, even as she draws on family, memory, faith, and love in order to choose life.
Pomegranate is a complex portrayal of queer Black womanhood and marginalization in America from an author "working at the height of her powers" (Tayari Jones, New York Times bestselling). In lyrical and precise prose, Helen Elaine Lee paints a humane and unflinching portrait of the devastating effects of incarceration and addiction, and of one woman's determination to tell her story.
Praise for Pomegranate: A Novel
"Helen Elaine Lee has brought such a deep and beautiful world of people to the page, I found myself already missing them even as I continued to read. In their survival, we find ours and are left grateful, different, better."
— Jacqueline Woodson, National Book Award-winning and New York Times bestselling author of Red at the Bone
"Pomegranate feels like something new: a humane, closely observed account of a Black woman—a recovering addict, a mother who's lost custody of her children—emerging from prison, working to stay clean, reconnect with her family, and come to terms with her complicated past. This moving and panoramic novel starts off as a character study and evolves into a big-hearted story of redemption."
— Tom Perrotta, New York Times bestselling author of Tracy Flick Can't Win and Mrs. Fletcher
"Helen Elaine Lee is working at the height of her powers. With empathy, insight, and hope, Pomegranate reveals the hidden heartbreak of the women touched by incarceration. Prepare to be challenged and changed."
— Tayari Jones, New York Times bestselling author of An American Marriage
"Like the pomegranate of the title…filled with unexpected treasures. Lee has created a powerful, beautifully written story of a woman who painfully confronts her past to build her future."
— Booklist (starred review)
"Both lush and probing, this book is evidence, yet again, of Lee's stunning gift to hold history and beauty in her hands simultaneously."
— Robin Coste Lewis, National Book Award-winning author of Voyage of the Sable Venus
"Helen Elaine Lee is a writer of great humanity, wisdom, delicacy and heart. Pomegranate is a moving portrait of a woman living with her mistakes and determined to do better. Ranita's journey out of addiction and incarceration and early trauma, her daily struggle to live a life as large as her spirit, is a remarkable feat of literary conjuration. This is what novels are for."
— Jennifer Haigh, nationally bestselling author of Mercy Street
"Lee's handling of trauma is deft, and her portrayal of the carceral system's cruelty is unflinching and empathetic…a cache of jewels."
— Kirkus Reviews
"With a light, poetic touch, Lee balances the painful details of Ranita's reality with genuine, persistent hope for new beginnings. It's irresistible."
— Publishers Weekly (starred review)
"Lee writes beautifully about the healing power of Black kin networks, queer love, community support systems, and literature."
— Buzzfeed News
"Pomegranate is a fierce and extraordinarily moving epic about coming home. Helen Lee has blessed us with the great American novel about people America tosses away. Her searing words lift up the lives of women – daughters, mothers, and lovers – you think you know but you have no idea. The achievement of a lifetime from a brilliant storyteller, this soulful novel is a balm, a truth telling, and a damn good read. Somewhere Toni Morrison, James Baldwin, and Audre Lorde are slurping fat juicy pomegranates and they are rejoicing."
— Paul Butler, MSNBC Legal Analyst, author of Chokehold: Policing Black Men