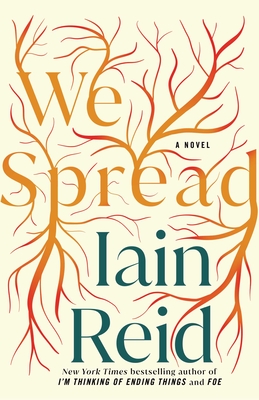 We Spread
Publication Date:
September 27th, 2022
Publisher:
Gallery/Scout Press
The Book Tavern
1 on hand, as of Sep 28 1:18pm
(Fiction)
On Our Shelves Now
A compact and powerful novel! Penny, an elderly widow, has moved into Six Cedars, where things might not necessarily be as they seem. Iain Reid treats Penny with great compassion as we slowly understand what is actually happening to her.
October 2022 Indie Next List
Description
The author of the "evocative, spine-tingling, and razor-sharp" (Bustle) I'm Thinking of Ending Things that inspired the Netflix original movie and the "short, shocking" (The Guardian) Foe returns with a new work of suspense following an elderly woman trapped in a mysterious facility.
Penny, an artist, has lived in the same apartment for decades, surrounded by the artifacts and keepsakes of her long life. She is resigned to the mundane rituals of old age, until things start to slip. Before her longtime partner passed away years earlier, provisions were made for a room in a unique long-term care residence, where Penny finds herself after one too many "incidents."
Initially, surrounded by peers, conversing, eating, sleeping, looking out at the beautiful woods that surround the house, all is well. She even begins to paint again. But as the days start to blur together, Penny—with a growing sense of unrest and distrust—starts to lose her grip on the passage of time and on her place in the world. Is she succumbing to the subtly destructive effects of aging or is she an unknowing participant in something more unsettling?
At once compassionate and uncanny, told in spare, hypnotic prose, Iain Reid's "exquisite novel of psychological suspense" (Publishers Weekly, starred review) explores questions of conformity, art, productivity, relationships, and what, ultimately, it means to grow old.
Praise for We Spread
 "Reid combines magnetic character development with clipped, eerie prose in this masterfully crafted psychological thriller that will keep the reader guessing until the very last word on the final page."—Booklist 
"Iain Reid's We Spread is taut and frightening read, perhaps best called a thriller. But the true thrill is in how so slender a book tackles such big questions—What does it mean to make art? What happens as we near death?—with such grace."
—Rumaan Alam, New York Times bestselling author of Leave The World Behind
"[An] exquisite novel of psychological suspense . . . [Leaves] readers contemplating their own mortality and primed to see the sinister behind the mundane . . . This deep plunge into fears about growing old and losing control is unforgettable." —Publishers Weekly (Starred Review)
"In We Spread Iain Reid masterfully gets into the psyche of his characters and readers all at once. What a gift."
—Alma Har'el, Director of Bombay Beach, Honey Boy, and Shadow Kingdom. 
"I loved this book and couldn't put it down--a deeply gripping, surreal and wonderfully mysterious novel. Not only has Reid given us a brilliant page turner, but a profoundly moving meditation on life and art, death and infinity. Reid is a master." — Mona Awad, author of Bunny and All's Well
"With this latest hypnotic transmission, Reid delves into the strange substructures of psychology, where individual minds blur and a more undifferentiated kind of life teems. With tenderness and mastery, he offers us great insights on the nature of aging and the vertiginous experience of being human." —Alexandra Kleeman, author of Something New Under the Sun
"We Spread is simply hypnotic. This novel works by a fine hat trick of genre-twisting subtlety, chilling suspense, and a bone-close two-fold portrait of aging in a world that devours everything. The book surprises, even betrays, and every second of its rich rewards is earned by Iain Reid's winning, wise restraint. Read it to be caught in this brilliantly inspired vision of art and life. I am glad I did." –Canisia Lubrin, Griffin Poetry Prize winning author of The Dyzgraphxst
"We Spread is pure storytelling magic.  Suspenseful, philosophically rich, and fully audacious in both setting and voice, it is a psychological thriller that enthralls through distinctly lucid and propulsive prose.  Iain Reid once again most powerfully illuminates the mysteries of art, life, and consciousness."  –David Chariandy, author of Brother