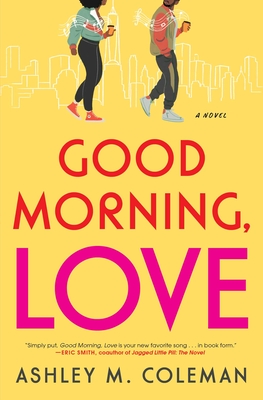 Good Morning, Love: A Novel
Publication Date:
June 21st, 2022
Publisher:
Simon & Schuster
The Book Tavern
1 on hand, as of Dec 1 11:18pm
(Fiction::African-American )
On Our Shelves Now
Description
For fans of My (Not So) Perfect Life and Jasmine Guillory's While We Were Dating, a disarmingly fun debut novel follows Carlisa Henton as her life comes undone after a chance meeting with a rising pop star.
Carlisa "Carli" Henton is a musician and songwriter hoping to follow in her father's musical footsteps. But, biding her time until she makes it big in the music industry, she works as a junior account manager at a big-name media company to cover her New York City rent. Carli meticulously balances her work with her musical endeavors as a songwriter—until a chance meeting with rising star Tau Anderson sends her calculated world into a frenzy. Their worlds collide and quickly blur the strict lines Carli has drawn between her business and her personal life, throwing Carli's reputation—and her burgeoning songwriting career—into question.
A smart, timely, energizing romance, Good Morning, Love shows us what the glamorous New York's music scene is really like and takes us into the lives of a rising but somewhat troubled R&B star and a promising protégé who knows her job better than she knows herself.
With fresh and honest prose, Good Morning, Love examines the uncertainty of being a new professional looking to chase a dream while also trying to survive in a world that's not always kind to ambitious women.
Praise for Good Morning, Love: A Novel
"[GOOD MORNING, LOVE] is a great look inside the music industry, especially the creative aspect. Many industry-immersive novels are high gloss but low depth. This one gives as much rich, loving detail to its nonfamous characters as it does to the flashier ones."
--KIRKUS
"Music industry professional Coleman draws on her expertise in her debut novel, which brims with authentic details about how musicians are discovered, how records are produced, and how megastars live."
--BOOKLIST
"Wildly fun and completely delightful, Good Morning, Love reads like a hit single, one that you want to listen to again and again. A whirlwind blend of music and romance, Coleman's novel about love, life, and dreams is an absolute stunner. Simply put, Good Morning, Love is your new favorite song... in book form."
--ERIC SMITH, co-author of Jagged Little Pill: The Novel
"Carli Henton is my new favorite heroine: talented, ambitious, creative, funny, and loyal. I adored watching her navigate love, fame, and friendship. Ashley M. Coleman goes deep inside the music industry to tell a story I couldn't put down."
--HANNAH ORENSTEIN, author of Head Over Heels
"This sexy, scintillating novel about a talented woman navigating the male-dominated New York City music industry kept me up all night long! GOOD MORNING, LOVE is at once a simmering romance and a soul-searching exploration of what it takes to be a creative. Glorious!"
--MARY PAULINE LOWRY, author of The Roxy Letters
"Ashley M. Coleman's sparkling debut — about the rhythms and blues of romance, and a creative woman's ambition — gorgeously lays out the new principles of success."
--DANYEL SMITH, author of Shine Bright: A Very Personal History of Black Women In Pop