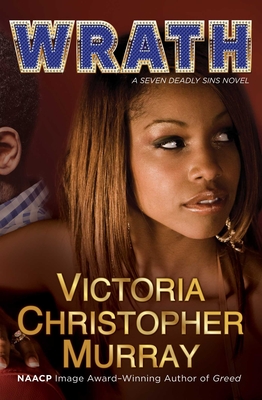 Wrath: A Novel (7 Deadly Sins #4)
Publication Date:
January 5th, 2021
The Book Tavern
1 on hand, as of Dec 10 11:18pm
(Fiction::African-American )
On Our Shelves Now
Description
The award-winning author of The Personal Librarian delivers an unforgettable story of a marriage caught at the crossroads of passion and rage—the inspiration for four Lifetime original movies.
Chastity Jeffries and Xavier King come from very different backgrounds, though they have one thing in common: they're both living with family secrets. Chastity is the only child of a prominent pastor and has been raised with privilege, but her father's testimony as a philanderer and her mom's role as dutiful wife have tainted her view of love. Xavier never knew his father, and his mother abandoned him. His grandmother raised him in a household built on cruelty and violence instead of love and acceptance, instilling in him a fear of abandonment and an enormous sense of insecurity.
Sparks fly when Chastity and Xavier meet, and their whirlwind romance feels almost too good to be true. Chastity is swept off her feet, but before long, cracks begin to show in Xavier's perfect façade, and it is only a matter of time before that façade comes crumbling down. When Xavier's wrath erupts at a level Chastity has never seen, who will it destroy forever?
Praise for Wrath: A Novel (7 Deadly Sins #4)
"In the fourth installment of her Seven Deadly Sins series…Murray delivers another intense morality tale....Offer Murray's novel to readers who are looking for gritty Christian romantic suspense about love gone wrong." 
—Booklist
Praise for ENVY
"[Envy] captures the drama of The Real Housewives of Beverly Hills while also bringing this well-developed work of urban fiction to a satisfyingly redemptive conclusion."
—Booklist
Praise for LUST
"Murray has penned hot, steamy scenes in which her protagonist's imagination runs wild, followed by the consequences of her realizing her dangerous dreams. A jarring twist at the end has the reader wondering who the good guys really are."
—Booklist (starred review)
"Murray mixes quite a bit of passion, a touch of treachery, and some good old-fashioned revenge."
—Library Journal
"A topsy-turvy tale of passion on steroids." 
—Essence Magazine
Praise for STAND YOUR GROUND
"Stand Your Ground by Victoria Christopher Murray is a fact-to-fiction examination of the human condition. Using a vivid, realistic premise, she takes a 360-degree view to bring all sides to the forefront for us to enjoy, learn from, judge and celebrate. . . . The characters draw us in for debate and conversation long after the final sentence. Stand Your Ground has great literary relevance for our time."
—USA Today
"Murray, winner of several African American Literary Awards for fiction, powerfully captures the nuances and tragedies engendered by stand-your-ground laws. A must-read."
—Booklist (starred review)
"Murray has written a tension-packed novel around the hot-buzz national topic of an unarmed black youth shot by a white male, an act then subjected to the Stand Your Ground rule as a legal defense tactic. . . . Murray's writing admirably shows the often overlooked human emotions following racial violence. . . . The pulled-from-the headlines storyline will captivate readers."
—Library Journal (starred review)
"With artful descriptions, Victoria put me inside their hearts and minds. I did not just enjoy this read, I lived it."
—Michelle Lindo Rice, author of the Able To Love series
Praise for FOREVER AN EX
"Murray spices up her story line with plenty of juicy scandals. . . . Readers seeking an emotional tale with broad themes of trust, betrayal, and forgiveness will do well by choosing Murray's latest effort."
—Library Journal
Praise for NEVER SAY NEVER
"Murray creates a believable scenario of two people who never wanted to hurt their friends…. With extremely well-drawn characters, the story offers neither blame nor excuses, keenly depicting the heartbreaks caused by both death and betrayal."
—Publishers Weekly
"Readers, be on the lookout for Victoria Christopher Murray's Never Say Never. You'll definitely need to have a buddy-reader in place for the lengthy discussion that is bound to occur."
—USA Today
"Never Say Never is a testament to the magnificence of Murray's storytelling gift! The author creates a surprisingly satisfying ending for each of the characters, even when their 'sin' seems unforgivable."
—RT Book Reviews
"Another tantalizing morality tale about the price of ambition from award-winning author Murray ... Expect increasing buzz as the series continues."
—Booklist