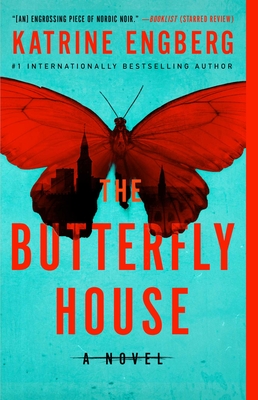 The Butterfly House
Publication Date:
August 31st, 2021
Publisher:
Gallery/Scout Press
The Book Tavern
1 on hand, as of Sep 28 12:22pm
(Fiction)
On Our Shelves Now
Description
Detectives Jeppe Kørner and Anette Werner race to solve a series of sordid murders linked to some of the most vulnerable patients in a Danish hospital in this sequel to the #1 international bestseller The Tenant that is "brimming with personality, eccentric characters, and plenty of mystery and intrigue" (Crime by the Book).
Hospitals are supposed to be places of healing. But in the coronary care unit at one of Copenhagen's leading medical centers, a nurse fills a syringe with an overdose of heart medication and stealthily enters the room of an older male patient.
Six days earlier, a paperboy on his route in central Copenhagen stumbles upon a macabre find: the naked body of a dead woman, lying in a fountain with arms marked with small incisions. Cause of death? Exsanguination—the draining of all the blood in her body.
Copenhagen investigator Jeppe Kørner, recovering from a painful divorce and in the throes of a new relationship, takes on the case. His partner, Anette Werner, now on maternity leave after an unexpected pregnancy, is restless at home with a demanding newborn and an equally demanding husband. While Jeppe pounds the streets looking for answers, Anette decides to do a little freelance sleuthing. But operating on her own exposes her to dangers she can't even begin to fathom.
As the "thrillingly nerve-racking" (Shelf Awareness) investigation ventures into dark corners, it uncovers the shockingly depraved greed that festers beneath the surface of caregiving institutions—and what Jeppe and Anette discover will turn their blood as cold as ice…
Praise for The Butterfly House
Praise for The Butterfly House
"A second engrossing piece of Nordic noir, after the best-selling The Tenant (2020), from Engberg, who brings skills acquired as a dancer and choreographer to her writing. There is not one misstep, not one moment or movement out of sync...Once again, Engberg's two detectives are impeccably defined, especially postpartum Anette, and a host of supporting characters are also sensitively portrayed. The theme is troubling yet timely."—Booklist (starred review)
"Well-crafted . . . By addressing the issue of society's treatment of the mentally ill, Engberg brings the complexities of life into this superior Danish police procedural. Fans of Scandinavian noir will hope this series has a long run."—Publishers Weekly
"Original and absorbing. [Katrine Engberg] is a name to look out for." -- The (London) Times
"Engberg has crafted a fine police procedural. She is an author to look out for, one who will be cited years hence as a key player in Nordic noir."—BookPage
"Satisfying...[It] will please fans of police procedural."—Kirkus Reviews
"Taps into the fear of every civilized nation that its lauded health care system might be leaning toward inhumane end-of-days medical practices. The philosophical issues are worth debating."—The New York Times Book Review
"I loved The Butterfly House, and would highly recommend this engaging, inventive Danish crime novel for fans of Nordic Noir and police procedurals . . . brimming with personality, eccentric characters, and plenty of mystery and intrigue."—Crime by the Book
"It is my fervent wish that Katrine Engberg continues to write and never stops."—Bookreporter
"Engberg isn't sentimental or preachy—Tara Chace's translation keeps the tone lively and colloquial—but she is insightful about why people act as they do, making this an unusually rich police procedural."—Air Mail
"Finely wrought...Like The Tenant, The Butterfly House makes terrific use of its setting's cultural institutions and social mores. The novel's roaming perspective has a thrillingly nerve-racking effect: each time the viewpoint shifts, readers can't help but wonder if this is the character who's going to get it—or give it."—Shelf Awareness
"Brazen and original...[with] stellar sleuthing."—The Toronto Star
PRAISE FOR THE TENANT
"A stunning debut. Katrine Engberg's unforgettable characters and brilliant plot twists will captivate readers of suspense fiction." 
 
— Kathy Reichs, #1 New York Times bestselling author
"What a fantastic debut! I love the characters, the sparkling prose, and the depiction of Copenhagen. Katrine Engberg is an absolute star!"
— Camilla Läckberg, #1 internationally bestselling author
"Engberg's fast-paced narrative is bolstered by an interesting and quirky cast as well as an intriguing setting . . . a lot of fun."
— Kirkus Reviews
"Everyone has secrets, and some secrets are lies. Engberg's debut novel, a sleeper hit in her native Denmark, is sure to attract comparisons to other Scandinavian thrillers… layered, character-driven suspense from authors including Erin Kelly and Ruth Ware may prove to be more apt read-alike suggestions."
— Booklist
"Fast-moving . . .  Engberg's sparkling cast and palpable evocation of a society U.S. readers will find similar yet foreign keep the pages turning pleasurably."
— Publishers Weekly
"Engberg's debut features dark family secrets—and a smorgasbord of surprises."
— People
"[A] gripping addition to the Scandinavian crime fiction pantheon."
— OprahMag.com
"The careful plotting ensures that the mystery unfolds deliberately, with surprises constantly woven into the narrative . . . Engberg's English language debut promises a gritty, unflinching procedural series, and will leave readers craving the translation of Kørner and Werner's next adventure." 
— BookPage
"Winter wouldn't be complete without a great Nordic Noir novel, and that's exactly what Katrine Engberg's The Tenant is."
— Bustle
"It's hard to believe this is her [Engberg's] first book, so assured is the writing. Her characters are fully realized...[and] the story is as complex as the characters. Originally published in Denmark in 2016, The Tenant is Engberg's first book to be translated into English, but it's unlikely to be the last."
— Air Mail
"Engberg's plotting is dexterous, and her character-centered storytelling aligns nicely with her unhurried descriptions of Copenhagen . . . The Tenant is yet another feather in the plumed cap of Scandinavian noir."
— Shelf Awareness