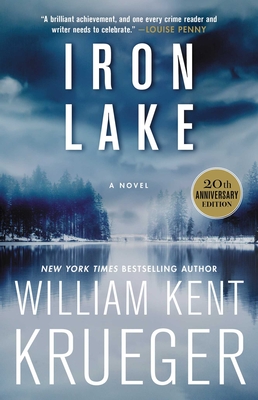 Iron Lake (20th Anniversary Edition): A Novel (Cork O'Connor Mystery Series #1)
Publication Date:
June 11th, 2019
The Book Tavern
1 on hand, as of Dec 1 1:19pm
(Fiction::Mystery)
On Our Shelves Now
Description
The 20th anniversary edition of the first novel in William Kent Krueger's beloved and bestselling Cork O'Connor mystery series—includes an exclusive bonus short story!
"A brilliant achievement, and one every crime reader and writer needs to celebrate." —Louise Penny, #1 New York Times bestselling author of Glass Houses
"A master craftsman [and] a series of books written with a grace and precision so stunning that you'd swear the stories were your own." —Craig Johnson, author of the Walt Longmire series
"Among thoughtful readers, William Kent Krueger holds a very special place in the pantheon." —C.J. Box, #1 New York Times bestselling author of The Disappeared
In eighteen novels over twenty years, William Kent Krueger has enthralled readers with the adventures of P.I. Cork O'Connor, former sheriff of Aurora, Minnesota—selling more than 1.5 million copies of his books and winning the Edgar Award, Minnesota Book Award, Northeastern Minnesota Book Award, Dilys Award, Lovey Award, and Anthony Award along the way. Now, in this special anniversary edition, longtime fans and new readers alike can read the novel that first introduced Corcoran "Cork" O'Connor to the world.
Part Irish, part Anishinaabe Indian, Cork is having difficulty dealing with the marital meltdown that has separated him from his children, getting by on heavy doses of caffeine, nicotine, and guilt. Once a cop on Chicago's South Side, there's not much that can shock him. But when the town's judge is brutally murdered, and a young Eagle Scout is reported missing, Cork takes on this complicated and perplexing case of conspiracy, corruption, and a small-town secret that hits painfully close to home.
Praise for Iron Lake (20th Anniversary Edition): A Novel (Cork O'Connor Mystery Series #1)
"Iron Lake is where it all began, when Cork O'Connor walked off the page, tough, vulnerable, hardened and shattered, and into our lives.  His creation is a brilliant achievement, and one every crime reader and writer needs to celebrate.  With this novel, Kent Krueger elevated the crime fiction genre into something very special."
— Louise Penny, #1 New York Times bestselling author of Glass Houses
"There's a feel that you get from a master craftsman, a saddle that sits right, a fly rod that casts with its own agility, or a series of books written with a grace and precision so stunning that you'd swear the stories were your own—Kent Krueger's Cork O'Conner novels fit that bill."
— Craig Johnson, author of the Walt Longmire series
"Among thoughtful readers, William Kent Krueger holds a very special place in the pantheon.  Upon introducing Cork O'Connor in IRON LAKE twenty years ago, Kent showed the mystery reading world that a protagonist need not be a chain-smoking loner with lots of emotional baggage but he could be an honest and admirable family man doing his best for all the right reasons."
— C.J. Box, #1 NYT Bestselling Author of The Disappeared
"For readers new to William Kent Krueger, this 20th anniversary edition of Iron Lake will be an eye-opening discovery.  For those of us who have been reading his wonderful Cork O'Connor novels since their beginning, this volume will be a welcome pilgrimage to the birthplace of one of our favorite characters, a journey down Krueger's icy, mysterious and singular memory lane."
— T. Jefferson Parker, Edgar Award winning author of Swift Vengeance
"In August 1998, the same month my own first book came out, I heard about this other debut novel called Iron Lake.  I can still remember the night I stayed up late finishing it.  When I closed the book, I thought two things: This is the best mystery I've read all year. And how in hell am I ever gonna keep up with this guy? Twenty years later, I'm still trying."
— Steve Hamilton, Edgar Award winning author of the Alex McKnight series
"Iron Lake is an explosive brew: one part James Ellroy, one part Stephen King, one part Jack London, and all parts terrific… A truly remarkable first novel."
— David Housewright, Edgar Award-winning author of Penance
"If you don't know Cork O'Connor, get to know him now."  
— Booklist
"I can't remember reading a better first novel than this one."
 
— The Drood Review
"Minnesotan Krueger has a sense of place he's plainly honed firsthand in below-zero prairie. His characters, too, sport charm and dimension… This first-timer's stamina and self-assurance suggest that O'Connor's got staying power."
— Kirkus Reviews