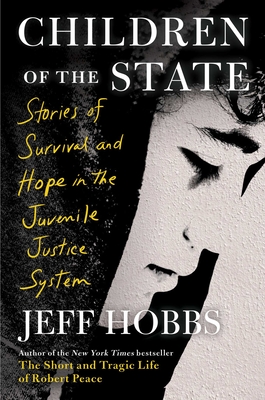 Children of the State: Stories of Survival and Hope in the Juvenile Justice System
Publication Date:
January 24th, 2023
The Book Tavern
2 on hand, as of Dec 11 11:18am
(Politics & Society)
On Our Shelves Now
Description
From the bestselling and critically acclaimed author of The Short and Tragic Life of Robert Peace comes "an eye-opening, fully humanizing, deeply affecting look at the often-misunderstood juvenile justice system and its inhabitants—young people of earnestness, disappointment, hope, and resilience" (Booklist, starred review).
For many kids, a mistake made at age thirteen or fourteen—often resulting from external factors coupled with a biologically immature brain—can resonate through the rest of their lives, making high school difficult, college nearly impossible, and a middle-class life a mere fantasy. In Children of the State, Jeff Hobbs challenges any preconceived perceptions about how the juvenile justice system works—and demonstrates in brilliant, piercing prose: No one so young should ever be considered irredeemable.
Writing with great heart and sensitivity, Hobbs "offers finely wrought portraits of the teenagers in juvenile hall, as well as the educators and counselors trying to help them find safe passage back to—and through—the real world" (Los Angeles Times). While serving a year-long detention in Wilmington, Delaware, a bright young man considers both the benefits and the immense costs of striving for college acceptance while imprisoned. A career juvenile hall English Language Arts teacher struggles to align the small moments of wonder in her work alongside its statistical futility. A territorial fistfight in Paterson, New Jersey, is called a hate crime by the media and the boy held accountable seeks redemption and friendship in a demanding Life & Professional Skills class in lower Manhattan. Through these stories, Hobbs creates intimate portraits of these individuals as they struggle to make good decisions amidst the challenges of overcoming their pasts, and also asks: What should society do with young people who have made terrible mistakes?
"At turns touching and intimate, enraging and honest" (Matthew Desmond), Children of the State masterfully blends personal stories with larger questions about race, class, prison reform, justice, and even about the concept of "fate."
Praise for Children of the State: Stories of Survival and Hope in the Juvenile Justice System
"This sensitively written book offers finely wrought portraits of the teenagers in juvenile hall, as well as the educators and counselors trying to help them find safe passage back to—and through—the real world." —Los Angeles Times
"Throughout, Hobbs lets his characters describe the broken system, rather than writing as an advocate. With admirable research, he does a wonderful job bringing out his subjects' humanity. The reader cares about these people—adults and young people alike—and wants them to succeed." —NPR
"This kind of nonfiction relies on earning the privilege of entry into people's lives and observing them closely and deeply; Hobbs excels at both. Describing environments and scenes, he is fluent and precise, with an eye for rich detail. Even better is his portrayal of the internal experiences of his subjects." —The New York Times Book Review
"In this original, heartfelt book, veteran journalist Jeff Hobbs brings us deep into the juvenile justice system, bearing witness to a broken system while capturing the everyday lives of unbroken teachers, counselors, and students locked behind its high walls. At turns touching and intimate, enraging and honest—this book, more than any other I know, forces us to see America's youngest prisoners for what they truly are: just kids." —Matthew Desmond, Pulitzer Prize–winning author of Evicted
"An eye-opening, fully humanizing, deeply affecting look at the often-misunderstood juvenile justice system and its inhabitants—young people of earnestness, disappointment, hope, and resilience." —Booklist (starred review)
"Emotional and electrifying . . . Just as he did in The Short and Tragic Life of Robert Peace, Hobbs presents a fully fleshed-out, sobering and well-argued case for reform." —BookReporter