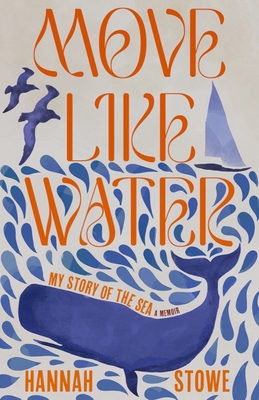 Move Like Water: My Story of the Sea
Publication Date:
September 19th, 2023
Publisher:
Tin House Books
The Book Tavern
2 on hand, as of Dec 9 11:18pm
(Memoir and Essays)
On Our Shelves Now
Description
"A sensuous book, more felt than described, more described than explained, more painted than penned: part memoir, part journal and. . . . part natural mystery tour."—Carl Safina, The New York Times Book Review
A book to sweep you away from the shore, into a wild world of water, whale, storm, and starlight— to experience what it's like to sail for weeks at a time with life set to a new rhythm.
As a young girl, Hannah Stowe was raised at the tide's edge on the Pembrokeshire coast of Wales, falling asleep to the sweep of the lighthouse beam. Now in her midtwenties, working as a marine biologist and sailor, Stowe draws on her professional experiences sailing tens of thousands of miles in the North Sea, North Atlantic, Mediterranean, Celtic Sea, and the Caribbean to explore the human relationship with wild waters. Why is it, she asks, that she and so many others have been drawn to life at sea—and what might the water around us be able to teach us?
Braiding her powerful and deeply personal narrative and illustrations with stories of six keystone marine creatures—the fire crow, sperm whale, wandering albatross, humpback whale, shearwater, and the barnacle—Stowe invites readers to fall in love, as she has, with the sea and those that call it home, and to discover the majesty, wonder, and vulnerability of the underwater world.
For fans of Rachel Carson and Annie Dillard, Move Like Water: My Story of the Sea is an inspiring, heartfelt hymn to the sea, a testament to finding and following a dream, and an unforgettable introduction to a deeply gifted nature writer of a new generation.
Praise for Move Like Water: My Story of the Sea
A sensuous book, more felt than described, more described than explained, more painted than penned: part memoir, part journal and — with each chapter named for a creature the author encountered either in real life or in dreams — part natural mystery tour.
— Carl Safina, The New York Times Books Review
Stirring. . . . Fascinating. . . . Unforgettable. . . . Stowe immerses readers in the sights, sounds, and rhythms of the ocean in her spellbinding debut.
— Publishers Weekly, Starred Review
Lovely. . . . fascinating. . . . Nature lovers and sailors will savor Stowe's personal, thoughtful, science-filled voyages.
— Kirkus Reviews
Evocative. . . . perfect for fans of Annie Dillard or Elisabeth Tova Bailey.
— Shelf Awareness
Luminous. . . . extraordinary. . . . absorbing. . . . a gem of a book—a must-read for anyone interested in the sea or marine life, and highly recommended for those who enjoy top-notch memoirs. Stowe's exquisite prose makes this a book to be savored.
— Book Browse
This is Stowe's love letter to the sea.
— Book Riot, A Best Book of September
A briny love story. . . . Stowe wistfully explores the mysteries of water as she navigates the sometimes turbulent, often rousing flow of her life.
— Booklist
Elegant, enthralling. . . . It's not simply that it intertwines Stowe's remarkable personal story with an incitement to shift how we view the world—or, in this instance, the seas. It's the writing itself. There are plenty of books about the sea, but few, if any, have the lyrical, almost visceral intensity of this one.
— Daily Mail
The shelves are awash with sea books. But Stowe is different. She doesn't just watch and describe the sea; she's part of it. It surges inside her and crashes out onto the page. The book's drenched with salt water. It fizzes, clicks, booms and screams. Tremendous.
— Charles Foster, author of Cry of the Wild and A Little Brown Sea
Let Hannah's captivating prose transport you on a journey across the waves, feeling the wind and salt on your skin, and always watching out for the tantalising glimpse of a whale. You will be enthralled by her personal story, invigorated by her energy and determination, and persuaded to think deeply about the ocean, its living treasures and the human troubles they face.
— Helen Scales, author of The Brilliant Abyss and Scientists in the Wild: Galápagos
Exquisite in its intelligence and boundless in the fetch of its wave.
— Jay Griffiths, author of Wild
Inspiring. . . . Hannah Stowe recounts her lifelong love affair with the sea and illuminates the complexities of our relationship with ocean ecosystems. . . . An urgent call to address the damage we're doing to the oceans, and a siren song to the beauty and power of the sea.
— Lulah Ellender, author of Grounding: Finding Home in a Garden