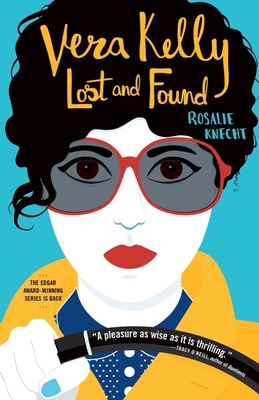 Vera Kelly: Lost and Found
Publication Date:
June 21st, 2022
Publisher:
Tin House Books
The Book Tavern
1 on hand, as of Dec 1 11:18pm
(Fiction::Mystery)
On Our Shelves Now
Description
A New York Times and CrimeReads Best Mystery Novel of 2022

A Star Tribune Best Book of Summer & an Autostraddle Best Queer Book of 2022

A Book Riot and ALTA Journal Best Book of the Month
Finalist for the Publishing Triangle Joseph Hansen Award for LGBTQ Crime Writing
Everyone's favorite sleuth—Vera Kelly—is back and put to the test as she searches for her missing girlfriend.
It's spring 1971 and Vera Kelly and her girlfriend, Max, leave their cozy Brooklyn apartment for an emergency visit to Max's estranged family in Los Angeles. Max's parents are divorcing—her father is already engaged to a much younger woman and under the sway of an occultist charlatan; her mother has left their estate in a hurry with no indication of return. Max, who hasn't seen her family since they threw her out at the age of twenty-one, prepares for the trip with equal parts dread and anger. 
Upon arriving, Vera is shocked by the size and extravagance of the Comstock estate—the sprawling, manicured landscape; expansive and ornate buildings; and garages full of luxury cars reveal a privileged upbringing that, up until this point, Max had only hinted at—while Max attempts to navigate her father, who is hostile and controlling, and the occultist, St. James, who is charming but appears to be siphoning family money. Tensions boil over at dinner when Max threatens to alert her mother—and her mother's lawyers—to St. James and her father's plans using marital assets. The next morning, when Vera wakes up, Max is gone.
In Vera Kelly Lost and Found, Rosalie Knecht gives Vera her highest-stake case yet, as Vera quickly puts her private detective skills to good use and tracks a trail of breadcrumbs across southern California to find her missing girlfriend. She travels first to a film set in Santa Ynez and, ultimately, to a most unlikely destination where Vera has to decide how much she is willing to commit to save the woman she loves.  
Praise for Vera Kelly: Lost and Found
Concludes the trilogy at the highest possible level. . . . Knecht's writing, crisp and taut, cuts through the landscape with lacerating swiftness.
— Sarah Weinman - The New York Times Book Review
Romantic and thrilling.
— The Star Tribune
Excellent. . . . This nuanced portrait of gay life in the aftermath of the Stonewall Riots thoroughly satisfies.
— Publishers Weekly, Starred Review
Gritty yet romantic.
— Booklist, Starred Review
If you're not reading [Vera Kelly's] rolicking adventures from spy-hood to PI-dom, you absolutely should.
— Crime Reads
Engaging and often funny. . . . The heart of the novel—Vera's introspections on disappointed family and society's reactions to a same-sex couple—will resonate with many readers.
— Historical Novels Society
A luxurious SoCal caper.
— Lamda Literary
An intimate and authentic look at historical queer domesticity. . . . the combination of the quiet character work, fast-paced action, and insight into queer relationships of the past that make this book exceptional.
— Autostraddle
A page-turner.
— The Advocate
Feels both like a classic noir and a wholly original take on the spy novel.
— Parnassus Musing
Fascinating.
— BookPage
Once more Rosalie Knecht proves herself one of the finest writers in the genre: brisk, witty, and emotionally intelligent. The much-anticipated return of Vera Kelly turns a tight plot around the failures of family and high stakes love, betrayal and the unlikely adventure toward self acceptance. This novel is a pleasure as wise as it is thrilling.
— Tracy O'Neill, author of Quotients
What's better than a sapphic crime story? Whether it be Killing Eve or Orange is the New Black, lesbians dominate the crime genre with humor and ease. Vera Kelly: Lost and Found takes it one step further: we have a lesbian detective on our hands. Nice!
— AfterEllen
Knecht's lively prose moves easily between Vera's experiences with Max's cold and homophobic family to her memories of being a teenager with a distant and unforgiving mother, effectively creating an atmosphere of danger and uncertainty as Vera and Max work to survive and reunite.
— Kirkus Reviews
Recasts cozy mysteries through a queer lens. . . . with women occupying center stage, saving each other and functioning as heroes.
— Foreword Reviews