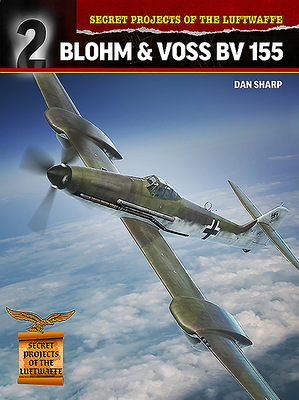 Secret Projects of the Luftwaffe: Blohm & Voss Bv 155
Publication Date:
February 3rd, 2020
Description
Secret Projects of the Luftwaffe Close Up: Secret Projects of the Luftwaffe Close Up offers an unparalleled and authoritative look at the most unusual and important 'secret projects' aircraft designed and developed in Germany during the Second World War. Detailed development histories show exactly why these designs were created and how they related to the successes and failures of Germany's wartime aircraft manufacturing programme. Each volume uses the latest archival research and features rare photographs and drawings alongside new artwork.
The story of the Messerschmitt Me 109's ultimate development, the Blohm & Voss BV 155, begins in 1942 with plans to split the Me 109 family into three branches - a standard fighter, a high-altitude fighter and a carrier-based fighter. Initially these were known as the Me 409 but later became the Me 155 A, B and C. The project was given to the French to develop, where it stalled. But when Germany got its first taste of what the USAAF's bomber force was capable of - suffering huge damage to its war-critical industries as a result of massed raids on its factories and cities - work on the Me 155 B was recommenced as a matter of urgency. With the Me 262 consuming most of Messerschmitt's design capacity, the project was then passed on to a sub-contractor: Blohm & Voss. Richard Vogt, B&V's chief designer, quickly realised that Messerschmitt had made very little progress on the design and was forced to begin again almost from scratch. In just over a year, a prototype was built and flown - but the war ended before production could begin.