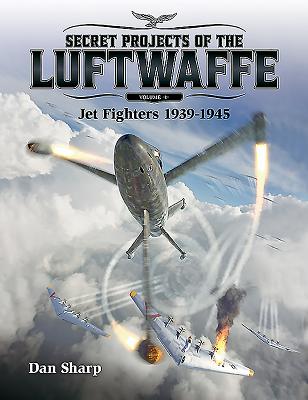 Secret Projects of the Luftwaffe, Volume 1: Jet Fighters 1939 -1945
Publication Date:
September 22nd, 2020
Description
Germany's air ministry was quick to grasp the potential of the jet engine as early as 1938 and by 1939 several German aircraft manufacturers were already working on fighter designs that would utilize this new form of propulsion. Rocket engines too were seen as the way of the future and companies were commissioned to design fighters around them.
As the Second World War began, the urgent need to bring these advanced new types into production saw a host of innovative aircraft designs being produced which would eventually result in Messerschmitt's Me 262 jet fighter and the Me 163 rocket-propelled interceptor. And as the war progressed, efforts were increasingly made to find better ways of utilizing jet, rocket and latterly ramjet engines in fighter aircraft.
Aviation companies from across Germany set their finest minds to the task and produced some of the most radical aircraft designs the world had ever seen. They proposed rotating wing ramjet fighters, arrowhead-shaped rammers, rocket-firing bat-winged gun platforms, sleek speed machines, tailless flying wings, tiny mini fighters and a host of others ranging from deadly looking advanced fighters to downright dangerous vertical launch interceptors.
Secret Projects of the Luftwaffe Volume 1: Jet Fighters 1939-1945 by Dan Sharp, based on original research using German wartime documents, offers the most complete and authoritative account yet of these fascinating designs through previously unseen photographs, illustrations and period documentation from archives around the world.