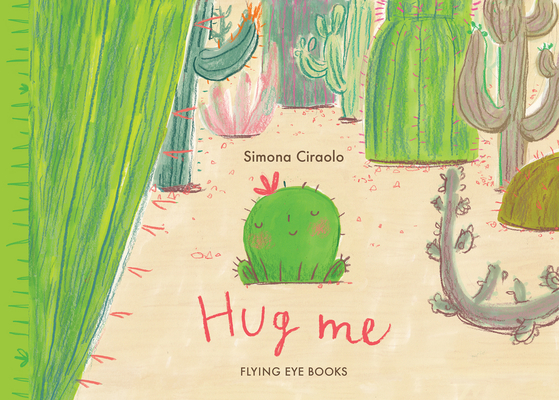 Hug Me
Publication Date:
September 16th, 2014
Publisher:
Flying Eye Books
The Book Tavern
1 on hand, as of Sep 28 1:18pm
(Children's::Picture Books)
On Our Shelves Now
Description
Ever feel like you need a hug, a really big hug from someone? That's how Felipe the young cactus feels, but his family just isn't the touchy-feely kind. Cactuses can be quite prickly sometimes you know . . . and so can Felipe. But he'll be darned if this one pointy issue will hold him back, so one day Felipe sets off on his own to find a friend and just maybe, that long awaited hug.
In her debut picture book, Simona Ciraola creates an endearing tale of friendship, beautifully illustrated with buoyant wit and the perfect story to share.
Praise for Hug Me
Best Children's Book of 2014, Brain Pickings
"There is, of course, a deeper allegorical undertone to the tale, beyond the surface interpretation of celebrating one's inner softness in a culture that encourages a prickly exterior. A subtle undercurrent celebrates the spiritual homecoming of finding one's tribe, the expansive embrace found in a kinship of souls. The story is also a celebration of free will, reminding us ever so gently that whatever our circumstances, we always have choices — and that our inability to see this is perhaps our gravest self-imposed limitation."
—Brain Pickings
"Unlikely friends come together in "Hug Me," by the Italian author Simona Ciraolo. She uses whimsical, jagged colored-pencil drawings to portray Felipe, a young cactus who just wants someone to wrap his arms around."
—The New York Times
"There's a coy relationship between the text and artwork in Italian-born author/illustrator Ciraolo's U.S. debut […] Ciraolo's softly drawn cartoon cacti radiate charm."
—Publisher's Weekly
"Ciraola tells her story with wry understatement, allowing her expressive illustrations to carry the narrative. … Though Felipe's not the first prickly children's-book character ever to want a hug, he certainly is a charmer."
—Kirkus Reviews
"One of the things I like about this picture book—aside from its adorableness!—is that it's honest. […] Hug Me is a book about being yourself, getting your needs met, and finding a kindred soul. All in a super cute package. Well done!"
—This Picture Book Life
"Hug Me is a remarkable book that tells a complex tale in charming drawings and poetic prose. […] It's the story of the universal need for affection and friendship, even if we are somewhat prickly."
—Joy Corcoran
Young readers may identify with Felipe's journey of finding friends in a challenging environment. His struggle is relatable and empathetic, and his delightfully illustrated character is welcoming and warm, despite his prickly exterior.
—Portland Book Review
"Simply written, the tale offers moments of comedic delight… Ciraolo's use of coloured pencils and felt tips gives a rawness to the artwork, making it all the more organic and delectable."
—The Illustrated Forest