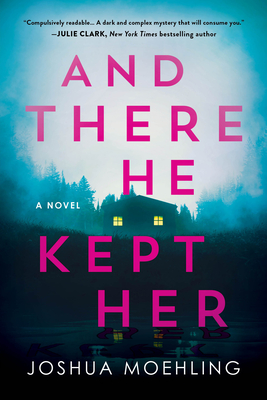 And There He Kept Her: A Novel (Ben Packard)
Publication Date:
January 31st, 2023
Publisher:
Poisoned Pen Press
The Book Tavern
1 on hand, as of Dec 9 11:18pm
(Fiction::Mystery)
On Our Shelves Now
Description
"Stellar debut." —Minneapolis Star Tribune
"A dark and complex mystery that will consume you." —Julie Clark, New York Times bestselling author
They thought he was a helpless old man. They were wrong.
When two teenagers break into a house on a remote lake in search of prescription drugs, what starts as a simple burglary turns into a nightmare for all involved. Emmett Burr has secrets he's been keeping in his basement for more than two decades, and he'll do anything to keep his past from being revealed. As he gets the upper hand on his tormentors, the lines blur between victim, abuser, and protector.
Personal tragedy has sent former police officer Ben Packard back to the small Minnesota town of Sandy Lake in search of a fresh start. Now a sheriff's deputy, Packard is leading the investigation into the missing teens, motivated by a family connection. As clues dry up and time runs out to save them, Packard is forced to reveal his own secrets and dig deep to uncover the dark past of the place he now calls home.
Unrelentingly suspenseful and written with a piercing gaze into the dark depths of the human soul, And There He Kept Her is a thrilling page-turner that introduces readers to a complicated new hero and forces us to consider the true nature of evil.
Praise for And There He Kept Her: A Novel (Ben Packard)
Lambda Literary Most Anticipated LGBTQIA+ Literature
2023 Lammy Award Finalist, Best LGBTQ+ Mystery
"This is a remarkable debut—sharp, suspenseful, and emotionally powerful—sure to appeal to readers of Karin Slaughter and Lisa Gardner." — First Clue, Starred Review
"And There He Kept Her plays out like something on TV, resembling Yellowstone in its small-town setting and larger-than-life drama set against captivatingly detailed scenery...And There He Kept Her is a great opportunity to get into a new detective series at the ground level. Especially if you like the idea of the hardboiled detective novel but prefer your stories set in modern times with light touches of current social issues. Moehling's is a strong debut." — Associated Press
"Readers will find this book especially well written and polished…And There He Kept Her exploits the rich terrain of a small town where an overactive grapevine thrives and seemingly everyone conceals a secret." — Mystery Scene Magazine
"This isn't just another dark, gritty, graphic suspense thriller. Readers are summoned to ride shotgun from beginning to end, meaning they are privy to all the dirty deeds, secrets and intentions of everyone involved. So what's left? A chilling, complex plot line that tackles issues like mental illness, teen drug use, sexual abuse and orientation, and kidnapping – all rolled up into a disturbing, shocking thriller." — Mystery and Suspense Magazine
"Stellar debut…I'll happily follow Packard's adventures for as long as Moehling wants to keep writing them." — Minneapolis Star Tribune
"Vivid characters and a sharp sense of place prevent this debut novel from being your average small-town puzzler." — St. Paul Post-Dispatch
"The characterizations are sharply drawn, with a keen eye for humorous details and dialog. At the heart of all this, of course, is the hard-working, intelligent and deeply conflicted Ben Packard… Following along as [he] comes to terms with both his identity and his grief is almost as gripping as the suspenseful abduction plot, and certainly as entertaining." — Criminal Element
"Joshua Moehling has created realistic, extraordinarily complex characters...this is dark, gritty writing at its finest." — Book Reporter
"This book isn't just unputdownable, it's the definition of the word." — Samantha Downing, international bestselling author of For Your Own Good
"There's a terrific new voice in crime fiction and it belongs to Joshua Moehling. And There He Kept Her is a taut, beautifully written thriller reminiscent of Karin Slaughter. A novel with heart, its protagonist, acting Sheriff Ben Packard, is the kind of hero we need today, a man wrestling with his sexual identity as he searches for missing teens in a small Minnesota town guarding secrets of its own." — Jonathan Santlofer, author of The Last Mona Lisa
"When Deputy Sheriff Ben Packard investigates the disappearance of two teenagers in Sandy Lake, Minnesota, he exposes the seamy underbelly of a small American town. And There He Kept Her is a sharp, intense thriller combining a dark plot with a relentless pace. An absorbing, impressive debut." — A. J. Banner, #1 Amazon, USA Today, and Publishers Weekly bestselling author
"Fans of Sue Grafton are going to love And There He Kept Her. Compulsively readable, Josh Moehling has crafted a dark and complex mystery that will consume you, starring a protagonist who is equal parts quirky Milhone and steady Gamache. In the wake of a tragic loss, sheriff's deputy Ben Packard has returned to Sandy Lake, hoping to start over with a blank slate. What he finds is a town populated with eccentric characters and its own dark secrets, proving that small town life can still add up to big trouble." — Julie Clark, New York Times bestselling author of The Last Flight and Lies I Tell