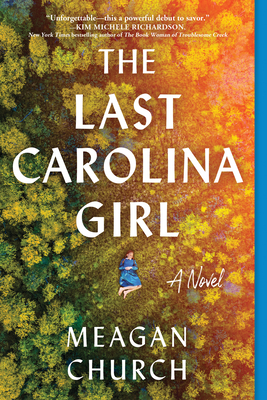 The Last Carolina Girl: A Novel
Publication Date:
March 28th, 2023
Publisher:
Sourcebooks Landmark
The Book Tavern
1 on hand, as of Dec 9 11:18pm
(Fiction)
On Our Shelves Now
Description
"Unforgettable, this a powerful debut to savor." — Kim Michele Richardson, New York Times bestselling author of The Book Woman of Troublesome Creek
A searing book club novel for fans of Where the Crawdad's Sing and The Girls in the Stilt House following one girl fighting for her family, her body, and her right to create a future all her own
Some folks will do anything to control the wild spirit of a Carolina girl...
For fourteen-year-old Leah Payne, life in her beloved coastal Carolina town is as simple as it is free. Devoted to her lumberjack father and running through the wilds where the forest meets the shore, Leah's country life is as natural as the Loblolly pines that rise to greet the Southern sky.
When an accident takes her father's life, Leah is wrenched from her small community and cast into a family of strangers with a terrible secret. Separated from her only home, Leah is kept apart from the family and forced to act as a helpmate for the well-to-do household. When a moment of violence and prejudice thrusts Leah into the center of the state's shameful darkness, she must fight for her own future against a world that doesn't always value the wild spirit of a Carolina girl.
Set in 1935 against the very real backdrop of a recently formed state eugenics board, The Last Carolina Girl is a powerful and heart-wrenching story of fierce strength, forgotten history, autonomy, and the places and people we ultimately call home.
Praise for The Last Carolina Girl: A Novel
"[A] stirring debut... highlighting the true meaning of family." — Shelf Awareness STARRED review
"A dynamic and wrenching tale of family secrets and eugenics. This author is off to a strong start." — Publishers Weekly
"The Last Carolina Girl is a heart-wrenching and authentically rendered glimpse into the portal of a state's secret dark culture, family ties, and the fierce strength of a young girl's grit and resilience. Church is electric in her delivery of loss, longing and place. Unforgettable, this a powerful debut to savor." — Kim Michele Richardson, New York Times bestselling author of The Book Woman of Troublesome Creek
"Leah's story is both humbling and inspiring. Church's ode to the natural world, to the often elusive feeling of home, and to the friends who become family provokes profound reflection. A dark spot in history warps Leah's path, but her resilient and unassailable character prevails. The Last Carolina Girl is a breathtaking read and Leah Payne an unforgettable character." — Lo Patrick, author of The Floating Girls
"While readers will surely find all of the characters in Meagan Church's debut compelling, the true beating heart of The Last Carolina Girl is its fourteen-year-old protagonist: a girl tied deeply to her natural landscape whose abrupt uprooting after the death of her beloved father comes with devastating consequences. Leah Payne and her indefatigable spirit will break your heart and put it back together again. I tore through this haunting and emotional story." — Erika Montgomery, author of A Summer to Remember
"The Last Carolina Girl is lyrical and atmospheric, a true masterpiece of Southern fiction that will earn its longstanding place among greats on our bookshelves both for its exploration of a horrific piece of history often overlooked and for its insistence on hope. Church's debut is a must-read." — Joy Callaway, international bestselling author of The Grand Design
"Fans of Where the Crawdads Sing and Before We Were Yours will find much to love in this evocative and thought-provoking debut. Church reaches into a shameful and little-known pocket of the past to give us a heroine who is plucky, tender, and determined to fight for her autonomy and dignity against insurmountable odds. This book will change the way you feel about the simple question of 'Where is home?'" — Kim Wright, author of Last Ride to Graceland
"This spirited, coming-of-age debut whisked me straight to the heart of the Carolinas in the 1930s. I couldn't tear myself away from Leah's journey, from the piney, isolated woods of her childhood, to an often bewildering life in the foreign world of the suburbs, where appearances are everything. Church so beautifully interweaves the connections between Leah's deeply-sunk roots in the rural South with her search for belonging and her bravery in the face of unspeakable loss. This is a story that will stay with me; I knew little about the eugenics programs that had taken hold in American culture in that time period and Church's tale left me wanting to research and understand more of this broken, devastating piece of America's history." — Lisa DeSelm, author of The Puppetmaster's Apprentice
"Meagan Church has written a compelling and aching debut. The Last Carolina Girl is both a story of love and a tale of abuse set in the shadow of the Depression. There, a girl's blind obedience to her circumstances—a kind girl uprooted by her tender daddy's death—comes with a devastating price. Leah's life as an orphan takes her far from the comfort of sand and sea, yet she is armed with tenuous hope and a plan. Gradually, she puts together the puzzle pieces of her fractured life and uncovers truths: family can deceive and betray, but love offers salvation." — Leah Weiss, bestselling author of If the Creek Don't Rise and All the Little Hopes
"In this piercing novel, Meagan Church depicts one of the most disgraceful episodes in American medical history: forced sterilization. As a physician, I am deeply ashamed of the real-life actions of the medical community fictionalized so eloquently in this book, but as an author and a reader, I'm grateful for the opportunity to envision it. The Last Carolina Girl is a powerful and thought-provoking story." — Kimmery Martin, author of Doctors and Friends
"Set in the mid-1930s in the Carolinas, the book explores lesser-known aspects of American poverty and classism and how the now-discredited ideas of eugenics caused lasting pain. …shines a light on a part of American history that deserves to be better understood." — Booklist