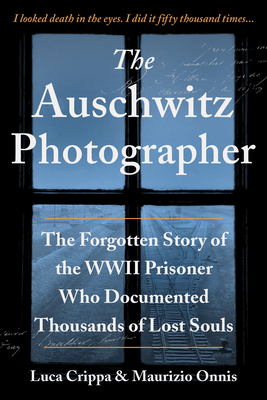 The Auschwitz Photographer: The Forgotten Story of the WWII Prisoner Who Documented Thousands of Lost Souls
Publication Date:
September 7th, 2021
The Book Tavern
1 on hand, as of Dec 10 11:18pm
(History::WWII)
On Our Shelves Now
Description
The Nazis asked him to swear allegiance to Hitler, betraying his country, his friends, and everything he believed in.
He refused.
Poland, 1939. Professional photographer Wilhelm Brasse is deported to Auschwitz-Birkenau and finds himself in a deadly race to survive, assigned to work as the camp's intake photographer and take "identity pictures" of prisoners as they arrive by the trainload. Brasse soon discovers his photography skills are in demand from Nazi guards as well, who ask him to take personal portraits for them to send to their families and girlfriends. Behind the camera, Brasse is safe from the terrible fate that so many of his fellow prisoners meet. But over the course of five years, the horrifying scenes his lens capture, including inhumane medical "experiments" led by Josef Mengele, change Brasse forever.
Based on the true story of Wilhelm Brasse, The Auschwitz Photographer is a stark black-and-white reminder of the horrors of the Holocaust. This gripping work of World War II narrative nonfiction takes readers behind the barbed wire fences of the world's most feared concentration camp, bringing Brasse's story to life as he clicks the shutter button thousands of times before ultimately joining the Resistance, defying the Nazis, and defiantly setting down his camera for good.
Praise for The Auschwitz Photographer: The Forgotten Story of the WWII Prisoner Who Documented Thousands of Lost Souls
"A compelling story of a young man's desperate search for the humanity in the inhumanity of the world's most notorious concentration camp." — Wendy Holden, author of Born Survivors
"Brasse has left us with a powerful legacy in images. Because of them we can see the victims of the Holocaust as humans and not statistics." — Fergal Keane, BBC correspondent
""[T]he authors provide another sharp reminder of the extent of Nazi evil, enhanced by the black-and-white photo insert…A moving story of one man's endurance in the worst imaginable conditions." -Kirkus Reviews" — Kirkus Reviews
""a cinematic portrait....readers will be captivated by this unlikely story of survival and compassion under the cruelest of circumstances." — Publishers Weekly" — Publishers Weekly
"This book by Luca Crippa and Maurizio Onnis allows readers to be engulfed in the world Wilhelm Brasse and his colleagues were facing. Feeling the anguish and despair but also the embers of hope, which would eventually light." — Seattle Book Review