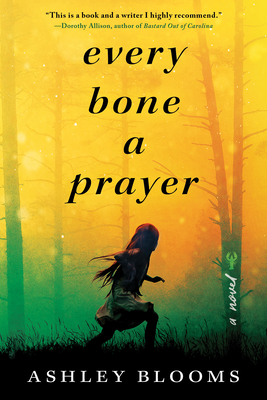 Every Bone a Prayer
Publication Date:
August 4th, 2020
Publisher:
Sourcebooks Landmark
The Book Tavern
1 on hand, as of Dec 7 11:18pm
(Fiction)
On Our Shelves Now
Description
"Blooms has taken the voice and names of Appalachia, tended, and evolved them, and created a book that is at once haunting and hopeful."—NPR
Praised by BuzzFeed, Good Housekeeping, POPSUGAR, Bustle, and more!
Misty's holler looks like any of the thousands of hollers that fork through the Appalachian Mountains. But Misty knows her home is different. She may be only ten, but she hears things. Even the crawdads in the creek have something to say, if you listen.
All that Misty's sister Penny wants to talk about are the strange objects that start appearing outside their trailer. The grown-ups mutter about sins and punishment, but that doesn't scare Misty. Not like the hurtful thing that's been happening to her, the hurtful thing that is becoming part of her. Ever since her neighbor William cornered her in the barn, she must figure out how to get back to the Misty she was before—the Misty who wasn't afraid to listen.
This is the story of one tough-as-nails girl whose choices are few but whose fight is boundless, as her coping becomes a battle cry for everyone around her. Perfect for fans of Southern coming-of-age stories like Where the Crawdads Sing and If The Creek Don't Rise, Every Bone a Prayer is a beautifully honest exploration of healing and of hope.
Praise for Every Bone a Prayer:
"Haunting and healing, Every Bone A Prayer is a powerful debut that will leave its mark on readers' hearts."—Kim Michele Richardson, New York Times bestselling author of The Book Woman of Troublesome Creek
"This is a book and a writer I highly recommend."—Dorothy Allison, author of Bastard out of Carolina
"This is the kind of book we need to set literary expectations for a new decade. It's so textured, so layered with love and so wonderfully terrifying, intimate and magical."—Kiese Laymon, author of Heavy: An American Memoir
"Searing and soothing, honest and elusive, Every Bone a Prayer is a gift. It's the pure truth, told slant."—Alix E. Harrow, author of The Once and Future Witches
Praise for Every Bone a Prayer
"Every Bone a Prayer evokes the magic of my favorite childhood stories — thrilling, but eerie — but it's also a painful, beautiful, and necessary examination of trauma and autonomy." — Buzzfeed
"Every Bone A Prayer is a difficult, important, and beautifully rendered story of generational trauma, survival, and healing. The characters I met within its pages have stayed with me, their names and stories etched on my memory." — NPR
"A beautifully rendered coming-of-age tale for a wide range of readers." — Library Journal
"In this haunting debut novel, Blooms makes a mystical exploration of the hidden power that lies within and the strategies assault survivors can undertake to regain a feeling of ownership over body and mind." — Booklist
"This is the kind of book we need to set literary expectations for a new decade. It's so textured, so layered with love and so wonderfully terrifying, intimate and magical." — Kiese Laymon, author of Heavy: An American Memoir
"I have loved Every Bone a Prayer since I saw an early draft years ago, loved Misty, her family, her secret talents, and the way she sees the world around her, from the crawfish in muddy water to the ghostly trees she runs past in the night, to the trailer park where she and her family barely survive. This is a book and a writer I highly recommend." — Dorothy Allison, author of Bastard out of Carolina
"Haunting and healing, Every Bone A Prayer is a powerful debut that will leave its mark on readers' hearts." — Kim Michele Richardson, New York Times bestselling author of The Book Woman of Troublesome Creek
"In this strange, magic-infused tale, Blooms breathes Misty's story into being with beautiful prose, gracefully capturing the essence of nature and a child's relationship to it" — Paperback Paris
"An essential novel, timely, composed with such care and lyricism that it took my breath away more than once. You will fall in love with Misty, and your heart will break. But with the patience and care of a crawdad creating its burrow, Ashley Blooms will heal your hurt and you will never forget this book." — Tom Franklin, author of Crooked Letter, Crooked Letter
"Ashley Blooms sings in an authentic mountain voice that reminds me of another great coal-country elegist: whatever the family Bible may record, she and Hazel Dickens are surely the closest of kin. Like a hawk over a hollow, Blooms both soars and sees all." — Andy Duncan, author of An Agent of Utopia
"Ashley Blooms's debut novel, Every Bone a Prayer, is a brilliant and powerful book. Misty's story is full of magic and heartbreak, sorrow and strength. This is a vital story, beautifully written, and one I highly recommend." — Kat Howard, Alex Award-winning author of An Unkindness of Magicians
"I couldn't stop reading Ashley Bloom's raw-boned language that carried me on young Misty's journey. While the weight on her skin threatened to take her under, the current of hope had me rooting for Misty to rise up. I can't wait to see this book shoot into the stratosphere." — Leah Weiss, author of If the Creek Don't Rise
"An exploration of faith that borders on fanaticism, belief in the unseen wonders of this world, the fear that lives deep in the heart of girls whose innocence is stolen from them, and the resilience built by refusing to be destroyed are all beautifully, heartbreakingly, and magically at work in the brilliant Every Bone a Prayer." — Seattle Book Review
"Searing and soothing, honest and elusive, Every Bone a Prayer is a gift. It's the pure truth, told slant." — Alix E. Harrow, author of The Ten Thousand Doors of January
"There's magic in this book—and pain, and beauty, and horror - but the magic is what will keep you glued to the page, and have your heart singing the whole way." — Sam J. Miller, Nebula-Award-winning author of Blackfish City
"Every Bone a Prayer is beautifully written and absolutely harrowing from first page to last. It's unlike anything you've ever read before, and you will be mesmerized by it. Misty is among the most endearing characters I've met on the written page in a long while and I won't forget her anytime soon. This haunting debut announces the arrival of one of the most original and exciting new voices in literature." — Silas House, author of Clay's Quilt and Southernmost