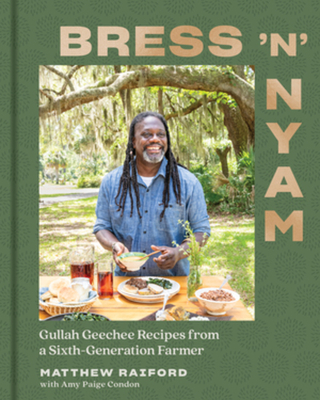 Bress 'n' Nyam: Gullah Geechee Recipes from a Sixth-Generation Farmer
Publication Date:
May 11th, 2021
Publisher:
Countryman Press
The Book Tavern
1 on hand, as of Oct 2 11:18pm
(Cooking)
On Our Shelves Now
Description
More than 100 heirloom recipes from a dynamic chef and farmer working the lands of his great-great-great grandfather.
From Hot Buttermilk Biscuits and Sweet Potato Pie to Salmon Cakes on Pepper Rice and Gullah Fish Stew, Gullah Geechee food is an essential cuisine of American history. It is the culinary representation of the ocean, rivers, and rich fertile loam in and around the coastal South. From the Carolinas to Georgia and Florida, this is where descendants of enslaved Africans came together to make extraordinary food, speaking the African Creole language called Gullah Geechee.
In this groundbreaking and beautiful cookbook, Matthew Raiford pays homage to this cuisine that nurtured his family for seven generations. In 2010, Raiford's Nana handed over the deed to the family farm to him and his sister, and Raiford rose to the occasion, nurturing the farm that his great-great-great grandfather, a freed slave, purchased in 1874. In this collection of heritage and updated recipes, he traces a history of community and family brought together by food.
Praise for Bress 'n' Nyam: Gullah Geechee Recipes from a Sixth-Generation Farmer
There are other books by Black authors of Gullah Geechee heritage, and each one of them has something to teach us about the dynamism and variety that African heritage Lowcountry folk have to offer. Each voice is colloquial and discretionary, engaging in some of the same subjects and variables, but the access and vantage points are key. Black foodways are not a monolith, and Matthew's voice and vision come marching to a new beat in his new book.
— Michael Twitty - Bon Appétit
Bress 'n' nyam means 'bless and eat' in the Gullah language, and Raiford's book is both a celebration of his homecoming and an introduction to Gullah Geechee cuisine that digs into the painful history and complex flavors of African foodways in the American South.
— Eater
Skillfully showcasing the flavors of a resilient culture, these recipes are as enlightening as they are delicious.
— Publishers Weekly
Bress 'n' Nyam is a gem for anyone who is looking to understand more about the deep history of the Gullah Geechee people. Matthew Raiford lovingly tells tales of the land and his family's connection to it, at the same time as he provides heritage and innovative recipes that evoke memories of meals shared, of tables blessed, and of deep family legacy.
— Jessica B. Harris, PhD culinary historian, author, and lecturer
More than a cookbook, Bress 'n' Nyam pays homage to the enslaved Africans in the South and their history in farming the area and creating their own cuisine.
— Today
Part history lesson, part cookbook, this stunning new tome by chef-farmer Matthew Raiford delves into the rich history of the Gullah Geechee people...
— Time Out
Taking on a new approach to farm-to-table dining, Raiford pulls recipes from his family history and illustrates how they brought a community together through food.
— The Root
There's a very delicious unintended consequence of reading (and cooking from) Matthew's book: Bress 'n' Nyam more than gives people a great appreciation of Black Culture, it further shows the diversity of Black Culture through different shades and hues, with Gullah Geechee cuisine as the Matriarch of the Black Food Family.
— Todd Richards, chef and award-winning author of Soul
The sixth-generation farmer showcases the lineage of African foodways and traces his family history through 100 recipes, including creamy grits, buttermilk biscuits, stewed greens, sweet potato pie, Gullah fish stew, oyster dressing and other essential dishes.
— Shelby Vittek - Modern Farmer
A delectable trip to Gullah country
— Susan Puckett - The Atlanta Journal-Constitution
Through stories, photographs and recipes, in Bress 'n' Nyam Raiford shares his legacy of the Gullah Lowcountry. It is a memorable feast.
— Marion Sullivan - The Post and Courier
Matthew Raiford's passion for the Southern food he grew up with, his culinary expertise, and his personal journey have culminated in this wonderful book that celebrates the traditional foods of the Lowcountry. Bress 'n' Nyam celebrates his ancestors, modern Southern cooking, and the future of the American South with every delicious word and every delectable bite.
— Virginia Willis, James Beard Award–winning cookbook author and chef
You hold in your hand a history of a singular place and a resilient people told by the prodigal son who has returned to share his love for both. You are invited to share that story at a table spread with bountiful and delicious food made from scratch and soul. As you look at the beautiful photos that grace Matthew Raiford's words and recipes, you will begin to understand these aren't just images from the past, but a vision for a rooted and thriving future in Gullah country.
— Ronni Lundy, James Beard Award–winning author of Victuals
In his collection of new and old family recipes, Raiford also tells the story of a community brought together by an often-overlooked cuisine that is deeply integral to this country's food history.
— Tiffani Rozier - The Philadelphia Inquirer