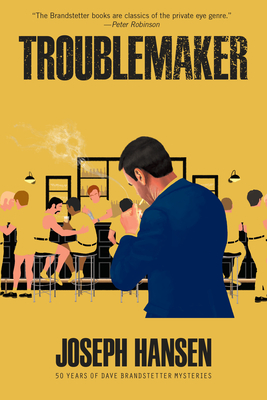 Troublemaker (A Dave Brandstetter Mystery #3)
Publication Date:
January 11th, 2022
Publisher:
Soho Syndicate
The Book Tavern
1 on hand, as of Dec 1 2:19pm
(Fiction::Mystery)
On Our Shelves Now
Description
Love and money are the easy motives in the death of a California beachfront nightclub owner, but death claims investigator Dave Brandstetter is certain of one thing: the case is going to be far from easy and the police have it all wrong.
 
Rick Wendell wouldn't hurt a flea. The big, jovial owner of the Hang Ten, a surfing-themed gay bay on the boardwalk, was loved by regulars and new arrivals alike. But Rick was found naked and dead, with a local hustler named Larry Johns standing over him, smoking gun in hand. Wendell's death is ruled as a homicide and Johns is arrested. Everyone thinks it's a simple open-and-shut case. Everyone except the death claims investigator, Dave Brandstetter.
 
Brandstetter, a homosexual himself, doesn't make the same assumptions about the crime scene and easy story it tells. Larry Johns had enough time to escape had he wanted to. Not to mention Johns lacked any discernable motive, especially since the $200 in Wendell's wallet was left untouched. In an investigation that takes him from sun-scorched hillside ranches to seedy boardwalk bars, Brandstetter gets to the bottom of a twisty mystery in this hardboiled and entertaining portrait of the '70s gay culture by groundbreaking poet and award-winning crime writer Joseph Hansen.
Praise for Troublemaker (A Dave Brandstetter Mystery #3)
PRAISE FOR THE DAVE BRANDSTETTER NOVELS
"In Brandstetter, Hansen has created a hero worthy of such predecessors as Chandler's Philip Marlowe and Macdonald's Lew Archer... Book after book, we're happy to walk down the mean streets in his company."
—John Powers, NPR's Fresh Air
"In an auspicious event for mystery readers, Syndicate is reprinting all 12 of Joseph Hansen's pioneering Dave Brandstetter novels over 12 months. "Fadeout," the first in the series featuring the comfortably gay World War II vet and L.A. insurance investigator, was published in 1970. As Michael Nava points out in his insightful new introduction, that's when gay sex was a criminal act in 49 of the 50 states. Through grit and sheer talent, Hansen found a wide audience… Crime fiction fans who don't know Hansen's work are in for a treat."
—The Washington Post
"Joseph Hansen is not only one of America's best mystery writers, he is a great American writer. Period. Full stop."
—Michael Nava
"I can only applaud the republication of Joseph Hansen's Dave Brandstetter books. I've increasingly come to regard the phrase 'an important writer of crime fiction' as oxymoronic, but if one's going to use the label, Hansen's not an unreasonable bearer of it."
—Lawrence Block
"I can only applaud the republication of Joseph Hansen's Dave Brandstetter books. I've increasingly come to regard the phrase 'an important writer of crime fiction' as oxymoronic, but if one's going to use the label, Hansen's not an unreasonable bearer of it."
—Lawrence Block
"Incredible books, much overlooked."
—Jeff Abbott
 
"The Brandstetter books are classics of the private eye genre... It's great to see them available again."
—Peter Robinson
 
"First published over fifty years ago now, Hansen's novels are not just clever and compelling stories, but to my mind they are also a feat of incredible bravery. I wish I'd discovered him sooner."
—Russ Thomas, CrimeReads
 
"Hansen is one of the best we have… [He] knows how to tell a tough, unsentimental, fast-moving story in an exceptionally urbane literary style."
—New York Times Book Review
 
"After forty years, Hammett has a worthy successor."
—The Times (London)
 
"Mr. Hansen is an excellent craftsman, a compelling writer."
—The New Yorker
 
"Apart from its virtues as fiction, Hansen's Early Graves is a field correspondent's breathtaking dispatch from a community in the midst of disaster."
—Time
 
"Read in the order written, [the Brandstetter mysteries] are remarkably linked through symbol, incident, and character, to the point that one sees them as a single, multi-volume novel, by which one may learn a great deal about what it means to be homosexual and male in modern America."
—The New Republic
 
"Hansen is quite simply the most exciting and effective writer of the classic California private-eye novel working today."
—Los Angeles Times
 
"No one in the history of the detective novel has had the daring to do what Joseph Hansen has done: make his private eye a homosexual…who is both a first-rate investigator and one of the most interest series characters in the history of the genre."
—David Geherin, The American Private Eye
"The first thing I ever read by Joseph Hansen was Fadeout (1970). It's the seminal novel in a mystery series about a smart, tough, uncompromising insurance investigator by the name of David Brandstetter. He is a Korean War vet and ruggedly masculine. He's educated, principled, compassionate — but willing and able to use violence when nothing else works. He represents the (then) new breed of PI — the post–World War II private investigator. There are no bottles of rye in Dave's desk, there are no sleazy secrets in his past, and the dames don't much tend to throw themselves at him. He is neither tarnished nor afraid. Oh, and one other thing. He's gay…. He was not the first gay detective to hit mainstream crime fiction, but he was the first normal gay detective, and that — as the poet said — has made all the difference."
—Josh Lanyon, from The Golden Age of Gay Fiction