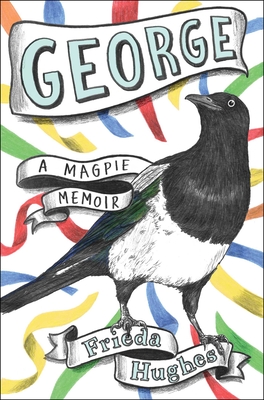 George: A Magpie Memoir
Publication Date:
June 6th, 2023
Publisher:
Avid Reader Press / Simon & Schuster
The Book Tavern
2 on hand, as of Dec 10 11:18pm
(Nature::Birds)
On Our Shelves Now
Frieda Hughes, poet, painter and home repair fanatic, moves to a broken-down home in Wales with a garden of despair. What more could a creative soul want? George, an endless source of fascination, as it turns out. What a wonderful tale!
June 2023 Indie Next List
Description
"Poignant and funny…a passionate book about unconditional love and commitment." —The Washington Post * "Captivating." —Associated Press * "Rich with imagery…It's impossible not to be smitten." —Star Tribune (Minneapolis)
From poet and painter Frieda Hughes, an intimate, charming, and humorous memoir recounting her experience rescuing and raising an abandoned baby magpie in the Welsh countryside.
When Frieda Hughes moved to a ramshackle estate in the wilds of Wales, she was expecting to take on a few projects: planting a garden, painting, writing her poetry column for The Times (London), and possibly even breathing new life into her ailing marriage. But instead, she found herself rescuing a baby magpie, the sole survivor of a nest destroyed in a storm—and embarking on an obsession that would change the course of her life.
As the magpie, George, grows from a shrieking scrap of feathers and bones into an intelligent, unruly companion, Frieda finds herself captivated—and apprehensive of what will happen when the time comes to finally set him free.
With irresistible humor and heart, Frieda invites us along on her unlikely journey toward joy and connection in the wake of sadness and loss; a journey that began with saving a tiny wild creature and ended with her being saved in return.
Praise for George: A Magpie Memoir
"A magical, endearing memoir of her relationship with a baby bird she rescued and raised in her kitchen. The improbable relationship between the unruly and intelligent magpie George and the witty Hughes is the literary romance of the year." —Marion Winick, Oprah Daily
"A poignant and funny memoir . . . George is a passionate book about unconditional love and commitment. It's also fast-paced and suspenseful, full of amusing anecdotes, poems and Hughes's sweet drawings of George." —Nora Krug, The Washington Post
"On one level, George is an expert bit of nature writing, akin to a David Attenborough documentary. But on another level, it is a psychologically profound investigation of how George, [the author's] other animals, and the extensive gardens she cultivates on an acre of land in the Welsh countryside give her the 'stability and sense of permanence' that she lacked as a child . . . [A] captivating book." —Ann Levin, The Associated Press
"Spirited [and] winsome . . . The book itself is a kind of magpie: Ms. Hughes hoards myths and secrets within her birding lore, and dispenses them at her leisure . . . She tells her story in poised yet anecdotal language; her charm reels us in. Memoir as a form of self-revelation comes beautifully to her. I suspect her audience will clamor for another soon." —Hamilton Cain, The Wall Street Journal
"Her pencil illustrations of George are funny and affectionate, her prose is rich with imagery. Metaphors abound. It's impossible not to be smitten by the magpie . . . It's also impossible not to feel for Hughes . . . Yes, this book is about how Hughes rescued George. But in many ways, it's about how George rescued Hughes." —Laurie Hertzel, Minneapolis Star-Tribune
"George the magpie trashes the author's house, terrifies the cleaning lady, and helps tank her failing marriage—and yet you cannot help falling madly in love with him. Frieda Hughes observes this little black and white bird with the meticulous eye of a naturalist and the penetrating lyricism of a poet. This book is a joy from beginning to end." —Sy Montgomery, New York Times bestselling author of The Soul of an Octopus 
"A charming diary of life with a tame magpie—despite George's bad behaviour, [George] will render corvid lovers (like me) green with envy!" —Katherine May, author of Wintering
"Illustrated throughout with pen-and-ink drawings, this charming memoir about the author's accidental adventures in avian rescue offers tantalizing insights into her struggle to fly free of the difficult emotional legacy bequeathed by her literary-icon parents, Sylvia Plath and Ted Hughes. A poignantly heartwarming delight." —Kirkus Reviews
"Lovely. . . In lyrical prose full of introspection and humor, Hughes describes George being washed by her dogs, his learning to fly, and his curiosity about everything. . . Enlivened with Hughes' drawings, this portrait of a bird mirrors how each of us maneuvers through our own existence." —*starred* Booklist
"[An] intimately detailed diary of how Frieda Hughes rescued and reared an abandoned baby magpie at her country home in Wales. . . if you're a fan of wildlife, gardening, and rambling old European estates, you will probably find it charming." —Garden & Gun