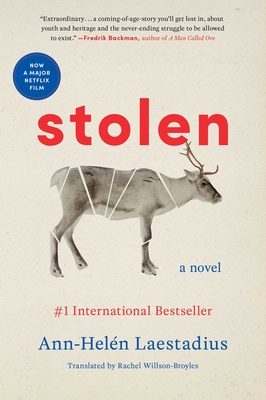 Stolen
Publication Date:
January 31st, 2023
Usually Ships in 2 to 14 Days
Description
AN NPR BEST BOOK OF 2023 * SOON TO BE A NETFLIX FILM
A spellbinding Swedish novel that follows a young indigenous woman as she struggles to defend her family's reindeer herd and culture amidst xenophobia, climate change, and a devious hunter whose targeted kills are considered mere theft in the eyes of the law.
On a winter day north of the Arctic Circle, nine-year-old Elsa—daughter of Sámi reindeer herders—sees a man brutally kill her beloved reindeer calf and threaten her into silence. When her father takes her to report the crime, local police tell them that there is nothing they can do about these "stolen" animals. Killings like these are classified as theft in the reports that continue to pile up, uninvestigated. But reindeer are not just the Sámi's livelihood, they also hold spiritual significance; attacking a reindeer is an attack on the culture itself.
Ten years later, hatred and threats against the Sámi keep escalating, and more reindeer are tortured and killed in Elsa's community. Finally, she's had enough and decides to push back on the apathetic police force. The hunter comes after her this time, leading to a catastrophic final confrontation.
Based on real events, Ann-Helén Laestadius's award-winning novel Stolen is part coming-of-age story, part love song to a disappearing natural world, and part electrifying countdown to a dramatic resolution—a searing depiction of a forgotten part of Sweden.
Praise for Stolen
"This coming-of-age thriller explores themes of white male entitlement, rural despair, generational trauma, colonialism and gatekeeping with a nuance that makes you forget its Swedish setting. Scandinavia, it turns out, is not as cozy-cabin-core as Americans like to imagine. In fact, it's just like us." —NPR, Best Books of 2023
"Stolen is an extraordinary novel. A coming-of-age-story you'll get lost in, about youth and heritage and the never-ending struggle to be allowed to exist. Although set in the coldest and most northern part of Scandinavia, I'm convinced it's a universal story to be loved everywhere in the world."—Fredrik Backman, internationally bestselling author of A Man Called Ove and Anxious People
"[Written] with sensitivity and insight for the subtleties of Sámi life." —New York Times
"A moving account. . . . The heart, and the great appeal, of this novel is its empathetic portrait of a young woman who flourishes in this harsh, but beautiful, landscape." —Financial Times (UK)
"Powerful. . . . [Laestadius] has neatly side-stepped cliches about Indigenous communities to reveal a loving portrait of a community fighting to survive. . . . What Stolen may do best is make clear how hollow words ring when world leaders talk about protecting Indigenous land and people. . . . Stolen is both a lesson and a warning." —Grist
"A revelatory account." —Kirkus
"Sámi author Ann-Helén Laestadius has written a fresh, devastating, and insightful novel about Sámi life and the struggle for justice in a rapidly changing world. A love for the imperiled landscape reverberates throughout this engaging read." —Megan Mayhew Bergman, author of How Strange a Season
"Stolen is in equal measure a gripping and thrilling mystery as it is a testament to the continued beating heart of Sámi life. Ann-Helén Laestadius takes her place as an important voice in world Indigenous literature."—Michelle Good, author of Five Little Indians
"Shattering and thought-provoking from the first to the last page! . . . An illuminating portrayal of a part of Sweden where villagers, neighbors, and families are set against each other through generations." —Book of the Year Award Jury Citation (Sweden)