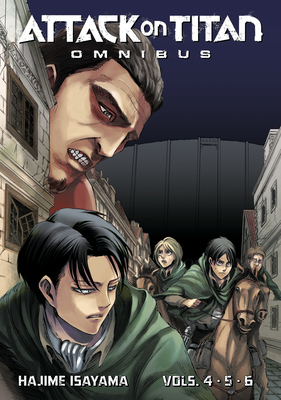 Attack on Titan Omnibus 2 (Vol. 4-6)
Publication Date:
March 22nd, 2022
Publisher:
Kodansha Comics
Usually Ships in 2 to 14 Days
Description
It's never been easier to attack Attack on Titan than with these new, giant-sized 3-in-1 omnibus editions! If you've been waiting for the final anime season to check out the do-or-die shonen adventure that defined a decade, now's your chance. These new books tuck almost 600 pages of manga behind a specially-embossed cover, all in a larger size than the regular version.
 
Includes Vol. 4-6 of Attack on Titan.
The Survey Corps develop a risky gambit – have Eren in Titan form attempt to repair Wall Rose, reclaiming human territory from the monsters for the first time in a century. But Titan-Eren's self-control is far from perfect, and when he goes on a rampage, not even Armin can stop him! With the survival of humanity on his massive shoulders, will Eren be able to return to his senses, or will he lose himself forever?