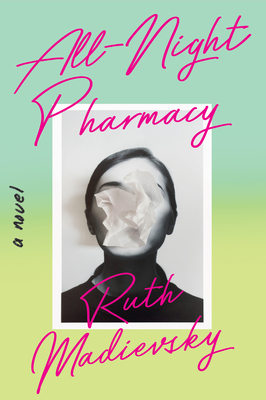 All-Night Pharmacy: A Novel
Publication Date:
July 11th, 2023
The Book Tavern
2 on hand, as of Sep 23 11:17pm
(Fiction)
On Our Shelves Now
A spiraling look into a toxic sisterhood and an exploration of addiction,All-Night Pharmacycaptivated me. The author deftly pulls the reader to root for the unnamed narrator as she tumbles in and out of addiction and relationships.
July 2023 Indie Next List
Description
*A NATIONAL BESTSELLER*
Rachel Kushner meets David Lynch in this fever dream of an LA novel about a young woman who commits a drunken act of violence just before her sister vanishes without a trace
On the night of her high school graduation, a young woman follows her older sister Debbie to Salvation, a Los Angeles bar patronized by energy healers, aspiring actors, and all-around misfits. After the two share a bag of unidentified pills, the evening turns into a haze of sensual and risky interactions—nothing unusual for two sisters bound in an incredibly toxic relationship. Our unnamed narrator has always been under the spell of the alluring and rebellious Debbie and, despite her own hesitations, she has always said yes to nights like these. That is, until Debbie disappears.
Falling deeper into the life she cultivated with her sister, our narrator gets a job as an emergency room secretary where she steals pills to sell on the side. Cue Sasha, a Jewish refugee from the former Soviet Union who arrives at the hospital claiming to be a psychic tasked with acting as the narrator's spiritual guide. The nature of this relationship evolves and blurs, a kaleidoscope of friendship, sex, mysticism, and ambiguous power dynamics.
With prose pulsing like a neon sign, Ruth Madievsky's All-Night Pharmacy is an intoxicating portrait of a young woman consumed with unease over how a person should be. As she attempts sobriety and sexual embodiment, she must decide whether to search for her estranged sister, or allow her to remain a relic of the past.
Praise for All-Night Pharmacy: A Novel
*A NATIONAL BESTSELLER*
A Hey Alma finalist for the Jewish Pop Culture Awards
Named a Most Anticipated Book by Nylon, Hey Alma, Literary Hub, The Millions, Debutiful, Library Journal and more
Shondaland, A Best Book of the Summer
The Pink News, A Best Sapphic Book of 2023
Goodreads, A Buzziest Debut Novel of the Year

"A tender and hilarious coming-of-age story of two sisters." —Betsy Bonner, The New York Times Book Review
"All-Night Pharmacy is a kind of California neo-neo-noir, rebooting the genre's saturated nightmares for the 21st century . . . Gorgeously rendered." —Zoe Hu, The Washington Post
"All-Night Pharmacy crackles with the energy of Hubert Selby Jr.'s Requiem for a Dream or Patrick deWitt's Ablutions . . . It pulses with intensity as its characters struggle to find their way. The taut narrative is driven by Madievsky's razor-sharp prose." —Jim Ruland, Los Angeles Times
"By turns hilarious and harrowing, we follow the narrator as she wrestles with family dysfunction, addiction, seduction and, finally, a measure of self-reflection." —Hannah Bae, San Francisco Chronicle
"A vivid debut." —Vanity Fair
"Gripping." —New York Magazine
"If you're looking for a wild and delightfully weird sister story, this book is for you." —Emma Specter, Vogue

"A glowing neon gem." —The Orange County Register
"Madievsky's debut has everything I want from a novel: a toxic sister relationship, countless nights at a trashy LA nightclub called Salvation, and a dreamy sapphic romance . . . This novel is hypnotic; I inhaled it." —Anna Dorn, Nylon
"A compelling and mysterious story."—Melanie Curry, Cosmopolitan
"A gripping, surrealist portrait of a toxic sibling relationship . . . Madievsky's lyrical-prose style and arresting imagery create a book that is far more than an everyday romp through the Los Angeles underbelly. This is a startling story of a young woman consumed by the urge to do right." —Isle McElroy, Vulture
"In an impressive undertaking, Madievsky weaves together a tale of addiction, queerness, and Jewish mysticism, bound together with vibrant imagery and thoughtful prose." —The Cut
"All-Night Pharmacy reads like an endless Los Angeles party: aglow with fervency and bursting with drugs, sex, desperate actors, energy healers, strippers, and eccentrics. At its heart, the book is a twinned character portrait of two sisters on the edge of adulthood. It's stylish and smart—its gloss only hints to its depth, like the uncanny glisten of a see-through acrylic nail." —Maggie Lange, Bustle
"Highly anticipated . . . Eclectic, clever . . . An intoxicating, cutting, and wise tale that will surely land on everyone's summer reading list." —Katie Tamola, Shondaland
"A queer acid trip through Los Angeles and sisterhood that's dripping with both mystery and mysticism . . . It's a real page-turner, and the first book that's made me actively interested in pharmacy—in other words, the perfect weekend beach read." —Kylie Cheung, Jezebel
"All-Night Pharmacy is both hilarious and painful, a keen exploration of a woman's coming of age as she tries to locate a selfhood outside the bonds of sisterhood, obligation, and expectation." —Ilana Masad, them
"All-Night Pharmacy feels like a Phoebe Bridgers song—spooky and sexy, stringing pop culture together with the abject, and always swelling with feeling . . . Madievsky uses dry humor, finely dialed insights, and lush, imagistic language to articulate the burdens of the past that we carry in our bodies." —Rosa Boshier González, The Believer
"A tender and laugh-out-loud funny debut novel . . . Exploring themes of family dynamics, generational trauma, coming out, and addiction, this book is hilarious, insightful, and unapologetically queer." —BuzzFeed, A Most Anticipated Book of the Year
"All-Night Pharmacy is an old-school LA novel in the best way, a total fever dream of lingering violence and lost souls." —Michael Welch, Chicago Review of Books
"Get ready for one of the best books of the new millennium . . . Madievsky has entered the pantheon of debut authors readers will be talking about a decade from now and beyond." —Adam Vitcavage, Debutiful, A Most Anticipated Book of 2023
"A kaleidoscope of friendship, sex, mysticism, and ambiguous power dynamics." —Dahlia Adler, LGBTQ Reads
"[A] luminous debut novel . . . At once atmospheric and visceral." —Michelle Hart, An Electric Literature Most Anticipated Book of 2023
"Tackling topics as wide-ranging as grooming, addiction to drugs and people, sexuality, and Shoah grief, Madievsky weaves a compelling coming-of-age yarn." —Booklist
"The book covers about a year in our narrator's life as she navigates sobriety, queerness, trauma, healing, and family. It doesn't shy away from the difficult moments, the unexpected moments, the sexy moments. It's a book about how hard it is to be a person, how it feels to navigate a life." —Literary Hub, A Most Anticipated Book of the Year
"The tensions of the narrator's life and the persistent sense of searching that permeates her brain make All-Night Pharmacy hum with energy from the very first page, imbuing Madievsky's narrative with a sense of darkly comic unpredictability that never overwhelms the emotional beats of her character's journey . . . Madievsky is also a poet, and her knack for crafting imagery is on full display, merging the mundane and the profound to ensure her novel is thrilling all the way down to a sentence level. Ruth Madievsky displays tremendous storytelling range, capturing all that is bitter and hilarious, heartbreaking and enlightening, wise and foolish within the well-developed mind of a single central character." —Matthew Jackson, BookPage
"An electric tale . . . Madievsky renders her protagonist's search for selfhood vividly and viscerally, resulting in a coming-of-age story that radiates like a Lynchian fever dream." —Publishers Weekly
"[A] coolly delivered debut . . . Madievsky captures the mood of a woman working hard to connect with a sense of self, and she has an excellent arsenal of metaphors for disconnection . . . An assured debut, at once atmospheric and gritty." —Kirkus Reviews
"Witty, poignant, and darkly funny, All-Night Pharmacy is a vibrant debut about longing, identity, and the wild, unbreakable bonds of family. In prose that is sharp, exuberant, wry, and smart, Madievsky conjures an affecting, utterly unforgettable tale of two tempestuous sisters." —Kimberly King Parsons, author of Black Light
"All-Night Pharmacy is a genuinely propulsive and magnetic read. Madievsky's writing is rich and boldly dark, slick and queer in all the best ways. Immersing myself in her work felt akin to pressing on a bruise, a beautiful ache that I remembered long after I finished reading. A deeply human, wonderfully twisty novel that takes you down the rabbit hole of familial trauma and back up to the light again. All-Night Pharmacy is a glimmery showstopper of a debut novel. I'm obsessed with it." —Kristen Arnett, New York Times bestselling author of Mostly Dead Things
"All-Night Pharmacy is a blackhole, a force so lively, unfiltered, and pure that you won't mind being sucked in headfirst. On a line level, Madievsky is untouchable. Somehow, she has crafted a rough-edged pill of a debut that cuts deep while also being deeply pleasurable to swallow." —Jean Kyoung Frazier, author of Pizza Girl