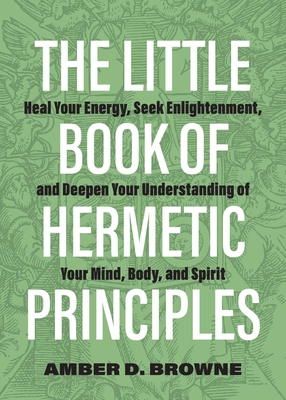 The Little Book of Hermetic Principles: Heal Your Energy, Seek Enlightenment, and Deepen Your Understanding of Your Mind, Body, and Spirit
Publication Date:
March 1st, 2022
The Book Tavern
1 on hand, as of Dec 9 11:18pm
(Philosophy)
On Our Shelves Now
Description
Discover how the wisdom and philosophy of Hermes Trismegistus and Hermeticism can be applied to modern life in this beginner-friendly guide to the Hermetic principles.
Hermes Trismegistus is believed to be one of the founders of philosophy, and his teachings can be connected to Stoicism, Platonism, esotericism, the Enlightenment, and more. The Little Book of Hermetic Principles delves into seven fundamental truths attributed to Hermes and teaches readers how to incorporate these principles into their own life, including:
-The Principle of Mentalism and the power of the mind
-The Principle of Correspondence: as above, so below
-The Principle of Vibration and the power of energy
-And more from The Kybalion. 
Perfect for beginners, this little book breaks down timeless wisdom into easily consumable chapters, and gives actionable tips on how to change one's own life for the better according to the various Hermetic principles. With overviews of The Corpus Hermeticum, The Emerald Tablet, The Divine Pymander, and more, readers will be able to gain perspective on Hermetic teachings beyond the seven principles. Plus, sections on astrology, magic, and alchemy will explore Hermes' more mystical teachings. This the definitive guide for anyone interested in learning more about Hermeticism and its applications in modern life.