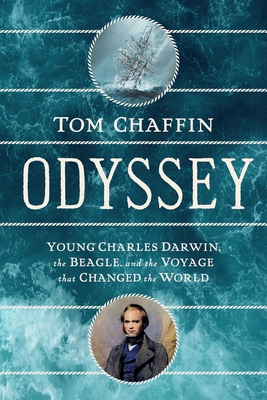 Odyssey: Young Charles Darwin, The Beagle, and The Voyage that Changed the World
Publication Date:
February 1st, 2022
The Book Tavern
1 on hand, as of Dec 9 11:18pm
(Science & Math)
On Our Shelves Now
Description
An illuminating and lively narrative of Charles Darwin's formative years and his adventurous voyage aboard the H.M.S. Beagle.
Winner of the Georgia Author of the Year Award for Biography/Memoir
The voyage of the Beagle has been by far the most important event in my life and has determined my whole career.—Charles Darwin
Charles Darwin—alongside Isaac Newton and Albert Einstein—ranks among the world's most famous scientists. In popular imagination, he peers at us from behind a bushy white Old Testament beard. This image of Darwin the Sage, however, crowds out the vital younger man whose curiosities, risk-taking, and travels aboard HMS Beagle would shape his later theories and served as the foundation of his scientific breakthroughs.
         Though storied, the Beagle's voyage is frequently misunderstood, its mission and geographical breadth unacknowledged. The voyage's activities associated with South America—particularly its stop in the Galapagos archipelago, off Ecuador's coast—eclipse the fact that the Beagle, sailing in Atlantic, Pacific and Indian ocean waters, also circumnavigated the globe.
         Mere happenstance placed Darwin aboard the Beagle—an invitation to sail as a conversation companion on natural-history topics for the ship's depression-prone captain. Darwin was only twenty-two years old, an unproven, unknown, aspiring geologist when the ship embarked on what stretched into its five-year voyage. Moreover, conducting marine surveys of distance ports and coasts, the Beagle's purposes were only inadvertently scientific. And with no formal shipboard duties or rank, Darwin, after arranging to meet the Beagle at another port, often left the ship to conduct overland excursions.
         Those outings, lasting weeks, even months, took him across mountains, pampas, rainforests, and deserts. An expert horseman and marksman, he won the admiration of gauchos he encountered along the way. Yet another rarely acknowledged aspect of Darwin's Beagle travels, he also visited, often lingered in, cities—including Rio de Janeiro, Buenos Aires, Montevideo, Santiago, Lima, Sydney, and Cape Town; and left colorful, often sharply opinionated, descriptions of them and his interactions with their residents. In the end, Darwin spent three-fifths of his five-year "voyage" on land—three years and three months on terra firma versus a total 533 days on water.
         Acclaimed historian Tom Chaffin reveals young Darwin in all his complexities—the brashness that came from his privileged background, the Faustian bargain he made with Argentina's notorious caudillo Juan Manuel de Rosas, his abhorrence of slavery, and his ambition to carve himself a place amongst his era's celebrated travelers and intellectual giants. Drawing on a rich array of sources— in a telling of an epic story that surpasses in breadth and intimacy the naturalist's own Voyage of the Beagle—Chaffin brings Darwin's odyssey to vivid life.
Praise for Odyssey: Young Charles Darwin, The Beagle, and The Voyage that Changed the World
"Compelling. Mr. Chaffin's Odyssey presents a heroic adventure. His robust Darwin is an English Odysseus sailing a global wine-dark sea. [The book] offers new and exciting ideas that will likely beat out the competition."
— The Wall Street Journal
"Reading like a spectacular novel and drawing on Darwin's journals and unpublished sources, Odyssey gives readers the details of Darwin's formative experiences. The book is a brilliant contribution to the understanding of the cultural, intellectual, and even quotidian forces that shaped one of the world's most influential scientists. Novelistic nonfiction at its best."
— Rebecca Coffey
"A fresh look at Charles Darwin's famed voyage. Drawing on Darwin's notes and letters as well as those of his acquaintances, Chaffin chronicles the naturalist's legendary journey on the Beagle."
— Kirkus Reviews
"Readers with a passion for the subject will savor this account of the scientific process at work"
— Publishers Weekly
"This retelling of Charles Darwin's momentous journey on HMS Beagle offers a fresh and lively narrative in the round. We learn of Darwin's appreciation of literature, his many land expeditions, his friends and colleagues on the ship, and the individuals who helped him gather a magnificent collection of natural history specimens and memories to last the rest of his life. Tom Chaffin links these transformative experiences to Odysseus's celebrated wanderings and reveals the ways in which the young Darwin developed into a remarkable thinker."
— Janet Browne, author of Charles Darwin: Voyaging and Charles Darwin: The Power of Place.
"One might think that, by now, the 'Darwin industry' had exhausted its material and, as has been suggested, studied "every laundry list… with paralyzing diligence for some extra insight into the character of the great man". It turns out that there remains space for fresh perspectives on the life of one of the most important scientists in history. Chaffin's narrative of Darwin's Beagle travels makes the reader feel like we're there with an extraordinary young man as he explores—and ultimately creates a theory that will explain—the world. This is a well-told version of a great and enormously consequential adventure."
— Warren D. Allmon, Cornell University, Hunter R. Rawlings III Professor of Paleontology, and Director, Paleontological Research Institute.
"In Odyssey, Tom Chaffin presents a crisp and colorful narrative of Charles Darwin's seminal voyage on the HMS Beagle, frequently and advantageously animated by Darwin's own words. It is a vivid and insightful account of Darwin's experiences and observations leading to his world-shattering theory of natural selection."
 
— Rob Wesson, author of DARWIN'S FIRST THEORY
"Tom Chaffin's Odyssey is a masterpiece. While focused on Darwin's Beagle travels, this lively and detailed, tightly-woven narrative also provides a splendid overview of the great Victorian naturalist's life. Published and unpublished contemporary writings by Darwin and others, as well as up-to-date scholarship,  lend colour to depicted events. All the while, the flesh-and-blood Darwin comes shining through."
— Patrick Armstrong, Adjunct Professor of Geography at the University of Western Australia, and author of Darwin's Other Islands, Darwin's Luck, and All Things Darwin
Tom Chaffin lays out in spectacular detail and verve Darwin's voyage, crisply painting vibrant scenes of his many companions and––occasionally dangerous––encounters. . . . Bristling with tales and facts that whet the appetite for more, Odyssey: Young Charles Darwin, the Beagle, and the Voyage that Changed the World is an achievement one suspects Chaffin could only have pulled off by mastering time travel to stow aboard the Beagle himself."
— Douglas C. Braaten, the New York Academy of Sciences Chief Scientific Officer