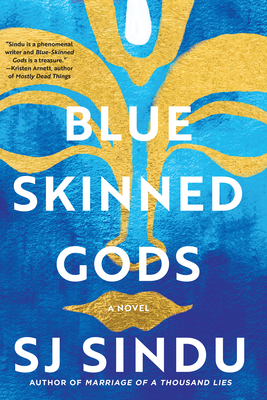 Blue-Skinned Gods
Publication Date:
October 4th, 2022
The Book Tavern
1 on hand, as of Dec 9 11:18pm
(Fiction)
On Our Shelves Now
Kalki is said to be the tenth human incarnation of the Hindu god Vishnu but, despite his blue skin, even he isn't sure he believes it. A wholly original coming-of-age story told with warmth and compassion.
November 2021 Indie Next List
This story, which begins in Tamil Nadu, India, is a story of family, life in an ashram, and much more. Told by Kalki, who was raised to believe that he is the 10th human incarnation of the Hindu god Vishnu, this is a unique and satisfying read.
Winter 2023 Reading Group Indie Next List
Description
From the award-winning author of Marriage of a Thousand Lies comes a brilliantly written, globe-spanning novel about identity, faith, family, and sexuality.
In Tamil Nadu, India, a boy is born with blue skin. His father sets up an ashram, and the family makes a living off of the pilgrims who seek the child's blessings and miracles, believing young Kalki to be the tenth human incarnation of the Hindu god Vishnu. In Kalki's tenth year, he is confronted with three trials that will test his power and prove his divine status and, his father tells him, spread his fame worldwide. While he seems to pass them, Kalki begins to question his divinity.
Over the next decade, his family unravels, and every relationship he relied on—father, mother, aunt, uncle, cousin—starts falling apart. Traveling from India to the underground rock scene of New York City, Blue-Skinned Gods explores ethnic, gender, and sexual identities, and spans continents and faiths, in an expansive and heartfelt look at the need for belief in our globally interconnected world.
Praise for Blue-Skinned Gods
A Winter 2023 Indie Next Reading Group Selection
A 2022 Great Group Reads Selection
Shortlisted for the 2022 Lammy Award in Bisexual Fiction
An Autostraddle Best Queer Book of the Year
An ABA Indie Next Pick for November 2021
An AudioFile Earphones Award Winner
Praise for Blue-Skinned Gods

"Kalki's life as a blue-skinned child deity at first seems rather romantic. Raised to believe he is the '10th incarnation of the Hindu god Vishnu,' he heals the sick at his family's ashram in Tamil Nadu, India . . . It is impossible not to be hypnotized by the tenderness of these opening scenes. But relatively early in the novel Kalki, narrating in adulthood as a university lecturer in Toronto, breaks the illusion of his own divinity — and any illusion that his childhood had been blessed . . . In attending to the fine aftershocks of this loss and many others to come, Sindu masterfully renders how our environments bake into our skin."
—The New York Times
"Sindu's applied cultural knowledge and careful character-building makes each surprise believable without being predictable. Every oddity has an explanation, and societal issues left unaddressed in childhood come back around for an older, wiser Kalki to consider . . . On a linear timeline, Blue-Skinned Gods doesn't end at the end; the end is tucked somewhere near the beginning. Conflicts abound in the novel, but Sindu reveals which one held the most weight in the final sentence. Although the ending is climactic and jarring, it provides both resolve and clarity."
—Associated Press

"SJ Sindu has imagined a fascinating premise for her novel exploring identity, family, community and the tensions that arise among them . . . Here Sindu is at her inventive best, with wild juxtapositions of people and situations, from a post-punk band that takes in Kalki, to hipsters of various gender identities who try to seduce him, to new-age worshipers who refuse to believe he is not a healer, to gangsters who want to bring him back to the ashram. These witty episodes allow Kalki to try to define himself as well as to understand the world around him."
—The Star Tribune
"SJ Sindu has written another brilliant novel in Blue-Skinned Gods. This time, she tells the story of a boy with blue skin who is trying to be the god everyone tells him he is . . . Here is a novel about the bonds between brothers, a deceptive tyrant and son, a mother who doesn't know how to save herself or her child, a boy and how he yearns for his young loves, and so much more. The richness of this story will take hold of you and never let go."
—Roxane Gay

"Sj Sindu has given us a true gift in Kalki Sami and his journey. A coming-of-age story wielding philosophical, historical, and emotional moments full of passion, vividly described, Blue-Skinned Gods is one of the most original and beautiful novels I've read in a long time."
—Brandon Hobson, author of Where the Dead Sit Talking and The Removed
"Blue-Skinned Gods is a marvel of a novel. S.J. Sindu has created a cast of characters so compelling it was difficult to set the book down. I was enraptured by the careful twining of these lives: a manipulative father, a mother who loves her son to the point of agony, the joy and despair of tender first love, the pressure of knowing your destiny and the devastation of losing everything at once. It is a true joy to encounter a book so beautifully written. The prose is lush and stunning, the narrative wildly gripping. Sindu is a phenomenal writer and Blue-Skinned Gods is a treasure."
—Kristen Arnett, New York Times bestselling author of Mostly Dead Things

"This marvelous novel offers up the most extraordinary circumstance in which to live a life. It delivers everything I didn't know I desperately wanted: snake bites, ink baths, god-energy, gurus, post-punk music, viral videos, redemption, and an unforgettable character asking all the big questions. What am I and what am I capable of? In the asking comes revelations on the nature of love, power in friendship, weight of dogma, and the visceral seeping together of diverse cultures. These pages left me with the best case of culture shock, and in awe over Sindu's storytelling talent."
—Devin Murphy, national bestselling author of The Boat Runner and Tiny Americans

"Blue-Skinned Gods is a memorable and vivid coming-of-age story that feels timely in its pursuit of exploring the meaning of truth and how we know what to believe about ourselves and others. Kalki's journey from an isolated ashram in India to the kaleidoscope of New York City's clubs and streets is captivating. This is a wonderful book about family, friendship, and miracles."
—Elise Hooper, author of Fast Girls, Learning to See, and The Other Alcott
"With Blue-Skinned Gods, SJ Sindu has written an epic in every sense of the word: the amazing life and times of Kalki Sami, the boy born with blue skin and the power to heal, reads like an instant classic. Sindu has proven herself, yet again, to be a master storyteller—Blue-Skinned Gods is thrilling, remarkable, and totally irresistible. You won't be able to put it down."
—Nick White, author of How to Survive a Summer and Sweet & Low
 
"Blue-Skinned Gods is a gorgeously atmospheric journey of faith and doubt—and ultimately, of finding one's sense of self after a lifetime of performing for others. With exquisite prose, SJ Sindu, one of our finest storytellers, explores the entanglements of Eastern spirituality and globalism, family and trauma, gender and sexuality, in a compulsively readable and emotionally charged tale."
—Patrick Cottrell, Whiting Award winner and author of Sorry to Disrupt the Peace
 
"Blue-Skinned Gods is beautifully rendered, a profound story about faith - in others, and in oneself - and manipulation. Here, a boy may or may not be the reincarnation of a God, and his quest to understand himself, and his responsibility to those around him, is utterly compelling. It is a story about miracles, both of the world we inhabit and the ordinary, flawed, spectacular people we inhabit it with, as we find that the greatest miracles might come from the friendships that help us become who we really are."
—Tessa Fontaine, author of The Electric Woman

"A rich, beautifully told and moving examination of the allure of superstition and legend, the pains of growing up and the pitfalls of lying to others and lying to yourself."
—The Guardian
"A young boy, born with blue skin and believed to be an incarnation of Vishnu, begins a soul-searching, decade-long journey to determine whether or not he believes in his own cosmic birthright. Fans of Sindu's Stonewall and Lambda-nominated 2017 novel, Marriage of a Thousand Lies, will find much to love here, as will newcomers to her work." 
—Bustle
"A dramatic, intriguing story expertly told by a gifted narrator. Listeners will be finding excuses to go on walks or errands just to hear what happens next. Fans of international literature will fall in love with this unique coming-of-age novel." 
—AudioFile
"You thought growing up was hard? Try it with blue skin, a domineering dad, and the heavy weight of divinity. When we meet Sindu's Kalki Sami he's in Tamil Nadu, just turning ten, and struggling to make good on the godhood his father's asserted; when we part a decade later, after much loss and great sadness, he's in NYC exploring the many and varied ways to be simply human. Beautifully told and perfectly paced, Blue-Skinned Gods is a wholly compelling story of becoming who we are, and—critically—admitting who we aren't."  
—LitHub
"With a vast cast of intriguing characters as well as two powerful climaxes at the end of the book—thematic and emotional—Blue-Skinned Gods demonstrates Sindu's narrative power."
—The Margins, Asian American Writers' Workshop
"As Kalki is forced to reckon with the lies that form the foundation of his life, SJ Sindu's second novel, Blue-Skinned Gods, pursues questions of sexuality, social hierarchy, family secrets, toxic masculinity and religious abuse . . . an exciting journey that lovingly explores the nature of chosen families." 
—BookPage
"A uniquely brilliant tale." 
—Ms. Magazine
"A wild book about a boy who is worshipped as a living god for his entire life, and who, at a certain point, begins to doubt his own divinity. It's such a tangled and complex book, full of binaries broken and relationships woven and everything I love and value in queer work (including how the queerness of the book blooms slowly, slowly)."
—Xtra Magazine
"Brilliantly written across continents and generations, this unconventional coming-of-age story is an ambitious exploration of faith, fame and family like nothing you have ever read before."
—Tatler
"A thought-provoking book about faith and belief, the lengths that we go to, and the reasons we use to justify our actions that control someone who does not know any better."
—The Nerd Daily
"A beautifully written story that begs to be discussed with others."
—Book Riot
"A thoughtful and fascinating story about identity." 
—Book Riot's All the Books
"An explosive, provoking examination of what we are forced to or choose to believe to be true." 
—Booklist
"Sindu's novel is the exploration of doubt by a deity, and also an examination of what we owe to the families who raise us . . . Blue-Skinned Gods is a great read for those who look for great character development, enjoy familial conflict, and won't mind wrestling with some of humanity's grittier issues." 
—American Library Association's Rainbow Round Table
"Enthralling and heart wrenching, Blue-Skinned Gods takes hold of you and doesn't let go."
—Apartment Therapy
"I was completely mesmerized by this novel from the very beginning."
—SheReads
"Sindu's marvelous coming-of-age story features a young healer in Tamil Nadu, believed to be an incarnation of the Hindu god Vishnu . . . The imagery is vivid and the slow-burn narrative by the end becomes incandescent. Sindu's stunning effort more than delivers on her initial promise." 
—Publishers Weekly, Starred Review
"Sindu's excavations of Kalki's internal struggles are detailed, nuanced, and rich . . . Remarkably moving in its explorations of faith, doubt, and what it might mean to be a charlatan."
—Kirkus Reviews
"A thoughtful exploration of contemporary religion and the relations between modern culture and tradition."
—Foreword Reviews
Praise for Marriage of a Thousand Lies
"A gorgeous, heartbreaking novel . . . An incredibly compelling tale."
—New York Times bestselling author Roxane Gay
"A remarkable novel rich with interlocking issues both timeless and timely. SJ Sindu's debut is more than impressive; it's important."
—Robert Olen Butler, Pulitzer Prize–winning author of A Good Scent from a Strange Mountain
"I love Lucky, the unforgettable narrator of Marriage of a Thousand Lies . . . I'm especially captivated by the novel's honesty and tenderness—. . . SJ Sindu is an intuitive writer with great insights into the complications of love and friendship."
—Timothy Schaffert, author of The Swan Gondola
"SJ Sindu has written an important novel about Sri Lankan immigrant culture. Here, the intersections of migration, sexuality and culture are explored in loving and heartbreaking detail. A book that reveals the secrets of a community caught between East and West."
—Nayomi Munaweera, author of Island of a Thousand Mirrors
"E​ntertaining​."
​​ —The Toronto Star​
"Enthralling . . . Sindu is a skilled writer, and this is a remarkable first novel."
—Los Angeles Review of Books ​ 
"Sindu's heart-wrenching debut novel . . . incorporates love, loss, family, rebirth and growth to tell a captivating story you won't be able to put down."
—Ms. Magazine