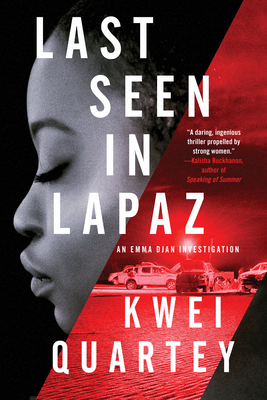 Last Seen in Lapaz (An Emma Djan Investigation #3)
Publication Date:
February 7th, 2023
The Book Tavern
1 on hand, as of Dec 9 11:18pm
(Fiction::Mystery)
On Our Shelves Now
Description
When a whirlwind romance leads to a brutal murder and the disappearance of a young Nigerian woman, PI Emma Djan resorts to dangerous undercover work to track her down in Accra.
Just as things at work are slowing down for PI Emma Djan, an old friend of her boss's asks for help locating his missing daughter in Accra. According to her father, Ngozi had a bright future ahead of her when she became secretive and withdrawn. Suddenly, all she wanted to do was be with her handsome new beau, Femi, instead of attending law school in the fall. So when she disappears from her parents' house in Nigeria in the middle of the night, they immediately suspect Femi was behind it and have reason to believe the pair has fled to Ghana.
The case escalates quickly when Femi is found murdered at an opulent hotel in Accra, but there are no signs of Ngozi at the scene. Emma knows if she's to have any hope of finding Ngozi, she must learn more about Femi, so she digs into his past and discovers he was part of a network of sex traffickers operating across West Africa. Fearing the worst, Emma resorts to dangerous undercover work in a desperate attempt to track Ngozi down before it's too late.
Praise for Last Seen in Lapaz (An Emma Djan Investigation #3)
Praise for Last Seen in Lapaz
CrimeReads Most Anticipated Crime Fiction of the Year
AudioFile Editors' Top 12 of the Month
"There is courage in these pages, in every sense—in the choices of the story's heroes, the storytelling and the extensive research Quartey reportedly undertook to inform his story . . . A thrilling mystery, a compulsively emotional novel that doesn't turn away from either extreme violence or the necessity of hope."
—The Washington Post
"Quartey's plots are expansive, free-ranging, and packed with characters to manipulate . . . It's a delicate balance, even in this period of true-crime mania, transforming real tales of human suffering into works meant to entertain while remaining respectful of the victims. Quartey, so far, hasn't misstepped."
—Los Angeles Review of Books

"Fascinating . . . This tightly crafted mystery immerses readers in the sights, sounds and characters of Ghana . . . Emma is an audacious and compassionate private investigator with a keen awareness of her country's dangerous class hierarchies and deep cultural misogyny."
—Carole E. Barrowman, Star Tribune
"There's plenty of the locale here which adds spice to an excellent and topical plotline but at its heart, this novel is a well-crafted tale of clues followed and information gained."
—The Globe and Mail
"[A] well-crafted tale. Those who love crime fiction are going to lean all the way into this one."
—Audiofile Magazine
"Quartey is an accomplished novelist who creates real characters and puts them in clever and palpable circumstances . . . He does it with such easy nonchalance that we live the lives of his characters, hear the West African pidgin dialect and recoil with every trap Quartey sets for his characters."
—Murder Ink, The Durango Telegraph
"Quartey portrays terrible crimes, human trafficking and the exploitation of sex workers, with unflinching clarity, while painting a panoramic picture of life in contemporary West Africa—the good, the bad, and the everyday."
—Lisa Henricksson, Air Mail
"Quartey always brings great skill and a sense of urgency to his stories."
—CrimeReads
"For armchair travelers and PI fans!"
—Book Riot
"Kwei Quartey's Last Seen in Lapaz is a true reward. A daring, ingenious thriller propelled by strong women, ceaseless intrigue and scintillating prose."
—Kalisha Buckhanon, author of Speaking of Summer
"From Lagos to Ghana, and through the Sahara to Libya, Last Seen in Lapaz is a story that is as gripping as it is important."
—Leye Adenle, author of Easy Motion Tourist
"Quartey has depicted many aspects of West African life in his mysteries, but this one delves deeper into its dark side, and travels further, even following the desperate journey of a family journeying through the deserts of Niger and Libya . . . Quartey provides a vivid depiction of lives that are too often overlooked in news stories that treat Africa as a void at the edge of the map."
—Reviewing the Evidence
"A revelatory experience of urban life in Ghana."
—Kingdom Books
"Last Seen in Lapaz is a murder mystery you won't be able to put down."
—Brittle Paper
"A hard-hitting story . . . Quartey opens the door to a part of the world that few Americans know anything about."
—Kittling Books
"An excellent novel."
—Bella Naija
"[A] singular and thrilling novel set across West Africa."
—Library Journal
"Quartey once again finds piercing social pain beneath what looks like a routine case."
—Kirkus Reviews
"Well-defined characters complement the clever narrative structure, and dialogue in West African pidgin dialect (for which a glossary is provided) adds realism. Not just those looking for a detailed picture of modern West African life, the book's main strength, will be rewarded."
—Publishers Weekly
Praise for the Emma Djan Investigations
"An evocative new series."
—The Seattle Times
"The sweetly crafty Emma is the main attraction here, but her colleagues at the Sowah detective agency are also a companionable bunch in this beautifully crafted tale."
—The Washington Post
"Quartey's work brings vivid life to his Ghanaian characters and setting, while reminding us that no matter the location, motivations for murder are the same everywhere."
—CrimeReads
"Terrific . . . Smooth prose complements the well-wrought plot. This distinctive detective series deserves a long run."
—Publishers Weekly, Starred Review