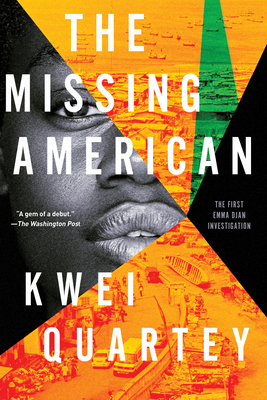 The Missing American (An Emma Djan Investigation #1)
Publication Date:
December 8th, 2020
The Book Tavern
1 on hand, as of Dec 9 11:18pm
(Fiction::Mystery)
On Our Shelves Now
Description
A 2021 Edgar Nominee for Best Novel
Accra private investigator Emma Djan's first missing persons case will lead her to the darkest depths of the email scams and fetish priests in Ghana, the world's Internet capital.
When her dreams of rising through the Accra police ranks like her late father crash around her, 26-year-old Emma Djan is unsure what will become of her career. Through a sympathetic former colleague, Emma gets an interview with a private detective agency that takes on cases of missing persons, theft, and infidelity. It's not the future she imagined, but it's her best option.
Meanwhile, Gordon Tilson, a middle-aged widower in Washington, DC, has found solace in an online community after his wife's passing. Through the support group, he's even met a young Ghanaian widow he's come to care about. When her sister gets into a car accident, he sends her thousands of dollars to cover the hospital bill—to the horror of his only son, Derek. Then Gordon decides to surprise his new love by paying her a visit—and disappears. Fearing for his father's life, Derek follows him across the world to Ghana, Internet capital of the world, where he and Emma will find themselves deep in a world of sakawa scams, fetish priests, and those willing to kill to protect their secrets.
Praise for The Missing American (An Emma Djan Investigation #1)
Winner of the 2021 Shamus Award for Best First PI Novel
A 2021 Edgar Nominee for Best Novel
A 2021 Strand Magazine Critics Awards Best Novel Nominee
An NPR Favorite Book of 2020
A Washington Post Best Thriller and Mystery Book of 2020
Amazon Best Book of the Month in Mystery, Thriller & Suspense

Praise for The Missing American
"A lonely widower from Washington, D.C., goes missing in Ghana after he's duped in a trans-Atlantic love scam blessed by an influential fetish priest. Emma Djan, a 26-year-old newbie private investigator in Accra, immerses herself in the world of sakawa Internet fraud and finds that it reaches the upper echelons of power in the West African country, putting her in mortal danger. The Missing American is a mystery and thriller that kept me spellbound—and rooting for Emma."
—NPR
"A much-deserved Edgar nominee, set in Accra, Ghana...great series potential."
–The Boston Globe
"Remarkably rare . . . a gem of a debut." 
—The Washington Post
"The adventures of a tenacious African female sleuth will likely ring bells for fans of Alexander McCall Smith's best-selling Mma. Precious Ramotswe mysteries. The Missing American's unflinching portrayal of Ghanaian criminals, their fetish priest handlers and corruption at the highest levels makes this intriguing debut a more bracing antidote to its cozier cousin."
—Los Angeles Times
"An evocative new series." 
—The Seattle Times
"A suspenseful, atmospheric novel of desperation, corruption and murder." 
—Minneapolis Star Tribune
"In The Missing American, Quartey explores the phenomenon of Sakawa, an internet fraud that incorporates religious practices and superstition . . . [he] keeps the action quiet as he poignantly relies more on what motivates people, looking at both the scammers and their victims, and Ghana's political arena . . . Should be the start of another long-running series for Quartey."
—Oline Cogdill, The South Florida Sun Sentinel
"An engrossing race through the mean streets of Accra and beyond. Colloquial language, local sights and sounds, the food and culture create a vivid backdrop to the disappearance and the investigation."
—Sunday Times (South Africa)
"Mr. Quartey combines African internet scams, a menacing juju priest and political corruption with a cast of unforgettable characters, led by the formidable young Emma, who could easily become my favorite new detective. The sounds, sights, troubles and aspirations of modern-day Ghana are revealed with an unsparing eye and an understanding heart." 
—Michael Sears, Edgar Award–winning author of the Jason Stafford series
"In this twisty page-turner featuring an appealing new protagonist, Kwei Quartey delves into the dark domain of the Ghanaian internet fraudsters. The 'sakawa boys' play their victims like game fish, but they are only part of a vicious web of corruption and witchcraft that reaches all the way to the top. Rich with the colors of Ghana, this is great Sunshine Noir." 
—Michael Stanley, author of the award–winning Detective Kubu novels
"The Missing American is diabolically plotted and elegantly written. An atmospheric, heart-pounding mystery that just may be Quartey's best—and that's saying a lot."
—Stephen Mack Jones, Nero Prize and Hammett Award–winning author of the August Snow thrillers
"Sakawa scams abound, overlaid with a witch doctor (or two) and a trio of likable, if occasionally gullible, protagonists. My prediction: We will be seeing Emma Djan again."
—BookPage
"Appealingly complex . . . You'll want to be an early adopter of this series everyone is sure to be talking about."
—CrimeReads
"[A] gripping series opener."
—Stop, You're Killing Me!

"An excellent police procedural series."
—Reviewing the Evidence
"Armchair detectives, this one's for you. Kwei Quartey's new series transports readers to Accra, Ghana to follow a young detective just starting to make a name for herself . . . This mystery will keep you guessing until the final pages."
—Bookish
"Fans of Quartey's Darko Dawson series ready for another armchair visit to Ghana will be pleased to meet Emma Djan, introduced here in the same riveting blend of mystery and literary travel guide. After a horrifying #MeToo moment brings an abrupt end to Emma's police career, she is taken on by a private detective agency . . . There is an amazing force to be reckoned with behind [Emma's] veil of politeness, and readers will want to hear more from Emma."
—Booklist, Starred Review
"Quartey's writing is visceral, with lush descriptions of the scenes as well as his (large) cast of characters . . . This promising series debut from the acclaimed Quartey ("Darko Dawson" mysteries) introduces the formidable Emma, and most important, the culture and politics of Ghana."
—Library Journal
"Notable for its Ghanaian atmosphere and its densely imagined criminal web in which every point is connected to every other."
—Kirkus Reviews
"[A] solid series launch . . . Readers will welcome Emma into the ranks of capable female detectives." 
—Publishers Weekly
"An eye opening read that will long be remembered."
—Fresh Fiction

"[A] superb sense of place . . . Readers can feel as though they're actually in Ghana while they read; the landscape, weather, people, food, and culture give the story a richness that I find irresistible." 
—Kittling Books
"A fast-paced, exciting tale of email scams, missing persons, and fetish priests in the world's internet capital—Ghana. If you're old enough to remember Murder, She Wrote, you'll probably love this fresh take on a tenacious female detective who will stop at nothing to uncover the truth."
—Dango Books

Praise for Kwei Quartey
"A sensitive novel of powerful family passions, set in the unique and vivid colors of Ghana."
—Anne Perry
"Quartey provides such a strong sense of Ghana that you'll be wishing for a platter of kenkey, a staple food made from fermented corn, to keep you from biting your nails to the quick."
—Oprah.com
"An absolute gem . . . Undoubtedly will be compared with Alexander McCall Smith's phenomenally successful No. 1 Ladies' Detective Agency series."
—Los Angeles Times
"[Quartey] renders a compelling cast of characters inhabiting a world precariously perched between old and new . . . Intriguing."
—Booklist, Starred Review