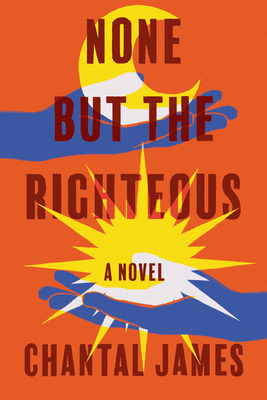 None But the Righteous: A Novel
Publication Date:
January 17th, 2023
The Book Tavern
1 on hand, as of Dec 7 11:18pm
(Fiction::African-American )
On Our Shelves Now
Told from the perspective of a wandering soul, None But the Righteous is an innovative and fascinating book about a young Black man who has been displaced by Hurricane Katrina.
January 2022 Indie Next List
Description
Lyrical, riveting, and haunting from its opening lines, None But the Righteous is an extraordinary debut that signals the arrival of an unforgettable new voice in contemporary fiction
 
"[A] profound debut novel . . . James captures the simple kindnesses of a cup of coffee or a shared cellphone as though they were religious acts. Where a more ponderous writer might lapse into a lengthy stream of consciousness, James uses short chapters to weave a story of fractured time and uncharted space into the fabric of life after Katrina . . . This is a book of faith aching to be claimed, of a land that dares to be redeemed, of souls searching to be free, of all spirits looking for a home. It's a metaphysical book deeply rooted in ancient legacies of subjugation . . . This is a deeply haunted novel that moves with calm and ruthless determination, like the eye of a hurricane." —The Los Angeles Times

In seventeenth-century Peru, St. Martin de Porres was torn from his body after death. His bones were pillaged as relics, and his spirit was said to inhabit those bones. Four centuries later, amid the havoc of Hurricane Katrina, nineteen-year-old Ham escapes New Orleans with his only valued possession: a pendant handed down from his foster mother, Miss Pearl. There's something about the pendant that has always gripped him, and the curiosity of it has grown into a kind of comfort.
 
When Ham finally embarks on a fraught journey back home, he seeks the answer to a question he cannot face: Is Miss Pearl still alive? Ham travels from Atlanta to rural Alabama, and from one young woman to another, as he evades the devastation that awaits him in New Orleans. Catching sight of a freedom he's never known, he must reclaim his body and mind from the spirit who watches over him, guides him, and seizes possession of him.
Praise for None But the Righteous: A Novel
A Kirkus Most Anticipated Book of the Year
Goodreads, A Most Anticipated Debut Novel of 2022
"[A] profound debut novel . . . James captures the simple kindnesses of a cup of coffee or a shared cellphone as though they were religious acts. Where a more ponderous writer might lapse into a lengthy stream of consciousness, James uses short chapters to weave a story of fractured time and uncharted space into the fabric of life after Katrina, as Ham and others make sense of new homes and upended lives . . . This is a book of faith aching to be claimed, of a land that dares to be redeemed, of souls searching to be free, of all spirits looking for a home. It's a metaphysical book deeply rooted in ancient legacies of subjugation . . . This is a deeply haunted novel that moves with calm and ruthless determination, like the eye of a hurricane." —Lauren LeBlanc, Los Angeles Times
"Compelling and unique" —Karla Strand, Ms. Magazine
"Chantal James' lyrical debut is a deeply contemplative and transcendent study of relationships and human behavior . . . None But the Righteous emerges as a provocative and compelling examination of the human spirit, the ties that bind people to each other and the way people are shaped by the things that happen to them, far more than the choices they make." —Leah Tyler, The Atlanta Journal-Constitution
"None But The Righteous displays the traits of an essential great novel, both of its time and timeless in its embrace of humanity . . . At its heart, the narrative pulses with heedful care and curiosity about freedom versus control, contentment versus adversity—some of these forces are societal, some familial or strictly personal or idiosyncratic . . . In this novel's world, we are at the mercy of our own impulses—and also the violence in our world . . . Are we capable of examining and reckoning with those impulses?" —Ron Slate, On the Seawall
"Its tension is succulent thanks, in part, to the rootlessness of its characters, who are always in motion. Forays into the fantastical come via magic potions, dangerous foods, and blended cultures . . . [a] fluid, musical novel." —Foreword Reviews
"In this stunning debut, James brings together several beautifully drawn characters, each of whom is working to reconcile the tensions between belonging and exile, freedom and entrapment, while also trying to reckon with the ghosts (both literal and figurative) of the past . . . A mesmerizing story told by an impressive and captivating voice." —Kirkus Reviews (starred review)
"This character-driven debut is both lyrical and haunting. It calls upon its characters to reconcile what it means to be free and to belong, as well as has them contend with ghostly possession. You will be taken on a captivating journey as you follow the young protagonist's trek through the south." —Erica Ezeifedi, Book Riot
"Lyrical and creative . . . Written in atmospheric and imagery-rich prose, None But the Righteous examines where we choose to belong and why." —Booklist
"None but the Righteous is an homage to postcolonial and Southern literature yet a singularly incandescent marvel." —Margaret Wilkerson Sexton, author of The Revisioners and A Kind of Freedom
"At once spiritual and earthly, balancing with deft what is metaphysical and what is flesh, James' None But the Righteous ensnares, haunts, and fulfills that ancient, human need for narrative in carefully chosen language. You'll fall right into this world." —Dantiel W. Moniz, Milk Blood Heat
"In the tradition of Toni Morrison's Beloved, None But the Righteous is a gripping ghost story, a fevered dream of a young man's quest for freedom and belonging in the wake of Hurricane Katrina. Chantal James has written a gorgeous page-turner." —Devi S. Laskar, author of The Atlas of Reds and Blues and winner of the Crook's Corner Book Prize
"Masterfully lyrical and captivatingly atmospheric, None But the Righteous is a sweeping portrait of intersecting lives once buffeted by the winds of an apocalyptic hurricane, wandering toward the pull of belonging while simultaneously repulsed by it. Ham's journey to reclaim both his city and his own body is a story of epic proportions told by a fiercely talented writer. Chantal James is one to watch." —Zeyn Joukhadar, author of The Thirty Names of Night and The Map of Salt and Stars