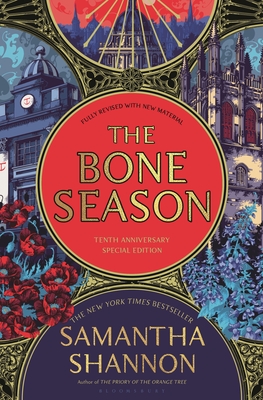 The Bone Season: Tenth Anniversary Edition
Publication Date:
August 22nd, 2023
Publisher:
Bloomsbury Publishing
Usually Ships in 2 to 14 Days
Samantha Shannon has created a world that will set your imagination on fire and lure you in so absolutely you will forget your surroundings. You will also be elated to learn this is the first in a 7-book series.
Fictional London in the year 2059 is the world of Paige Mahoney, a dreamwalker. Scion is the ruling government. They absolutely reject any type of clairvoyant abilities. If they find you have those skills, you disappear. Paige discovers this is true, but the disappearance is not what she has been led to believe.
Mind-bendingly intense, rife with fascinating characters and an all-encompassing plot, The Bone Season will take you on one wild ride.
--
Lynn Riggs
Books & Company
September 2013 Indie Next List
Description
A lavishly reimagined and revised tenth anniversary edition of the New York Times bestselling first novel in the sensational Bone Season series, by the author of The Priory of the Orange Tree.
"Intelligent, inventive, dark, and engrossing." NPR
Welcome to Scion. No safer place.

The year is 2059. For two centuries, the Republic of Scion has led an oppressive campaign against unnaturalness in Europe.
In London, Paige Mahoney holds a high rank in the criminal underworld. The right hand of the ruthless White Binder, Paige is a dreamwalker, a rare and formidable kind of clairvoyant. Under Scion law, she commits treason simply by breathing.
When Paige is arrested for murder, she meets the mysterious founders of Scion, who have designs on her uncommon abilities. If she is to survive and escape, Paige must use every skill at her disposal – and put her trust in someone who ought to be her enemy.
Praise for The Bone Season: Tenth Anniversary Edition
"Epic, surprising, and impeccably imagined, The Bone Season seamlessly melds a near-future dystopian world, with high fantasy stakes, and a truly unique brand of magic. Perfect for those who enjoy intricate plots and eclectic casts of nuanced characters. Ten years on from its original release, Shannon's debut remains one of the most accomplished and original SFF novels I've ever read." —Kate Dylan, author of Mindwalker
"Compelling . . . a heroine every bit as gutsy as Katniss Everdeen. J.K. Rowling's now-grown readers are the natural audience for this complex fantasy . . . There's great imagination at work here." —People
"Exciting . . . The future Shannon presents is frightening and well-imagined, and her complex hierarchy is fascinating." —Washington Post
"Intelligent, inventive, dark, and engrossing . . . Shannon has remarkable talent for world-building . . . . but her most sublime otherworldly creation is the complex, ever evolving, scrappy yet touching Paige Mahoney." —NPR.org
"[The Bone Season] invokes both the political tyranny of George Orwell and the bucolic mythmaking of J.R.R. Tolkien." —USA Today
"Engaging and exciting. It's energetic, imaginative, and engrossing . . . Buy it, read it, and enjoy." —TOR.com
"A dystopian thriller that delivers . . . . [The Bone Season] gallops along . . . daring its readers to keep up even as it sinks in its hooks with crackerjack action [and] deftly-accentuated conflict . . . Shannon has a faultless instinct for the prerogatives of storytelling, for the engine that makes an adventure novel go . . . It's the sort of novel you inhale in two or three days." —Salon
"[A] dazzlingly brainy, witty, and bewitching tale of outrageous courage, heroic compassion, transcendent love, and the quest for freedom . . . the first in a thoughtful fantasy series by a brilliant young writer." —Starred review, Booklist
"This book is for those who like their dystopian science fiction multilayered, philosophical and complex." —Kirkus Reviews
"Shannon offers up a richly imagined debut . . .The internal mythology is complex and intriguing, the emotional struggle is captivating, and the pace rarely falters as Paige unravels the mysteries and dangers of her new home." —Publishers Weekly
"Part Lisbeth Salander, part Oliver Twist . . . the strong and resourceful Paige is a memorable heroine . . . One buzz book that just might merit its hype." —The Book Case on BookPage.com
"In this special edition of her critically acclaimed debut, Samantha Shannon performs the remarkable feat of improving upon the original beloved text. The story is impossibly richer and more insightful, assuringly accessible, more moving than ever, and glitters with exclusive content. The Bone Season is why fantasy exists. This is a hypnotic journey that crackles with dreamlike energy. Of all the Oxfords that literature has conjured, Shannon's Sheol I intrigues and terrifies me the most. Her London is a fever dream. And I would linger in the aether forever if it meant spending longer with Paige Mahoney and Arcturus Mesarthim. Darkly thrilling, and dense with inventive detail, this lyrical dreamscape demands your presence. Come, dreamers-I dare you to lose yourselves in this one." —London Shah, award-winning author of the LIGHT THE ABYSS series