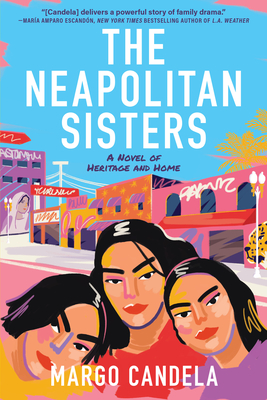 The Neapolitan Sisters: A Novel of Heritage and Home
Publication Date:
August 9th, 2022
The Book Tavern
1 on hand, as of Sep 23 10:21pm
(Fiction)
On Our Shelves Now
Description
A TODAY.COM MOST ANTICIPATED LATINX BOOK OF 2022!
 
Three sisters. Three vastly different lives. A maelstrom of family secrets. For fans of María Amparo Escandón and Laurie Frankel, Margo Candela pens a riotous, provocative tale of family and sisterhood.
Growing up with a kind but alcoholic father and a suspicious, passive aggressive mother, the Bernal  sisters each developed their own way of coping: Dulcina had her art and drugs and alcohol, Claudia plunged into her studies and fled to Princeton, and Maritza watched one Disney movie after another in between devouring romance novels.
Now all grown up, the sisters are reunited at last for Maritza's dream wedding. But they are no less different than they were growing up: Maritza is a princess bridezilla, Claudia is the family "fixer," and Dulcina "Dooley" is finally sober.  With all three Bernal sisters back in their East L.A. home, each begins to take steps to come to terms with each other, their parents, and the secrets from their shared past. While their lives may have taken different paths, they are still sisters at heart.
Told in alternating points of view, The Neapolitan Sisters is a humorous yet moving look at what it means to be a sister, daughter, and ultimately, your own self, despite the pressures that come with being part of a family.
Praise for The Neapolitan Sisters: A Novel of Heritage and Home
Praise for The Neapolitan Sisters:
A TODAY.COM MOST ANTICIPATED LATINX BOOK OF 2022
"Drives us straight into the heart of a conflict-ridden family and their community . . . There's love behind this book—and painful honesty, too."
—The San Francisco Chronicle
"Candela delivers a funny, poignant story . . . Richly layered."
—Booklist
"Margo Candela returns with a bang. In The Neapolitan Sisters, she explores with wit, wisdom, and humor, the strong bonds of sisterhood and delivers a powerful story of family drama."
—María Amparo Escandón, New York Times bestselling author of L.A. Weather
"Candela delivers a complex and engaging look at the bonds of family in The Neapolitan Sisters. Much like Neapolitan ice cream, you'll be drawn in to explore the different psyches of three very different women dealing with life issues and finding the love and support that family can offer. A great read!" 
—Caridad Piñeiro, New York Times and USA Today bestselling author of The Family She Never Met and South Beach Love
"Margo Candela deftly delivers an engaging dynamic page-turner of a book about the interior lives of three strong women. The Neapolitan Sisters are each a delight, as vibrant, selfish, beautiful, ever-shifting, and redeemable as the city of Los Angeles herself. I would follow them anywhere—even in rush hour traffic."
—Staci Greason, actor, award-winning screenwriter, and author of All The Girls in Town
"In The Neapolitan Sisters, Margo Candela writes a provocative and humorous novel that delves into the complicated bonds of family, finding one's own identity, and the painful joys that come with loving difficult people."
—Reyna Grande, national bestselling and award-winning author of The Distance Between Us and A Ballad of Love and Glory
"Margo Candela made me ugly-cry for these sisters and laugh hysterically when I recognized my life in theirs. The Neapolitan Sisters was for me, a belonging pill in a book, and about all the things that make life worth living, despite it all."
—Anjanette Delgado, award-winning author of The Clairvoyant of Calle Ocho and The Heartbreak Pill
"Beautifully written and full of heart, The Neapolitan Sisters offers an insightful look at relationships of all kinds—but mainly the one that exists between sisters. I loved watching each of the three women on their journeys, sometimes separate and sometimes together, as they butted heads, found their way, and, ultimately, looked out for each other. Real, funny, and moving!"
—Suzy Krause, author of Sorry I Missed You
"Vivid, relatable characters do not disappoint in The Neapolitan Sisters. The sisters are so real, you'll swear you've met each of them. Margo Candela gives readers a glimpse into a Latino family minus the stereotypes. If you're looking for a touching, funny, sexy read, this is it!"
—Julia Amante, author of Evenings at the Argentine Club, This is Now and That Was Then