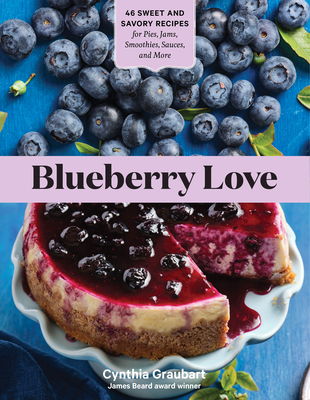 Blueberry Love: 46 Sweet and Savory Recipes for Pies, Jams, Smoothies, Sauces, and More
Publication Date:
April 27th, 2021
Publisher:
Storey Publishing, LLC
The Book Tavern
2 on hand, as of Dec 10 11:18pm
(Cooking)
On Our Shelves Now
Description
Prized for their taste and nutrition, blueberries are a favorite for eating by the handful and as an ingredient in cooking and baking. Blueberry Love celebrates this sweet-tart summer fruit with 46 recipes for enjoying blueberries, fresh or frozen. From breakfast treats (Blueberry Cinnamon-Spiced Doughnuts and Blueberry-Pecan French Toast Casserole) to salads (Blueberry, Watermelon, Feta, and Mint), from main courses (Sautéed Pork Tenderloin with Blueberry Balsamic Mustard Glaze) to desserts (Blueberry Layer Cake with Lemon Curd and Cream Cheese Frosting), this book is brimming with classic and creative ways to put blueberries to use. It also includes tips for picking, freezing, and making staples like jam and pie.
Praise for Blueberry Love: 46 Sweet and Savory Recipes for Pies, Jams, Smoothies, Sauces, and More
"It was the Make Ahead Blueberry Pecan French Toast that first grabbed my attention, but Cynthia Graubart's new Blueberry Love book, delivers deliciousness in every one of the nearly 50 recipes. It's a love letter to that little purple berry, and recipes range from Buttermilk Blueberry Soup to quick breads, waffles, and pancakes. But don't think Graubart stops with the sweet touches: Check out the Blueberry Red Onion Salsa and dig into the Warm Chicken and Blueberry Salad. Blueberry season can't get here soon enough now that I have this book in the kitchen." — Cathy Barrows, author of Pie Squared and When Pies Fly 
"As a Mainer who looks forward to the summer blueberry season every year, this sweet new book will be a real go-to for inspiration. From pancakes and scones, to pies and drinks, Cynthia Graubart wrote a love letter to the blueberry." — Kathy Gunst, Resident Chef of NPR's Here and Now, and author of Rage Baking—The Transformative Power of Flour, Fury, and Women's Voices