Discounted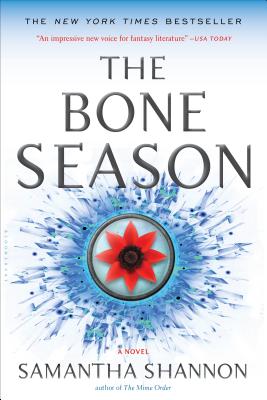 The Bone Season: A Novel
Previous price:

$19.99
Current price:

$19.00
Publication Date:
February 7th, 2017
Publisher:
Bloomsbury USA
The Book Tavern
1 on hand, as of Dec 7 11:18pm
(SciFi/Fantasy)
On Our Shelves Now
Samantha Shannon has created a world that will set your imagination on fire and lure you in so absolutely you will forget your surroundings. You will also be elated to learn this is the first in a 7-book series.
Fictional London in the year 2059 is the world of Paige Mahoney, a dreamwalker. Scion is the ruling government. They absolutely reject any type of clairvoyant abilities. If they find you have those skills, you disappear. Paige discovers this is true, but the disappearance is not what she has been led to believe.
Mind-bendingly intense, rife with fascinating characters and an all-encompassing plot, The Bone Season will take you on one wild ride.
--
Lynn Riggs
Books & Company
September 2013 Indie Next List
Description
From the author of The Priory of the Orange Tree, the New York Times bestselling first novel in the Bone Season series, an epic fantasy about a young woman fighting to use her powers and stay alive in an England entirely different from our own.
In 2059, Scion has taken over most of the world's cities, promising safety for all the citizens it deems worthy and wiping out clairvoyants wherever it can find them.
Paige Mahoney, though, is a clairvoyant--and a criminal just for existing. Paige is determined to fight Scion's power, and as part of the Seven Seals, Paige has found a use for her powers: she scouts for information by breaking into others' minds as they dream.
But when Paige is captured and arrested, she encounters a power more sinister even than Scion. The voyant prison is a separate city, controlled by a powerful, otherworldly race. These creatures, the Rephaim, value the voyants highly-as soldiers in their army.
Paige is assigned to a Rephaite keeper, Warden, who will be in charge of her care and training. He is her master. Her natural enemy. But if she wants to regain her freedom, Paige will have to learn something of his mind and his own mysterious motives.
The Bone Season introduces a compelling heroine-a young woman learning to harness her powers in a world where everything has been taken from her. It also introduces an extraordinary young writer, with huge ambition and a teeming imagination. Samantha Shannon has created a bold new reality in this riveting debut.
Praise for The Bone Season: A Novel
"Compelling . . . a heroine every bit as gutsy as Katniss Everdeen. J.K. Rowling's now-grown readers are the natural audience for this complex fantasy . . . There's great imagination at work here." —People
"[The Bone Season] invokes both the political tyranny of George Orwell and the bucolic mythmaking of J.R.R. Tolkien." —USA Today
"The Bone Season has got a lot going for it, particularly its clipped pace and exciting story line. The future Shannon presents is frightening and well-imagined, and her complex hierarchy is fascinating." —Washington Post
"Intelligent, inventive, dark, and engrossing . . . Shannon has remarkable talent for world-building . . . . but her most sublime otherworldly creation is the complex, ever evolving, scrappy yet touching Paige Mahoney." —NPR.org
"A dystopian thriller that delivers . . . . [The Bone Season] gallops along . . . daring its readers to keep up even as it sinks in its hooks with crackerjack action [and] deftly-accentuated conflict . . . Shannon has a faultless instinct for the prerogatives of storytelling, for the engine that makes an adventure novel go . . . It's the sort of novel you inhale in two or three days." —Salon
"Engaging and exciting. It's energetic, imaginative, and engrossing . . . Buy it, read it, and enjoy." —TOR.com
"[A] dazzlingly brainy, witty, and bewitching tale of outrageous courage, heroic compassion, transcendent love, and the quest for freedom . . . the first in a thoughtful fantasy series by a brilliant young writer." —Starred review, Booklist
"This book is for those who like their dystopian science fiction multilayered, philosophical and complex." —Kirkus Reviews
"Shannon offers up a richly imagined debut . . .The internal mythology is complex and intriguing, the emotional struggle is captivating, and the pace rarely falters as Paige unravels the mysteries and dangers of her new home." —Publishers Weekly
"Part Lisbeth Salander, part Oliver Twist . . . the strong and resourceful Paige is a memorable heroine . . . One buzz book that just might merit its hype." —The Book Case on BookPage.com