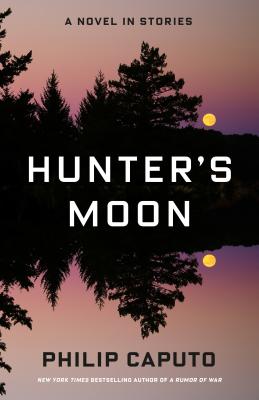 Hunter's Moon: A Novel in Stories
Publication Date:
August 6th, 2019
Publisher:
Henry Holt and Co.
The Book Tavern
1 on hand, as of Sep 23 11:17pm
(Fiction)
On Our Shelves Now
Description
"Powerful....Caputo's wisdom runs deep. Few writers have better captured the emotional lives of men." —The New York Times Book Review
From Philip Caputo—the author of A Rumor of War, The Longest Road, and Some Rise By Sin—comes a captivating mosaic of stories set in a small town where no act is private and the past is never really past
Hunter's Moon is set in Michigan's wild, starkly beautiful Upper Peninsula, where a cast of recurring characters move into and out of each other's lives, building friendships, facing loss, confronting violence, trying to bury the past or seeking to unearth it. Once-a-year lovers, old high-school buddies on a hunting trip, a college professor and his wayward son, a middle-aged man and his grief-stricken father, come together, break apart, and, if they're fortunate, find a way forward.
Hunter's Moon offers an engaging, insightful look at everyday lives but also a fresh perspective on the way men navigate in today's world.
Praise for Hunter's Moon: A Novel in Stories
"Set in the wilds of Michigan's Upper Peninsula, these linked stories deftly probe the emotional wounds of men with lost jobs, bruised egos and failed expectations: an unflinching reality check on the state of middle-age manhood today."
—The New York Times Book Review, Editors' Choice
"It's not necessary to be even vaguely interested in [hunting] to appreciate "Hunter's Moon," a skillfully wrought, often mesmerizing novel-in-stories....written in a succinctly lyrical prose...fresh and surprising."
—Chicago Tribune
"Stellar writing. . . .captivating relationships. . . .Mr. Caputo has written 17 books, mostly novels. His 1977 debut, the memoir A Rumor of War, established him as a first-class storyteller. . . .Additional kudos for his ability to write women who are not only believable and three-dimensional but influential and strong."
—Pittsburgh Post-Gazette

"Probing deeply into the male psyche, Caputo confidently tackles subjects that include the sometimes-catastrophic price of failure, the relations between fathers and sons, and the emotional battles faced by returning combat veterans. While hunting figures prominently in most of the stories. . . .even readers unfamiliar with that pursuit will find themselves immersed in Caputo's fast-moving narratives. In vivid and minutely observant prose, he writes with assurance about his characters' wilderness experiences and with equal sensitivity about the captivating natural beauty that surrounds them."
—Kirkus, starred review
"Superb storyteller Caputo offers a tapestry weaving the friendships, losses, and past mistakes of ordinary people. Readers of literary fiction will not be disappointed in this first-rate collection."
—Library Journal, starred review
"The setting here is the vividly rendered Upper Peninsula of Michigan, but the battlefield nonetheless remains that of men's souls. While most of the tales involve hunting, Caputo has bigger game in his sights: a study of man versus nature as metaphor for man versus human nature. Both are red in tooth and claw."
—Booklist

"HUNTER'S MOON brims with a hard beauty that builds upon itself, page by page, story by story, until the smells, sounds and terrain of Upper Michigan come to reside beneath readers' eyelids. Philip Caputo proved his exceptional literary bona fides many books ago and here he is, again making American life rip and howl. The world needs more men in it like the character Will Treadwell, and literature needs more books like this, mesmerizing and profound at once. I savored HUNTER'S MOON and you will too."
—Matt Gallagher, author of Youngblood
"Phillip Caputo is one of our finest, and too frequently undervalued writers—a Pulitzer Prize-winning journalist, author of eight novels, five books of nonfiction, and two memoirs, including the iconic Vietnam memoir, A Rumor of War. HUNTER'S MOON marks a departure for Caputo, and a grand success. Set in the largely untapped literary landscape of Michigan's Upper Peninsula, this collection of short stories, each distinct and self-contained, are subtly and ingeniously intertwined to create a whole. Here Caputo seamlessly combines his journalistic strengths of precisely detailed observation, with the stylistic lyricism of the poet-novelist. His characters, both men, and particularly the women, are beautifully drawn, authentically vivid human beings, representing a broad spectrum of modern American angst, hubris, violence, fragility, heartbreak, resiliency, and hope. Caputo knows his country with a similar intimacy. His description of the landscape and natural world of the remote Upper Peninsula, as well as those who inhabit it—animal and human—could only be written by a man who has walked, hunted, fished, camped, and, in one of his more harrowing stories, been lost there. This is a superb book, by a master at the top of his form."
—Jim Fergus, author of One Thousand White Women
"A brilliant series of interconnected stories about relationships and the myriad ways we both rescue and disappoint the people we love most. HUNTER'S MOON is about parents and children, the death of old friends, the recovery from loss and near-loss. In it, Caputo continues to chronicle of ups and downs of our collective character, our better angels along with our worse ones. He proves himself to be a master investigator of the human psyche in the mold of Chekov, Tolstoy, and Bellow."
—Philipp Meyer, author of American Rust and The Son
"A poignant and savage tribute to the wilds of the American landscape and to the wilds of the American soul. With Hunter's Moon, Philip Caputo shows us, once again, why he is a giant of contemporary letters."
—Elliot Ackerman, author of Waiting for Eden

"HUNTER'S MOON is nothing short of a revelation—a masterpiece by one of America's great writers. A kaleidoscopic effort that fractures and fractures again, displaying beautiful shards of what it means to be a human being. Caputo has written a book that will haunt me for many years. I am essentially ill-equipped to describe the deep wisdom, beauty, and horror inherent in this multilayered and stunning work."
—Nickolas Bulter internationally best-selling author of Shotgun Lovesongs and Little Faith
Praise for Philip Caputo
"Caputo's troubled, searching meditations...are among the most eloquent I have read in modern literature."
—William Styron, The New York Review of Books
"Caputo knows how to set a scene and build tension through detail...His prose is tough-minded but not without compassion, and he brings experience from one part of the world to another." —Seattle Times

"To call [A RUMOR OF WAR] the best book about Vietnam is to trivialize it. Heartbreaking, terrifying, and enraging, it belongs to the literature of men at arms." —John Gregory Dunne, Los Angeles Times Book Review