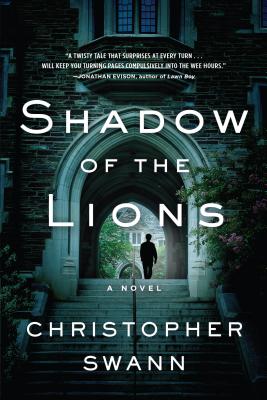 Shadow of the Lions: A Novel
Publication Date:
July 31st, 2018
Publisher:
Algonquin Books
The Book Tavern
1 on hand, as of Dec 10 11:18pm
(Fiction::Mystery)
On Our Shelves Now
Description
"My lungs began to burn as I started sprinting. It wasn't just that I wanted to catch Fritz. I had the distinct feeling that I was chasing him, that I had to catch up with him, before something caught up with me."
How long must we pay for the crimes of our youth? That is just one question Christopher Swann explores in this compulsively readable debut, a literary thriller set in the elite—and sometimes dark—environs of Blackburne, a prep school in Virginia. When Matthias Glass's best friend, Fritz, vanishes without a trace in the middle of an argument during their senior year, Matthias tries to move on with his life, only to realize that until he discovers what happened to his missing friend, he will be stuck in the past, guilty, responsible, alone.
Almost ten years after Fritz's disappearance, Matthias gets his chance. Offered a job teaching English at Blackburne, he gets swiftly drawn into the mystery. In the shadowy woods of his alma mater, he stumbles into a web of surveillance, dangerous lies, and buried secrets—and discovers the troubled underbelly of a school where the future had once always seemed bright.
A sharp tale full of false leads and surprise turns, Shadow of the Lions is also wise and moving. Christopher Swann has given us a gripping debut about friendship, redemption, and what it means to lay the past to rest.
Praise for Shadow of the Lions: A Novel
Southern Living Best Books of the Year • Publishers Weekly Best Summer Books 2017
"Comes alive with action and intrigue."
—The Wall Street Journal
"A promising, well-crafted debut. Flashes of lyrical agility suggest a bright new talent ready to roar."
—Atlanta Journal-Constitution
"An engrossing and entertaining read. Swann deftly manages a dual narrative . . . It's a swift tale well told, and at times eloquently so."
—Seattle Times
"Swann's tightly knit debut novel is a moving coming-of-age story with a noir twist that will appeal to readers of John Knowles's A Separate Peace, N.H. Kleinbaum's Dead Poets Society, and Donna Tartt's The Secret History."
—Library Journal, starred review
"A wonderful coming of age story, a taut emotional rollercoaster, and a hell of a debut. Christopher Swann hits the sweet spot with a novel that has a gripping plot, beautifully rendered characters, and an accomplished style. I loved it."
—David Liss, author of The Day of Atonement
"Both a poignant coming-of-age tale and a suspenseful mystery. Set in the persistently alluring environs of an elite prep school, where the idealistic image of striving achievement is always in conflict with the dark realities that trouble even the most privileged of lives, Shadow of the Lions illuminates the complexities of friendship, love, loyalty, and duty with remarkable wisdom and compassion."
—Ed Tarkington, author of Only Love Can Break Your Heart
"Witty, fast paced, and satisfying, Shadow of the Lions is the perfect literary thriller for back-to-school season."
—Foreword Reviews, starred review
"Swann steps on the gas for the last 100 pages, [and] the mystery takes off . . . "
—Kirkus Reviews
"A twisty tale that surprises at every turn, Shadow of the Lions will keep you turning pages compulsively into the wee hours, cursing Christopher Swann for the inconvenience."
—Jonathan Evison, author of This Is Your Life, Harriet Chance!
"Fast-paced and full of unexpected turns, Christopher Swann's Shadow of the Lions pulls readers into the dark underworld looming beneath a prestigious boys' boarding school."
—Mira Jacob, author of The Sleepwalker's Guide to Dancing
"Swann is a gifted storyteller, a master at the twisty tale . . . Under Swann's deft hand, ultimately, Shadow of the Lions explores the timeless complexity of deep friendship--how it shapes us, destroys us and sometimes remakes us."
—Patti Callahan Henry, author of The Idea of Love
"A riveting literary mystery about power, privilege and the need to find the truth no matter how devastating it might be . . . This mystery is so well observed: its richly drawn characters are motivated by circumstances that feel true to life, and they speak with a rare authenticity. Swann also demonstrates a talent for setting—his Virginia woods feel either menacing or soothing depending on who enters them. Unsettling and beautifully written, Shadow of the Lions challenges the idea that we ever truly leave high school behind."
—Shelf Awareness for Readers