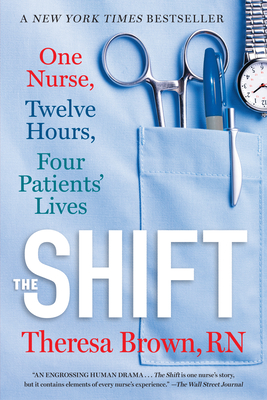 The Shift: One Nurse, Twelve Hours, Four Patients' Lives
Publication Date:
May 3rd, 2016
Publisher:
Algonquin Books
The Book Tavern
1 on hand, as of Dec 1 11:18pm
(Health & Medicine)
On Our Shelves Now
Description
"An engrossing human drama . . . The Shift is one nurse's story, but it contains elements of every nurse's experience."—The Wall Street Journal
Practicing nurse and New York Times columnist Theresa Brown invites us to experience not just a day in the life of a nurse but all the life that happens in just one day on a busy teaching hospital's cancer ward. In the span of twelve hours, lives can be lost, life-altering treatment decisions made, and dreams fulfilled or irrevocably stolen. Unfolding in real time—under the watchful eyes of this dedicated professional and insightful chronicler of events—The Shift gives an unprecedented view into the individual struggles as well as the larger truths about medicine in this country. By shift's end, we have witnessed something profound about hope and humanity.
Praise for The Shift: One Nurse, Twelve Hours, Four Patients' Lives
"An engrossing human drama . . . The Shift is one nurse's story, but it contains elements of every nurse's experience." –The Wall Street Journal
"This riveting account of a day in the life of a highly competent and compassionate but overtaxed bedside nurse provides an up-close, insider's view from the perspective of one of the worker bees of the medical world. It raises important questions about staffing, shift lengths, various protocols, and the role of touch, empathy, and record keeping in healthcare . . . The living, breathing heart of Brown's book lies in her vivid, composite profiles of the handful of patients (disguised for privacy) who come under her watch on the day in question, and her enormous concern for them." –The Barnes Noble Review
"The Shift . . . should be required reading for all incoming medical and nursing students--or anyone who is a patient or visitor in a hospital . . . Her story is riveting in the exacting way she recounts the way her day unfolds." –Pittsburgh Post-Gazette
"Brown does an excellent job of taking us moment by moment through her day . . . keeping the narrative flowing. The reader feels her affection and deep sense of responsibility for her patients." –Minneapolis Star-Tribune
"What makes Brown's story shine are the touching and sometimes bizarre moments that make real life in a hospital stranger than fiction . . . Brown is able to make her case from the strongest possible vantage point: inside the hospital, where she is doing the work so few of us have the guts to do." –The Boston Globe
"This meticulous, absorbing shift-in-the-life account of one nurse's day on a cancer ward stands out for its honesty, clarity, and heart. Brown . . . juggles the fears, hopes, and realities of a 12-hour shift in a typical urban hospital with remarkable insight and unflagging care. Her memoir is a must-read." —Publishers Weekly (starred review)