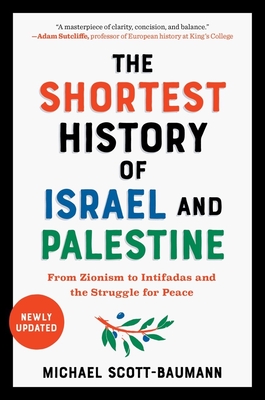 The Shortest History of Israel and Palestine: From Zionism to Intifadas and the Struggle for Peace (Shortest History Series)
Publication Date:
February 28th, 2023
Publisher:
The Experiment
The Book Tavern
2 on hand, as of Oct 2 11:18pm
(History::Middle East)
On Our Shelves Now
Description
An accessible, balanced chronicle of how the Israel-Palestine conflict originated and developed over the past century. The Shortest History books deliver thousands of years of history in one riveting, fast-paced read.
 
The ongoing struggle between Israel and Palestine is one of the most bitter conflicts in history, with profound global consequences. In this book, Middle East expert Michael Scott-Baumann succinctly describes its origins and charts its evolution from civil war to the present day. Each chapter offers a lucid explanation of the politics and ends with personal testimony from Palestinians and Israelis whose lives have been impacted by the dispute.
 
While presenting competing interpretations, Scott-Baumann examines the key flashpoints, including the early role of the British, the establishment of the state of Israel in 1948, the Six Day War of 1967, and the Trump administration's peace plan, pitched as "the deal of the century," in 2020. He delineates both the nature of Israeli control over the Palestinian territories and Palestinian resistance—going to the heart of the clashes in recent decades. The result is an indispensable history, including a timeline, glossary, and analysis of why efforts to restore peace have continually failed and what it will take to succeed.
Praise for The Shortest History of Israel and Palestine: From Zionism to Intifadas and the Struggle for Peace (Shortest History Series)
"This book is both necessary and accessible. So many people are mystified by this never-ending Middle East conflict. Here at last is a concise and readable account of a fundamental international issue of our time, one that has implications far beyond the region where it is set."—Jon Snow, presenter of Channel 4 News (UK)
 
"A masterpiece of clarity, concision and balance."—Professor Adam Sutcliffe, King's College London
"A valuable read in that it humanizes the Palestinian struggle side by side with the Israeli need for security."—Alberta Jewish News
"The complexities of the Israeli-Palestinian conflict [are] easy to understand
in this clear, straightforward, and unemotional history."—John McHugo,
author of A Concise History of the Arabs
"A complete history exploring the conflict between Israel and Palestine in just a few hundred pages. . . . A useful reference."—School Library Journal