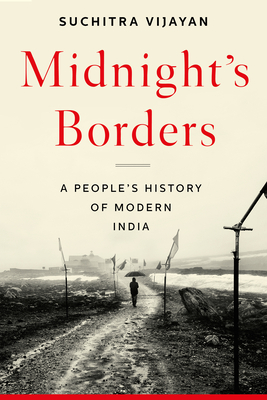 Midnight's Borders: A People's History of Modern India
Publication Date:
May 25th, 2021
Publisher:
Melville House
The Book Tavern
1 on hand, as of Dec 1 11:18pm
(History::Asia)
On Our Shelves Now
Description
A Booklist "Top 10 History Book of 2022"

The first true people's history of modern India, told through a seven-year, 9,000-mile journey along its many contested borders

Sharing borders with six countries and spanning a geography that extends from Pakistan to Myanmar, India is the world's largest democracy and second most populous country. It is also the site of the world's biggest crisis of statelessness, as it strips citizenship from hundreds of thousands of its people--especially those living in disputed border regions.
Suchitra Vijayan traveled India's vast land border to explore how these populations live, and document how even places just few miles apart can feel like entirely different countries.
In this stunning work of narrative reportage--featuring over 40 original photographs--we hear from those whose stories are never told: from children playing a cricket match in no-man's-land, to an elderly man living in complete darkness after sealing off his home from the floodlit border; from a woman who fought to keep a military bunker off of her land, to those living abroad who can no longer find their family history in India.
With profound empathy and a novelistic eye for detail, Vijayan brings us face to face with the brutal legacy of colonialism, state violence, and government corruption. The result is a gripping, urgent dispatch from a modern India in crisis, and the full and vivid portrait of the country we've long been missing.
Praise for Midnight's Borders: A People's History of Modern India
An Electric Literature Favorite Nonfiction Book of 2021
A Booklist Best History Book of 2021
"Midnight's Borders is an important book, a journey of self-discovery by an Indian who, like many, grew up unaware of the complexities and sufferings at the edges of a nation whose glory was celebrated every morning at school assembly. It is, furthermore, a record of our times and a reminder, to those of us spoiled by the comforts of our self-exiled lives in the West, about those of our fellow beings who have become the debris of callous geopolitical shifts, whose hopes for even a safe, painless tomorrow are so precarious." - The Los Angeles Review of Books
"Midnight's Borders is a necessary and urgent call to action. Vijayan has given us a book about borders, yes, but she has also given us a story of those human beings who are struggling to exist in systems that are working towards their erasure. Meticulously documented and compassionately rendered, this important work is an impassioned demand for overdue justice." —Maaza Mengiste, Booker Prize-shortlisted author of The Shadow King

"Suchitra Vijayan's debut book, Midnight's Borders, is a genre-bending book of nonfiction—made of stories, encounters, vignettes, and photographs—about home, belonging, and displacement." —Namrata Poddar, Electric Lit

"Midnight's Borders is fascinating, eloquent in its insights, and unflinching in its depiction of the dark side of nation-building." —Starred Review, Booklist
"The stories in the book have been documented with precision and empathy and narrated with eloquence ... A good read for people wanting to understand the lasting impact of the colonial cartographic disasters and for those wanting to understand India through its people."
—South Asia Books Review
"A candid and heartbreaking work of exposé journalism... Vijayan is adept at teasing out the fraught, complicated social, political, and spiritual dynamics at play in each region. Dozens of powerful, intimate stories of people affected traumatically by India's expedient geopolitical borders."—Kirkus
  "A much-needed conversation on thinking about freedom beyond the idea of nation and its illusory lines."—Southern Review of Books
"Midnight's Borders is timely, first-rate journalism made human; it recounts the deep personal consequences of colonialism and forced national identity."—Foreword Reviews, starred review

"Suchitra's account of her journeys across the undefinable and ever-shifting borders between India and its neighbors is gripping, frightening, faithful, and beautiful. In Afghanistan, Kashmir, and India, from one dangerous conflict zone to another, she spoke with people, ate with them, and listened to their stories. As a bedouin who grew up listening to beautiful stories from beautiful storytellers around a fire, I was transported by her storytelling. This is a serious, often funny, and deeply revealing book." —Mohamedou Ould Salahi, author of Guantánamo Diary

"Unique and ambitious, Vijayan's project gains urgency and significance from our moment of resurgent nationalisms, when borders are being aggressively reasserted, in India and across the globe."—Gaiutra Bahadur, author of Coolie Woman
"An essential, beautifully written report from the hellish margins of a modern mega-state struggling to be a nation, of people whose lives continue to be shaped by violent political marches across age-old homes and habitats. A memorable, humane 'museum of forgotten stories' that we must all read and remember."—Mirza Waheed, author of The Collaborator and The Book of Gold Leaves
"An intervention like no other when it comes to thinking through not just the history of India but for reflections on borders, migration, the elusory nature of nations With sharp political analyses, dense historical research, and lyrical, image-rich prose, Vijayan's journalism displays an inspiring ethic, one that is invested in the micro-histories of the 'small man,' the one existing on the fringes of history and the one that most requires urgent representation."—Bhakti Shringarpure, author of Cold War Assemblages: Decolonization to Digital